Jodi's first birthday at Sunny Heights
11:42 PM
Just last Sunday, my favourite doggo turned one!! It's been a year since the day her mum was rescued and taken care of at a dog shelter, where Jodi was born together with seven of her other siblings. Back then, I could still remember how all eight of them were so small at three weeks old. They could fit snuggly into just one of my hands. And now?? She's about 20kg, and so damn naughty and playful she could be such a handful sometimes. But even so, she still has my heart and makes my day everytime I'm over at Han's place.

So as Jodi and her seven other siblings (all of which were adopted into their forever homes now) turned one, Han's parents and some of the other owners decided to organise a birthday party for them! And since Jodi and Jacob (Han's other golden retriever) frequent this dogcare called Sunny Heights on a weekly basis, that's where the organisers planned to hold the birthday celebration!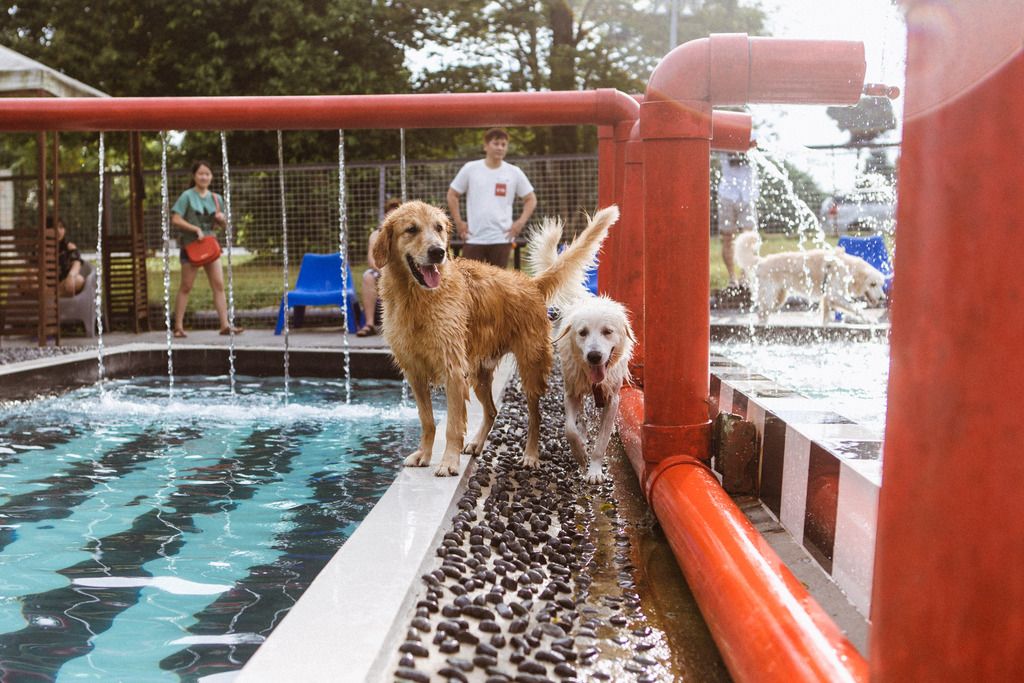 That's Jacob and Jodi above!

I have been to Sunny Heights many times to pick the doggos up with Han's family, but this time was a little different since the celebration was held at the pool. I've only seen videos of them swimming, so being alongside at the pool with them was a first for me! Han and his mum prepared a feast that morning for the celebration, while the other owners brought their own stuff potluck style.

Since I had my camera with me that weekend, Han was urging me to sort of be the photographer and well... How can I say no to cute doggos right?? Jacob and Jodi is already enough to keep my heart full. You should see my camera roll, I don't even have that many photos of Han or myself as compared to these two. But the doggos that day were multiplied by 8!! So I couldn't stop snapping away HAHA.

Yeah all of them look quite similar, but there are distinct features each of them have that allowed the owners to differentiate them from each other. For me, I could immediately identify Jacob. Jodi takes a while since she looks so alike to her siblings but her behaviours/antics were one of a kind.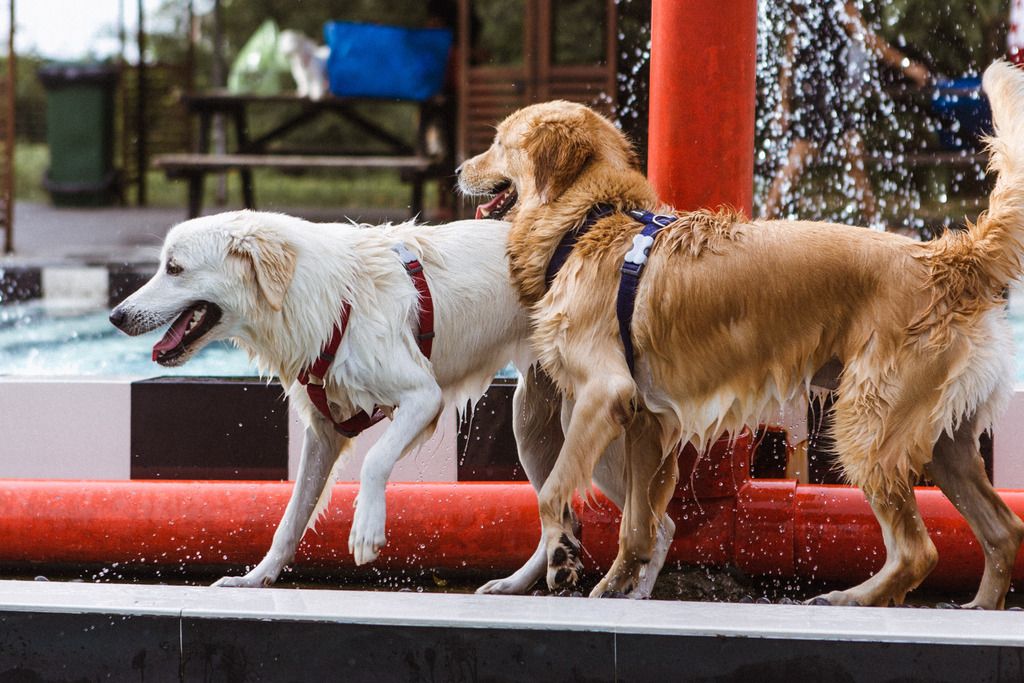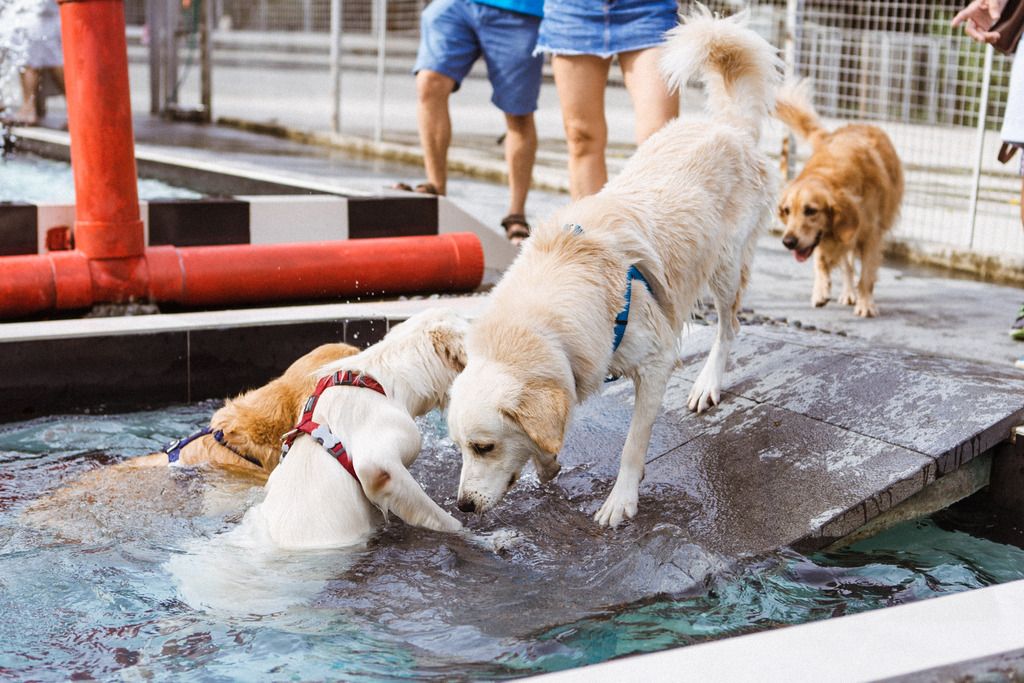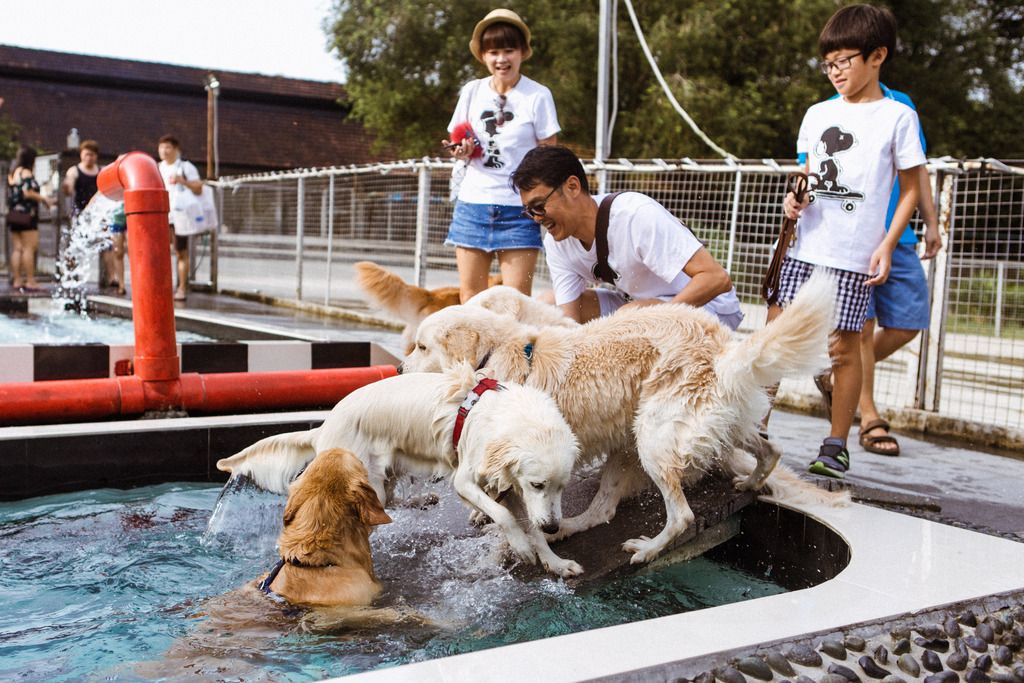 Jacob loves the pool haha.



Jodi and her best playmate, Jesse (in blue harness).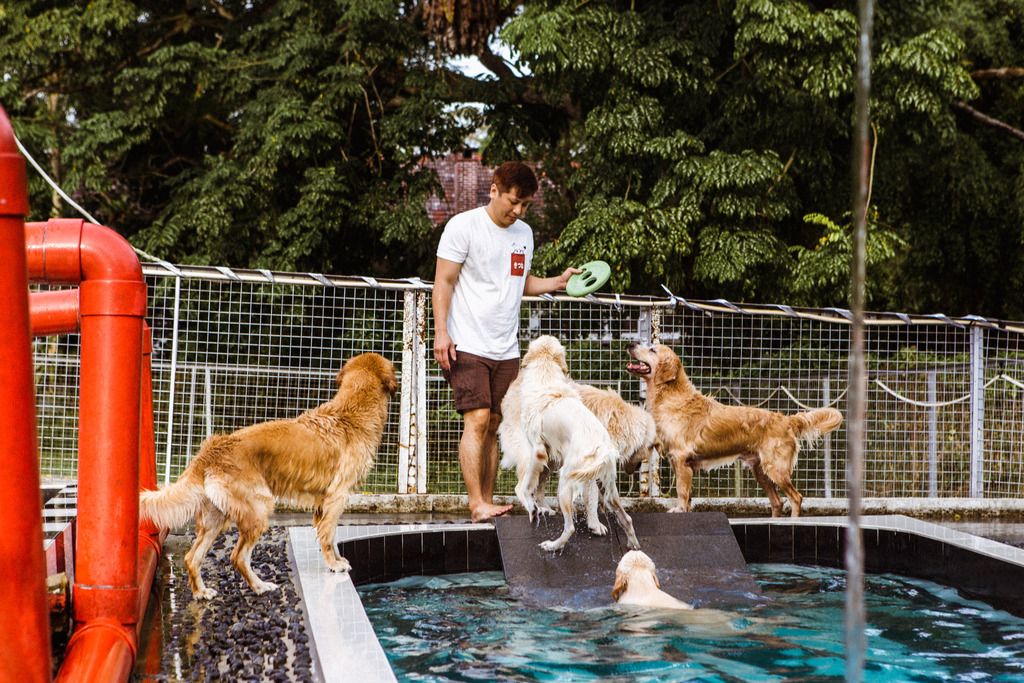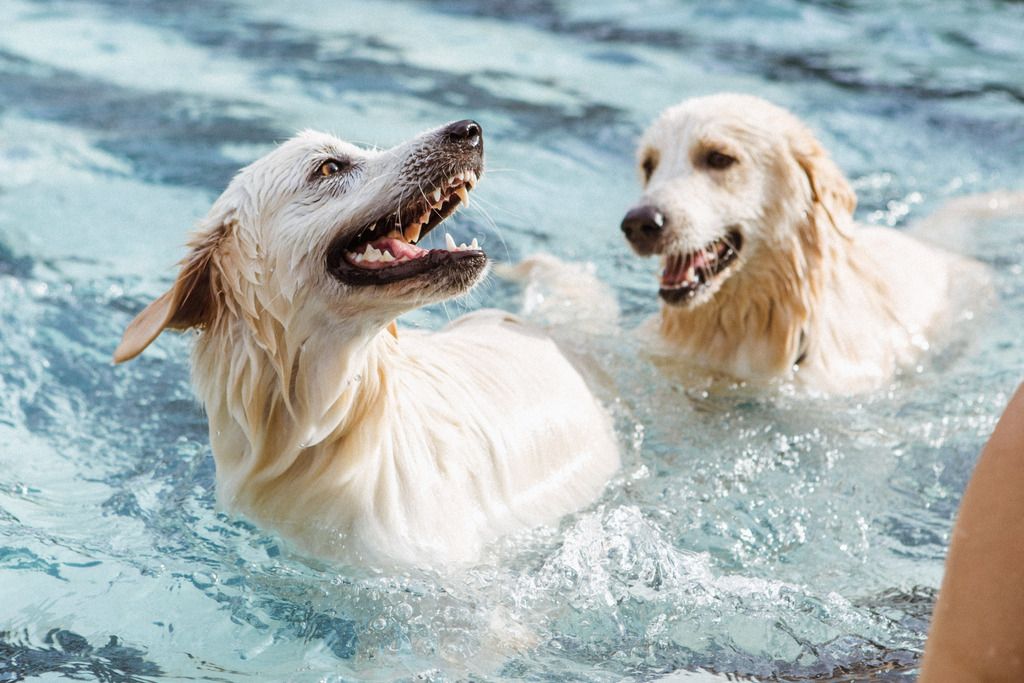 Jodi thinks her fangs are scary.




Sunny heights pool was closed for this private event, but otherwise, they are usually are open to the public for dog owners to bring their buddies for swim at an entry fee of $18. For more details, you can check out their website here.

Since it's her birthday, she got to go all out crazy at the pool with her brothers and sisters. And she really did. If she wasn't playing, she was constantly trying to beg other owners for food - which she does really well by sitting still while giving her target puppy eyes.
Someone also bought cake for the dogs!! Yeap, I had a lot of fun capturing all the doggos in action I barely ate the feast prepared by Han and his mum. That's my only regret that day.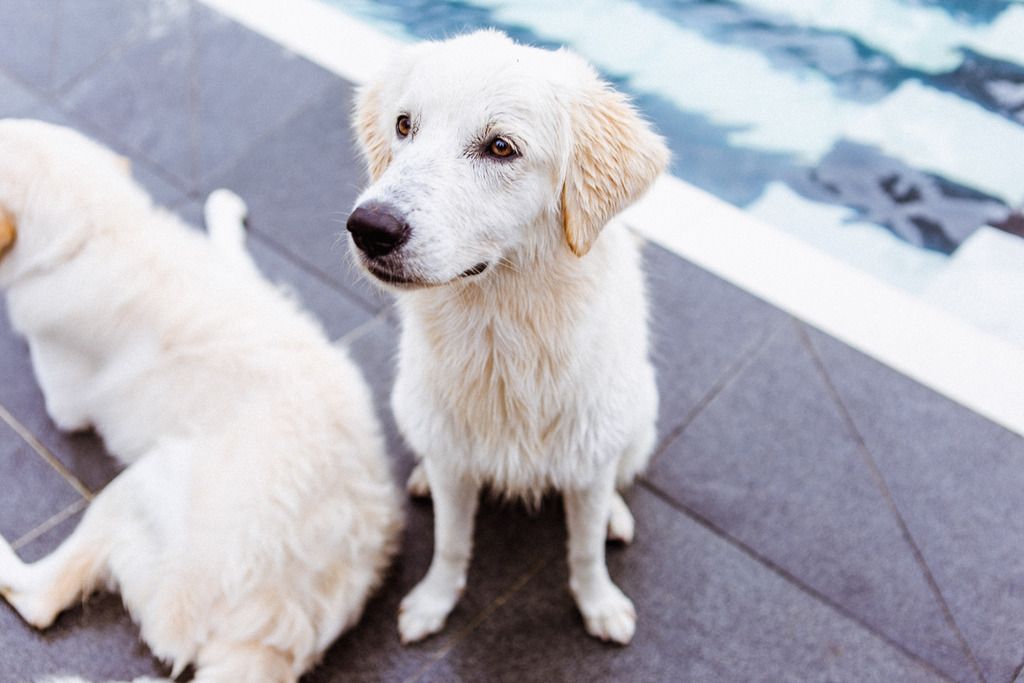 She isn't always so innocent-looking...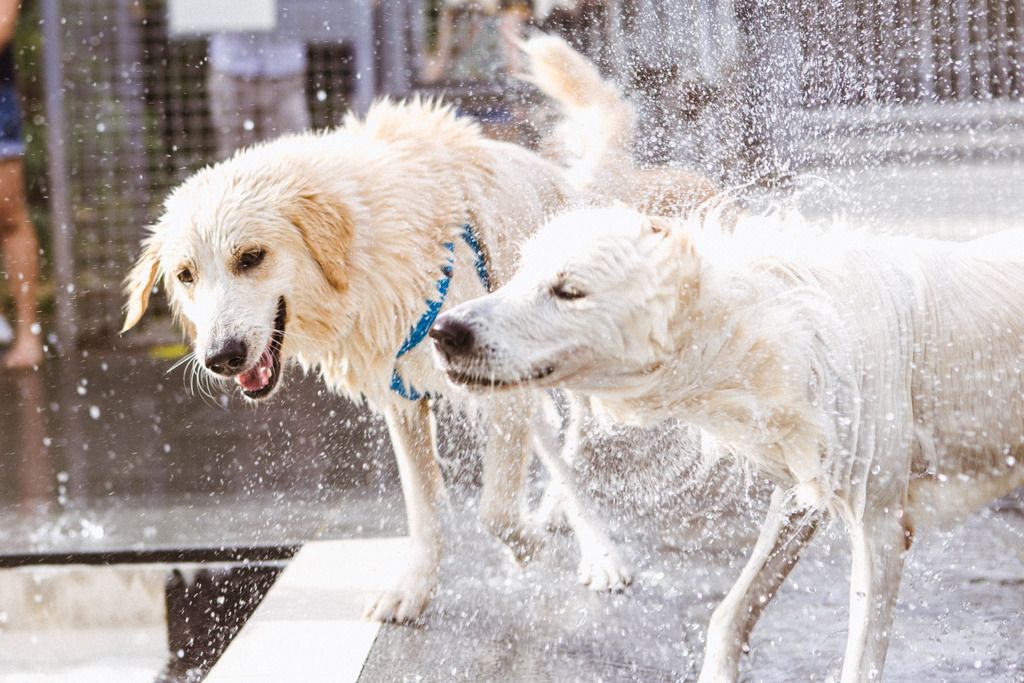 You can imagine what happened to my camera after this shot :')



The one giving her paw is Jodi's mum!! The lovely Golden that gave birth to eight beautiful pups last year.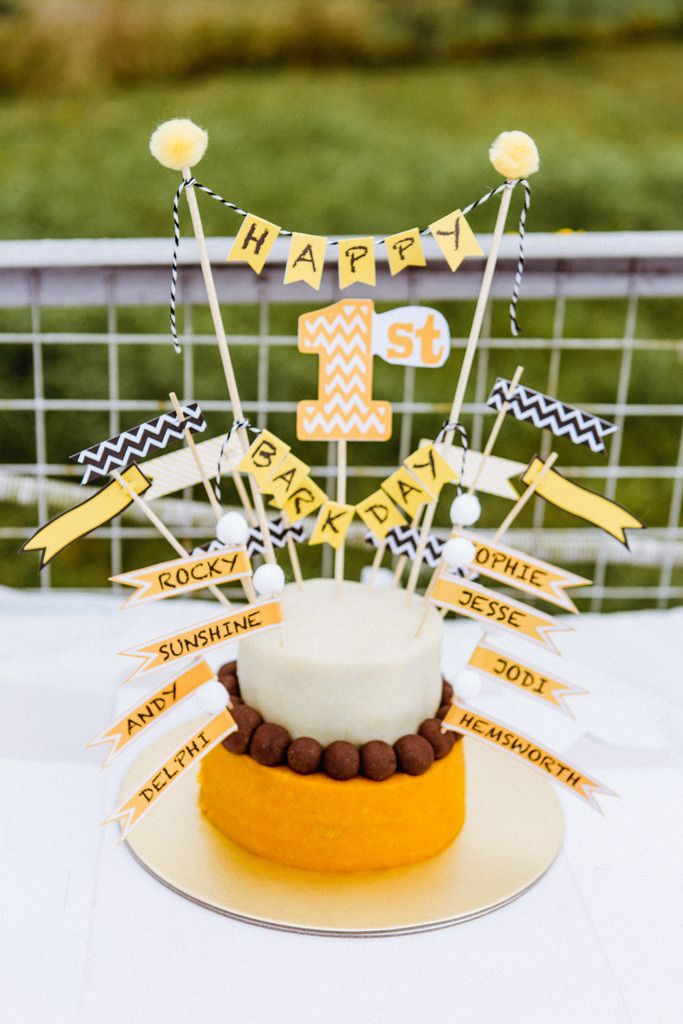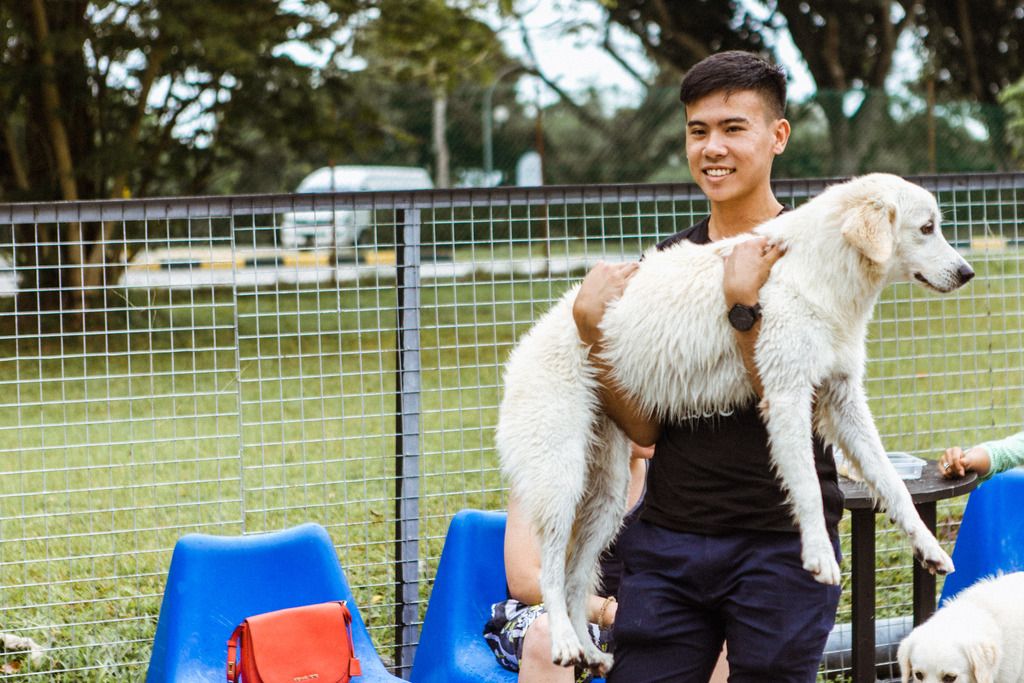 Because Jodi was too into her playing and wouldn't listen to us when we called her, Han had to carry her just to get her in the picture.

I have never owned a dog myself, but Jodi would probably be the closest experience I've had. I was with Han's family as they brought her home the first time, watched her take her first few steps, taught her tricks with Han, cleaned up her shit when she was not yet toilet trained, helped to feed her sometimes, take her out for walks, brush her fur and just so much more.
In many ways, keeping a dog is much harder than I thought (especially a big one). Giving it the care it deserves is also another, cause I've seen many families with pets that just... Aren't really taken care of. Han's parents have been really good role models in the way they care for them, and I hope that there would be a day I can do the same for one of my own too!!



Spot Jodi and her unwilling expression HAHA.

So here's wishing Jodi and her siblings a happy first birthday!! Thank you Jodi for all the laughter and joy you've brought into our lives. So happy to see that you've grown so much, but still hoping for the day you'll be less naughty and more obedient. :')