#TRIPPinJAPAN (Part 2) - Osaka Day 1, 2 & 3
5:47 PM
It's been exactly one month since the date I left for Japan and I'm still at part two of my Japan travel HAHAHA. I totally blame it on school and all the work I have on my plate. Being 19 is no joke. It's a hell load of assignments and work. With the limited remaining time I have left, I've been spending them with the best company. More about that at the end of the post.

I departed for Japan on the 26th March and returned on the 11th April. So during our 17-day stay in the land of sushi and takoyaki, here's our plan:
Osaka (4 days) > Kyoto (6 days) > Tokyo (7 days) > Osaka (flight back to Singapore)
Day 1 - Osaka (Shinsekai)
We arrived at the Kansai Airport at 1pm Japan time on a sunny Thursday. I instantly regretted wearing a skirt for the midnight flight because despite the weather forecasts, Osaka was still so cold. I knew the weather was going to be relatively cold, but I didn't expect it to hit 9 degrees on a daily basis. But it did, and Trisha and I suffered quite the fair bit cause we packed as if we were visiting during summer LOL.
For our whole three days in Osaka, we stayed at Hotel Taiyo which is located just directly outside Dobutsuen-mae station!! Having a station in the vicinity of your hotel is so important I can't stress this enough.
It's a more of a bagpackers' inn than a hotel, but that works just fine with us. We were open to the idea of having a shared lobby and shower as long as we had a proper place to sleep in to ourselves. We paid S$134 for our three nights stay, which makes it S$67 per person. Cheap isn't it??
When we first got to our room, we were kinda shocked cause the door was actually super small?! It was just slightly taller than the both of us, which isn't very high considering how we hover around 5 feet tall. But I absolutely loved the idea of sleeping in a tatami room with a proper futon and that's what Hotel Taiyo offers! It's a pretty small space, but it accommodates us fine with the basic amenities.
Just around our neighbourhood is Shinsekai, Osaka's "new world" and district that is home to many eateries, the Tsukenkaku Tower and Spa World. Well, these are the famous tourist attractions but it didn't particularly seem interesting to us, so we gave them a pass. Spa World is quite cool though. It's basically a huge sento (public bath) that has different themed baths (European and Asian) that alternates between genders every month. Trisha and I wanted to try the Asian ones but the month wasn't in our favour, so... ):

But it's fine since we still had the full sento experience while we were at Kyoto hehe. I'll save the details for the Kyoto post.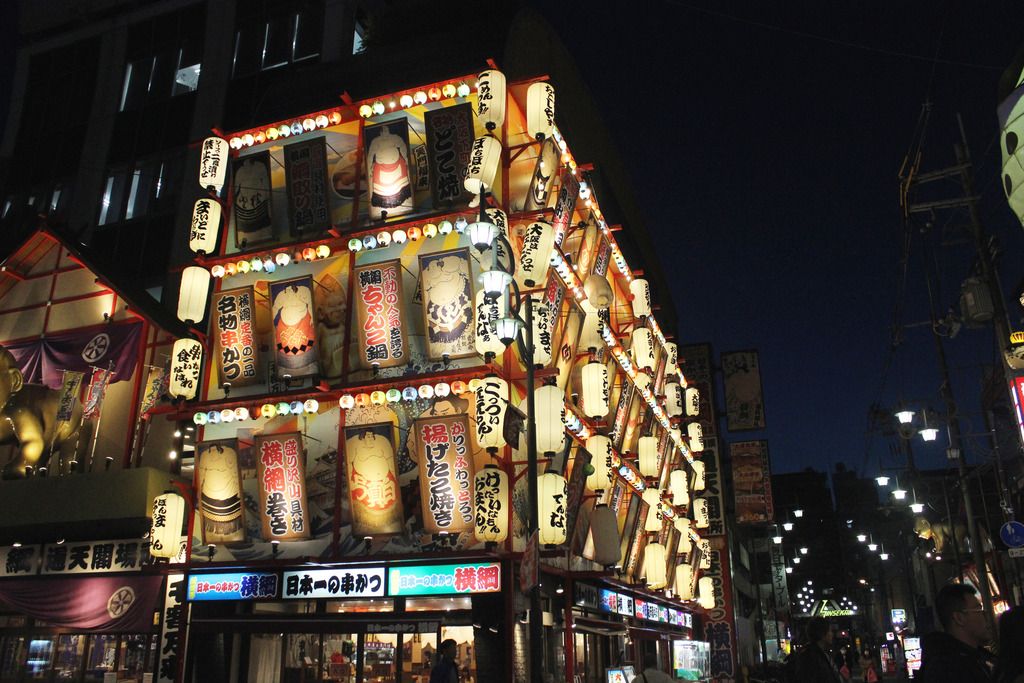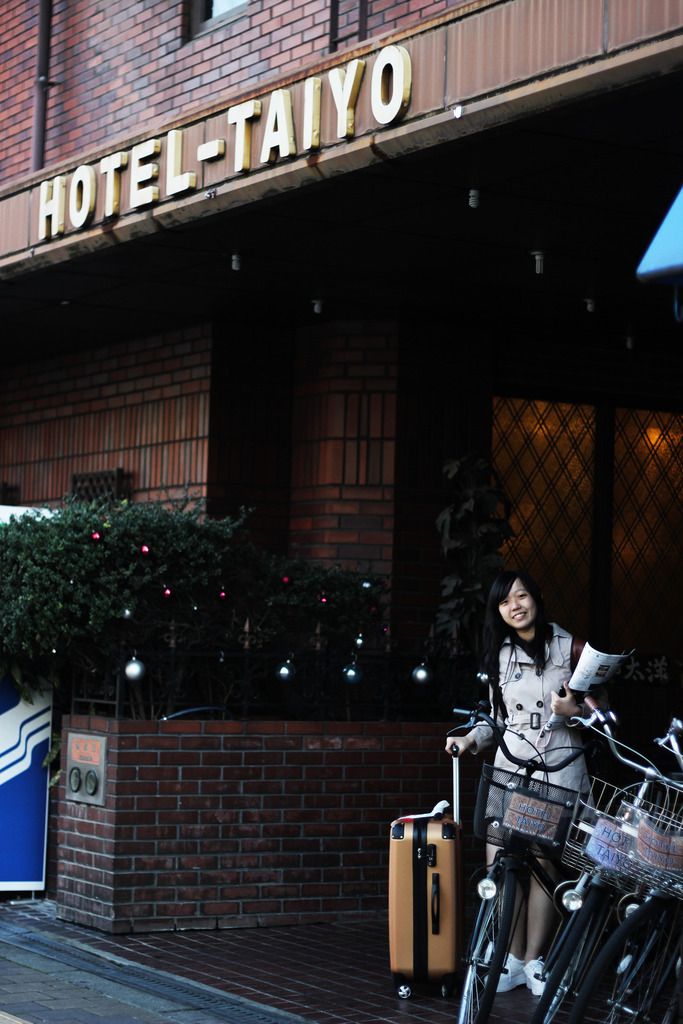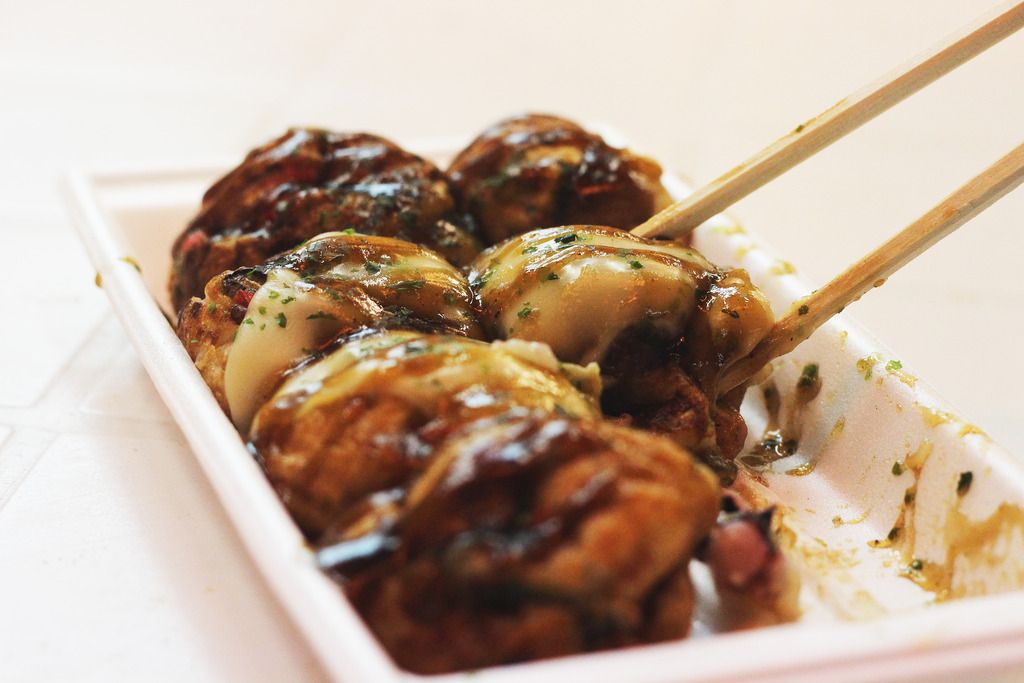 On our first night, we had some superb takoyaki (330¥) that beats Singapore's hands down, and Osaka's well known speciality, Kushikatsu. It's basically various battered and deep friend foods on skewers.
Our first visit into a Japanese restaurant was quite intimidating. Everything on the menu is ruthlessly Japanese. We tried asking for an English menu but the waiters hardly understood any of our requests until we used Google Translate to help convey our message across. Ever since that night, Trisha and I made it a point to memorise how to ask for an English menu in Japanese. Which, if you're wondering, is "Eigo no menyu arimasu ka?" You should keep that in mind too.
I'm not an avid fan of deep fried battered stuff but some of the skewers (like salmon) was pretty good. Anyway, while you're at Osaka, you must and should try their kushikatsu and takoyaki.
That night before we returned back to our hotel, we visited the convenience store just located a couple of metres away from Hotel Taiyo to grab ourselves some random snacks and drinks because well, it's Japan and their stuff from convenience stores are quite nice LOL. I instantly fell in love with the strawberry flavoured drinks. Trisha fell in love with their instant soups.
Hotel Taiyo also happens to have a small public bath/spa (it's something like a mini sento) that's opened to different genders at a different time slot. It's opened to the females from 9pm to midnight, and that's exactly what we needed after a super cold night out.

We got our first (mini) public bath experience there and I'll admit it was quite awkward initially LOL. In fact, since I returned from Japan, one of the first few questions my friends would ask was, "you go public bath naked with everyone else not weird meh??" LOL.
Well, is weird going to stop you from trying? It sure as hell isn't going to get in my way of my well-deserved bath of steaming water to rid of the frost in my toes. Anyways, you'll stop giving a shit to how you or others look after a while because you really do want to relax and enjoy the hot water.

And that's really the best way to end a day of long walks and travel.
Day 1's spending:
Starbucks: 300¥
Icoca card: 2000¥
Takoyaki: 350¥
Kushikatsu: 1180¥
Family Mart: 1000¥
TOTAL: 4830¥
Day 2 - Osaka (Dotonburi, Shinsaibashi & Namba)
The next morning, we had our breakfast at this quaint little cafe just next to Hotel Taiyo - Maison de Cafe Causerie. I was a little taken aback by the smell of cigarettes when I entered the cafe but apparently, most food places in Japan permits smoking indoors. So we were secondhand smokers almost everywhere we went.
Anyway, the cafe was opened by an old friendly couple and a friend of theirs. They serve pretty affordable breakfast sets of toast, egg and coffee but what I didn't expect to try in this small little cafe was the Japanese slow-brewed coffee!!
To be honest, I didn't even know they existed? LOL. But after seeing how the old man used these weird cylinders-looking things and ICE (who uses ice to make hot coffee?!) to brew our coffee, I was intrigued and Google happened. Anyway, it was a super cool sight and the coffee wasn't what I expected, but in a good way. The robust coffee was smooth yet bold, and definitely a revelation of senses. I'm not a coffee enthusiast, but I do appreciate some good ol hot coffee in the cold weather. :)
If you happen to be in Osaka or around Dobutsuen-mae station, you must try their coffee!! Or any Japenese-styled slow brew coffee. I had mine at 350¥, which is cheaper than most of your cafe latte in Singapore.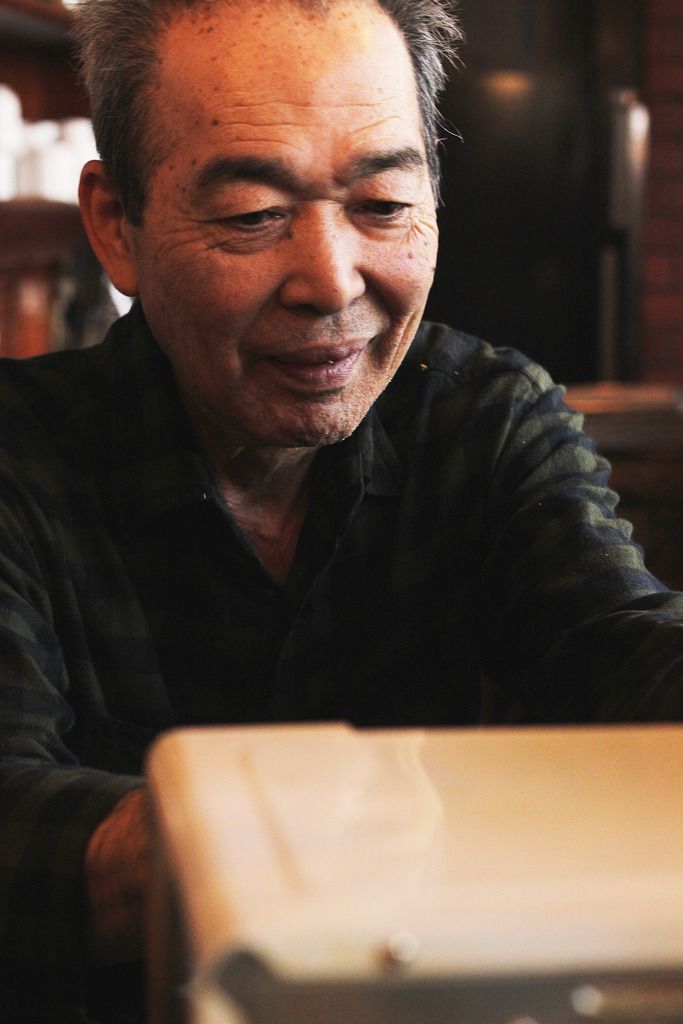 For the rest of the day, we took spent our time at Dotonburi and Shinsaibashi, the popular food and shopping districts in the center of Osaka. In short, we did quite a fair bit of shopping. They have so many cute apparels and I was tempted to buy them but they're probably too cute for Singapore... But shopping is not cheap there. It's quite expensive actually ):
I got myself a few rolls of film (2052¥), a bag (3230¥), soft serve ice-cream (350¥) and a few knick knacks here and there. And we also tried the best takoyaki at Dotonburi!! Queued at least 30 minutes for it but the 550¥ snack was more than worth the while. I really miss the takoyaki there.
Dinner was some super overpriced yakitori (marinated skewers of meat) and yakisoba (fried noodles). We got tricked by the tourist trap they laid for us - nice pictures with english words and pretty food moulds. It was nice, no doubt but it was at least S$40 (2 pax) for just a few skewers of meat??
My heart goes out to the money I splurged on this meal. It's not the most expensive but for the amount we got... ):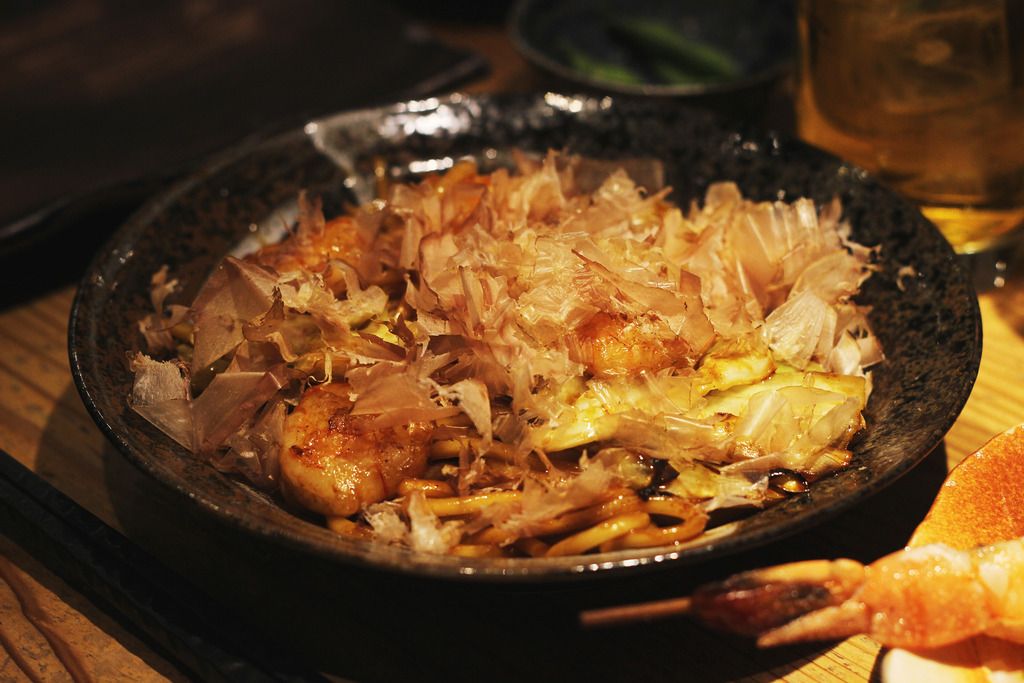 The only sad thing is that the stores in Japan close relatively early? More so for the Kansai region. At about 7pm all stores start to close so by the time it's 8pm it's like a ghost town. We spent the rest of the night in one of the shopping malls at Namba because their cafes and restaurants open till about 9pm (other shops close around 7-8pm) where I tried soy latte for the very first time. Not bad.
When we went back to Hotel Taiyo, it was about 11pm. We had our usual hot bath before we paid the convenience store a visit. Typically for our entire 17 days in Japan, we visited the convenience store almost every night LOL. Ah cravings.
Day 2's spending:
Cafe de Maison Causerie: 320¥
Bagpack: 3230¥
Roasted tea ice-cream: 350¥
Takoyaki: 550¥
Leggings: 200¥
Souvenirs: 2559¥
Provia film: 2052¥
Baskin' Robins: 350¥
To The Forest Cafe: 720¥
Yakitori: 2026¥
Family Mart: 500¥
TOTAL: 13247¥
Day 3 - Osaka (Osaka Castle, Amemura & Shinsaibashi)
We got a little lost while looking for Osaka Castle even with the help of Google Maps but we eventually found our way. There's a lot of walking to do if you're gonna do a lot of sight-seeing so never forget to get wifi while you travel!!
Anyway, when we arrived at the side entrance of the Osaka Castle, the sight of cherry blossoms was more than just breathtaking. And the weather was great!! It wasn't freezing cold and the sun was up. I would love to have more picturesque and cooling mornings like these.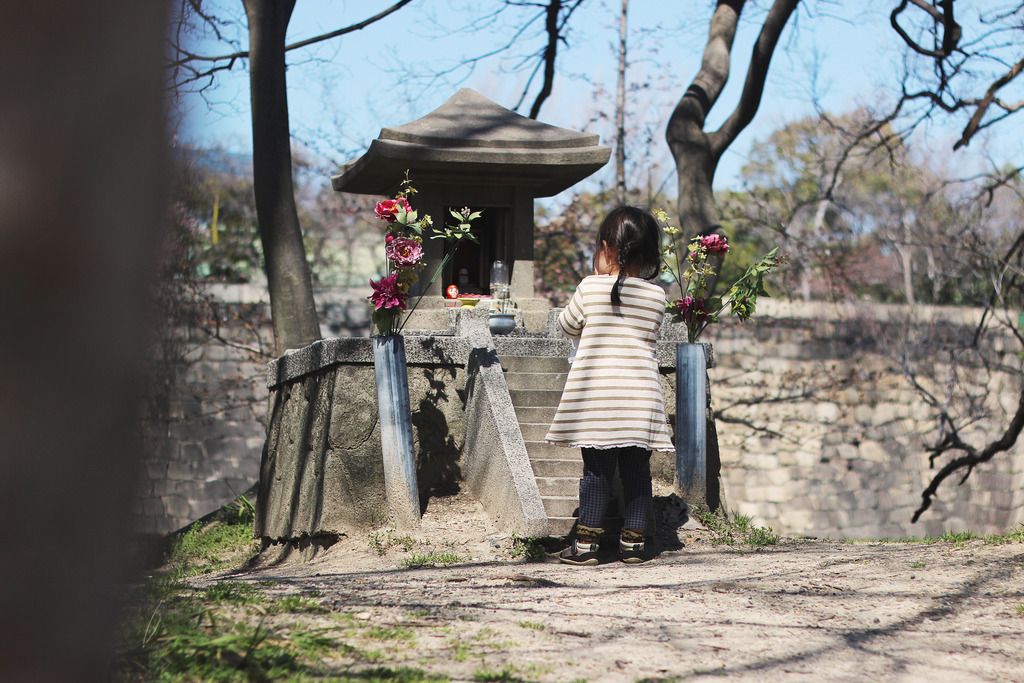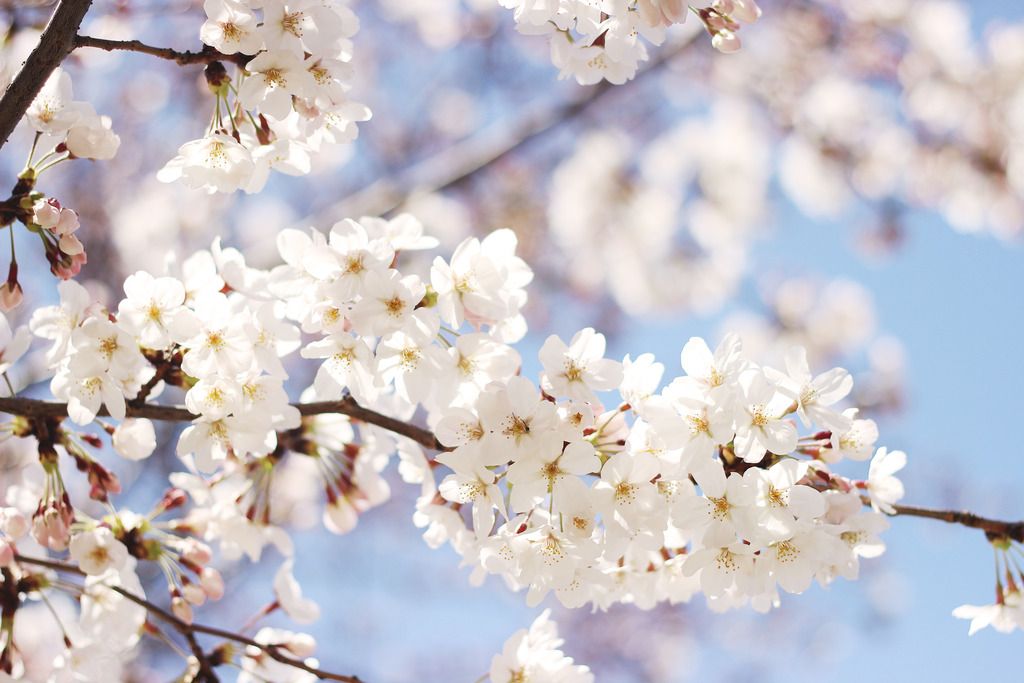 We practically spent hours in the gardens surrounding the castle spamming photos. Plus, there were a lot of families, couples young and old and friends that had picnics under the Sakura trees whilst hanami viewing.
We got quite lucky! It was Osaka first blooms so we got to see the white blossoms and the buds that have yet to flower. The cherry blossom season typically lasts for about 10 days, so we got to see the first blooms and the falling of the petals during our stay in Japan.
By the time we reached the castle, the queue was soooooo long we decided to skip the tour inside the castle (which costs 1100¥ for entrance fees) since we're visiting another castle in Kyoto anyway. And around this time, my camera was drained of all battery so I didn't take any photos of the Osaka Castle with my DSLR?!?! Argh how dumb can I get to leave my spare battery in my luggage ):
For the rest of the evening, we went to Amemura (America street) which didn't really appeal to me other than the physical American Apparel store, and Shinsaibashi because there were a lot of cafes we didn't get to try the previous night we were there! And I managed to capture a couple of desserts before my battery died once again.
If you're at Shinsaibashi, you need to try the British Baba's (weird name, I know) pancakes. They were so fluffy and definitely the best pancakes I've ever had.
We also brought back some of the croissants next door (can't quite recall their name) because they smelt really good, and they were. Simply put, Japan deserts do not disappoint.
It was our last night at Hotel Taiyo so obviously we had to use the hot bath again since our next stay does not provide such a facility. But the bath was spoilt!!! ): Some inconsiderate person fiddled with the taps she shouldn't and there goes the 40 degrees hot water that served us so well during our 3 nights there.
Transport: 2000¥
Hotdog: 200¥
Grape ice-cream: 350¥
Clothes: 2052¥
Mos burger: 760¥
British Baba's pancake: 1527¥
Croissant: 120¥
Tart Cake set: 638¥
Detergent: 284¥
Family Mart: 368¥
TOTAL: 8299¥



Day 4 - Osaka/Kyoto (Shinsekai/Kusatsu)


The next morning, we had to check our pretty early but the hotel did provide luggage storage services. So we left our baggage to have another go at the Japanese slow brewed coffee (the last we ever had) and lunch at Shinsekai which we didn't really get to explore on our first night.
Because we spent a huge bomb on souvenirs, we were on the hunt for a slightly cheaper lunch when a local approached us tp recommended (in Japanese) one of the food stores down the small ulu alley. I'd say that we got better at conversing with the locals that day because held proper Japanese conversations with the local and the owner of the family eatery which we dined at. I got some super good yakisoba for 600¥!
That pretty much concludes our stay at Osaka. We spent the afternoon travelling to our next hotel in Kyoto and I swear we almost died. It's only four days and our luggages were already so heavy.

I shall cover Kyoto (6 days) in my next two posts and hopefully, they'll be up over the weekends since Friday's Labour Day and I have no school on Thursdays. Thank god for the long weekend because I already feel like I'm dying from this semester.


Anyway, yesterday was Zhiyi's 19th birthday!! A couple of us gathered together to plan another kickass staycation on Saturday night to celebrate and get together with some of the old CCHY pals which we haven't seen in a while. That's makes two staycations in two weeks. It's been quite the expense, but it was another good night with good company, and loads of drinks. Been a while since I last got myself tipsy. The only sad thing was not taking enough pictures other than shaky and distorted selfies because everyone was simply too high to care LOL.

And I guess the best part of it all is getting closer to some of the ex-classmates that I never really talked to back in CCHY, and seeing Brandon getting along so well with everyone?? HAHA.