Pavlova, Eton Mess and Macarons
Saturday, April 22, 2017
7:37 PM
A couple of weekends ago, Han and I set aside some time to make some sweet treats that were meant for my dessert table for the 21st party.
It's funny cause Han is actually a chef that works in the hot kitchen, and he hardly does any pastry. But since we've been together, he's already baked more than his past 21 years. But I think he does a pretty good job so why not?
He came up with a menu working on:
Mini lemon tarts, vanilla and rose flavoured macarons, eton mess, bite-sized pavlova with fruit toppings and some tapas style dishes
Sadly, I didn't manage to photograph all of the stuff he made because everything was a rush that day and I just couldn't free myself enough to decently capture the dessert table in a way I liked. So... It's a pity ):
But!! A week before the party, I did manage to style the Pavlova and Eton Mess!! While excusing myself from being his assistant in the kitchen (i'm a pretty useless assistant with my clumsy and slow hands tbh), I styled and photographed his creations.
The kitchen is not where I belong... But give me a camera and that's where I make everything look better :')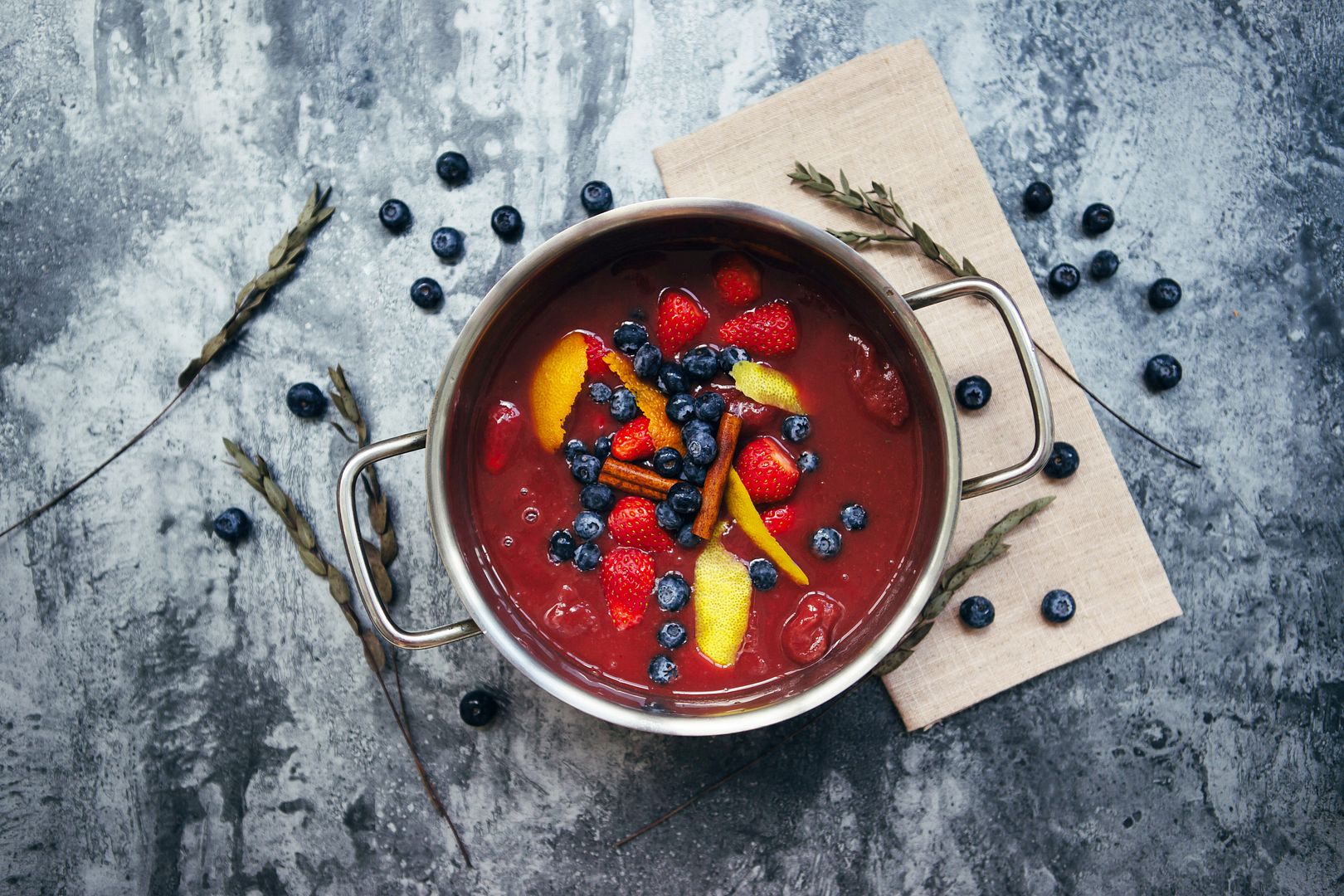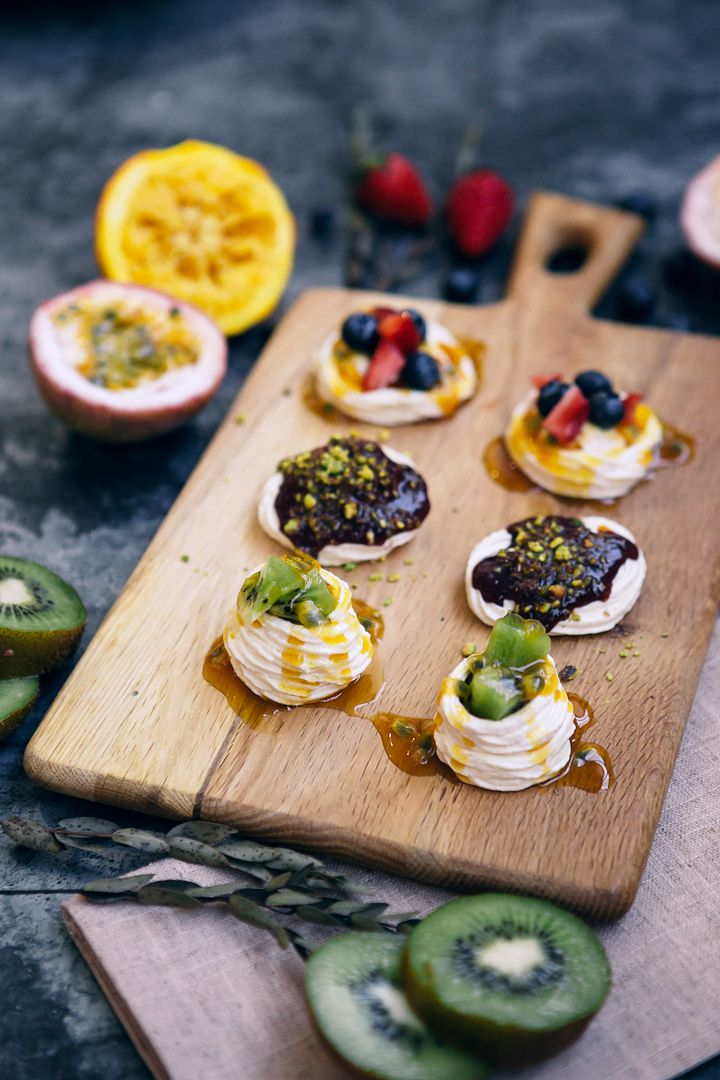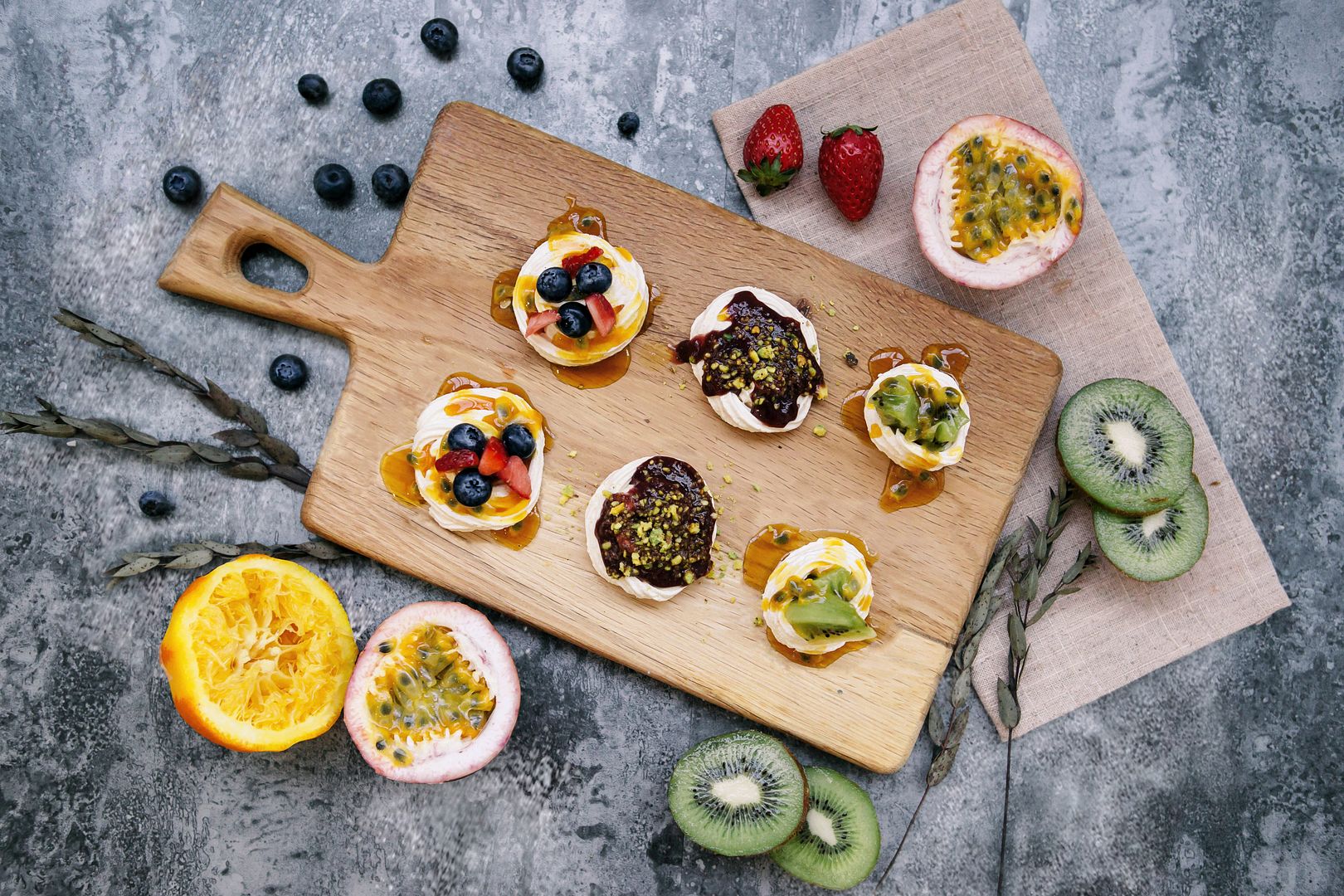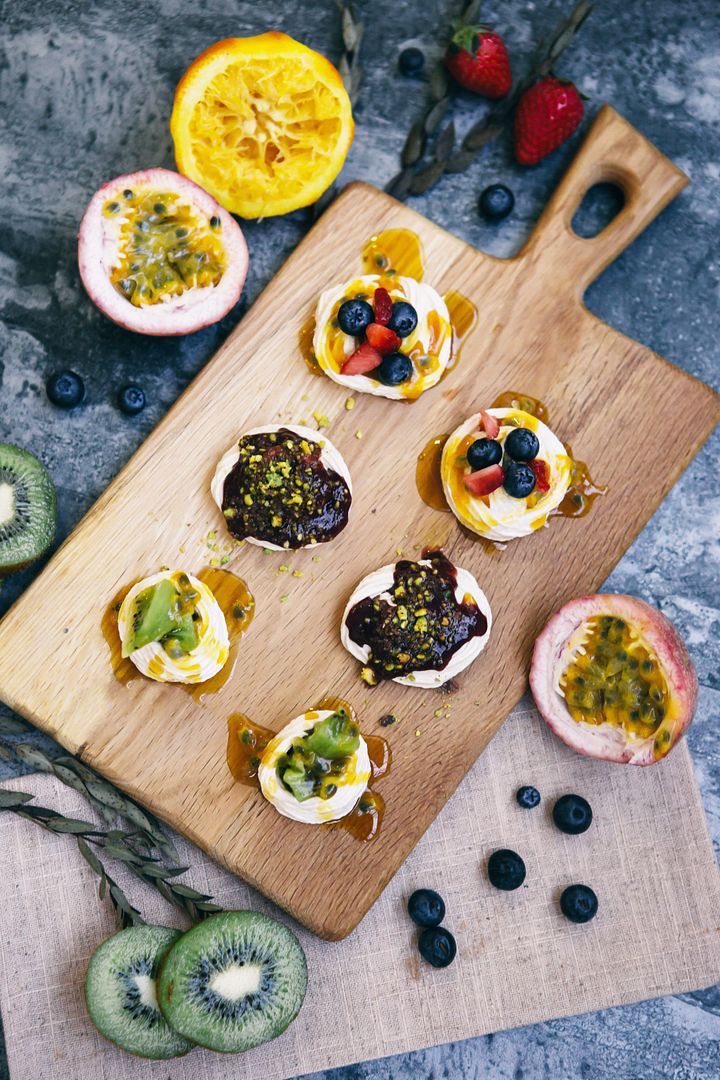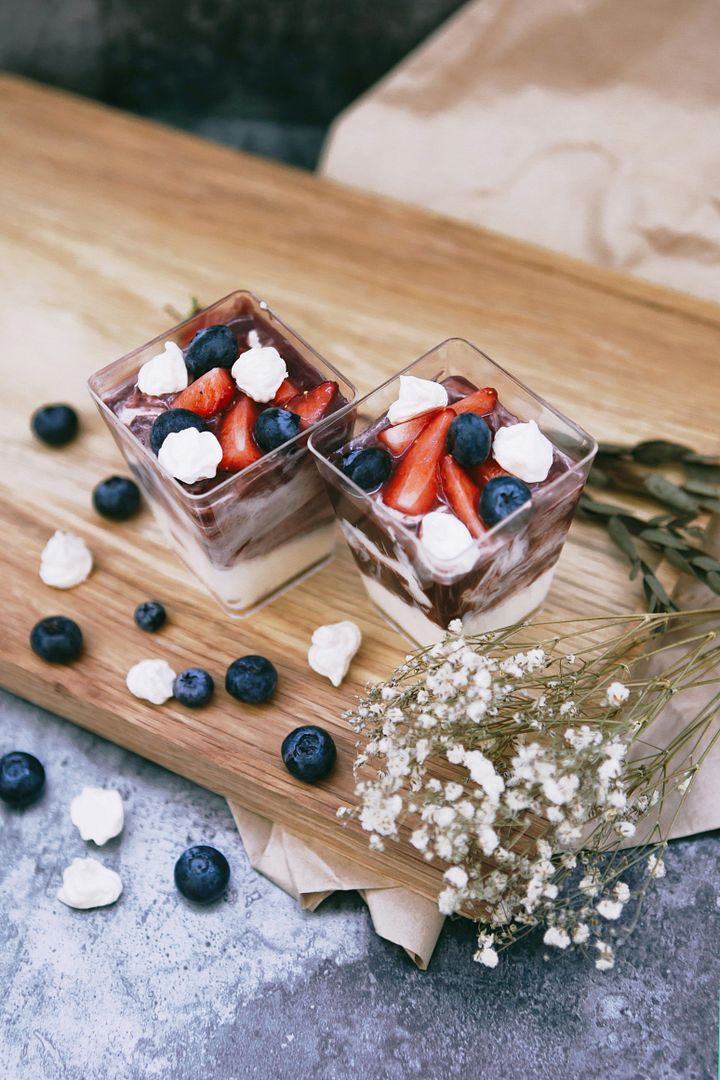 Featured: Mini Pavlova, Eton Mess
Chef/Baker: Lam Geng Han
Photography & Styling: Mirabelle Koh
I think I still have a lot to work on (especially on the editing), but not too bad for a first time huh!
I've always wanted to work on food styling and visuals, but I never gotten the chance to because I can't make decent looking meals to save myself. Even if I could, I can only manage breakfast bowls at best. I also never really gotten much food gigs so being able to work with Han on this for a head start was quite the experience! I get amazing food to shoot and he gets nice photos of his works. We make quite a good team huh. :')
All in all, styling photography is harder than most people think, and I don't think the content creators in this field are often given enough credit... Just my two cents.
Since he baked for my 21st, he later got a gig from a client to work on about hundred pcs of macarons. It was a huge task, especially since he's only just start baking more frequently but he did it!
During his last bookout, we spent almost an entire day just working on the macarons. Well Han mainly did everything. My only job was to 1) weigh/sieve the icing sugar/flour 2) prepare piping bag and baking paper and 3) clean up LOL.
In my defense, my real job begins the day after when all the macarons were done. So I got to work styling and photographing the macarons, so that next time he will be able to use these photos to get more gigs heheheh. I brought my bag of styling props just for this!!!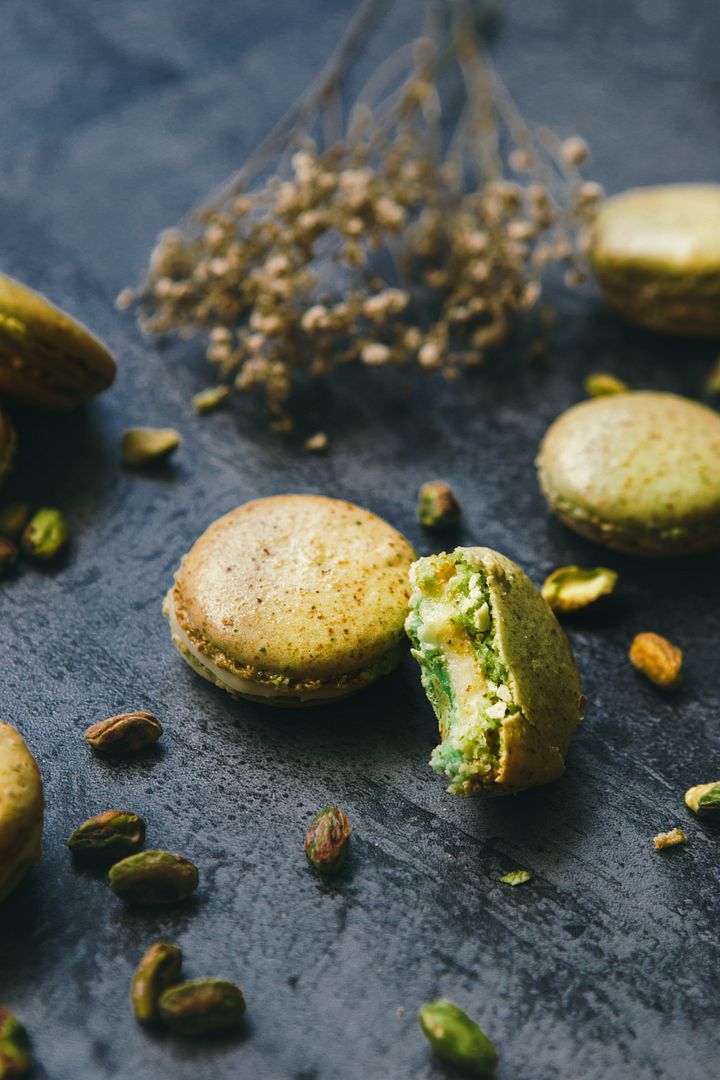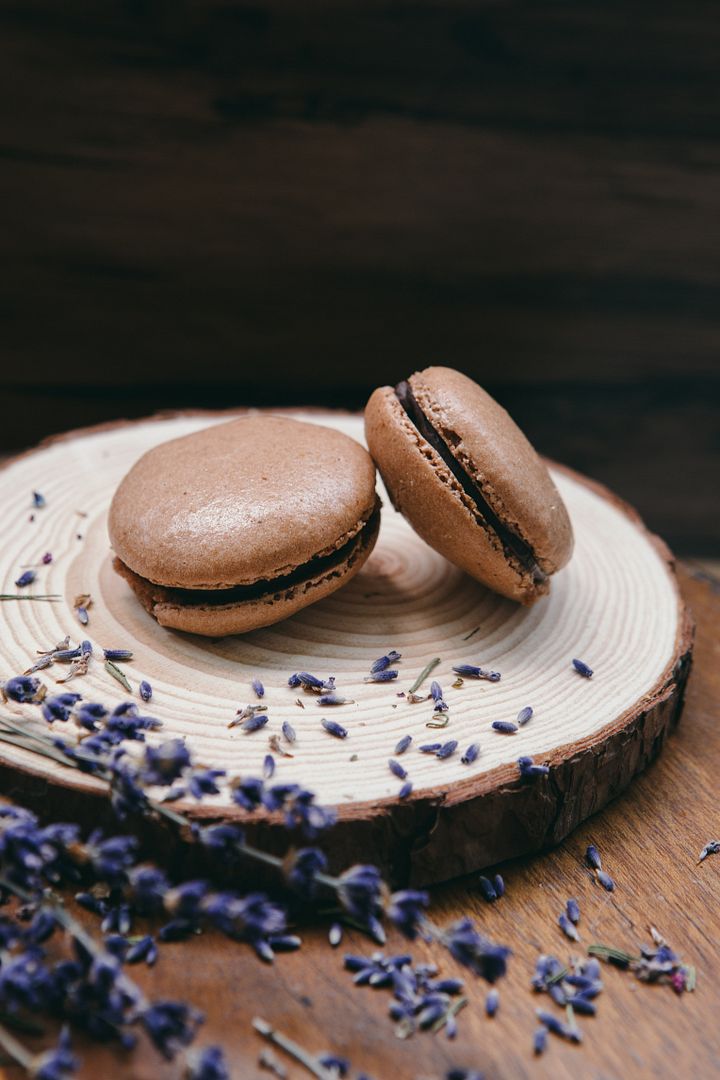 Featured: Macarons
Chef/Baker: Lam Geng Han
Photography & Styling: Mirabelle Koh
We worked on Rose, Passionfruit, Pistachio, Chocolate, Peppermint, Coffee, Red Velvet and Vanilla macarons. But the ones featured above are Rose, Passionfruit, Pistachio and Chocolate flavoured ones respectively. :)
My favourites are definitely the passionfruit and pistachio!! He used legit ingredients (instead of cheap flavourings) so cost price was kinda expensive, but it's the cooking values that Han lives by. Anyway the results were lovely. If anyone of you is looking to order tapas food/desserts for an event or a party, don't hesitate to hit him up @
hansculinaryclassics
(yes I finally convinced him to create a business ig and I'm still in the process of convincing him to let me be his marketing manager LOL).
Quote "bitterbubblegums" for 10% off total bill!! HAHA I'm just kidding but if you're a friend/reader of mine you can let him/me know!
Or if you're looking for a photographer/stylist for a project... You can drop me an email at mirabelle.koh@gmail.com (Sorry for the shameless self promotion)
Personally, I think the styling photos this time are better than the previous! Hopefully it'll keep getting better. I probably should change up the background cause it's gonna get boring lol. I've already spent about another hundred or two on styling props (sigh that's where my pay goes to). All these in pursuits of pushing my creative limits.
I'll probably have more food photos to put up here when my pretty plates arrive! Can't wait hehe.
Labels: Food, projects, shenanigans
Turning 21
Monday, April 17, 2017
9:49 PM
Wew I turned 21!!!
Okay, getting closer to adulthood isn't really anything to be excited about but, as of 13th April, I turned a year older. And on the 15th of April, I decided to plan my 21st celebrations with a bunch of my closest friends.
Because I wanted to do a lot of stuff on my own, there was quite a lot of fore-planning and work before the actual celebrations itself. Well, it's mostly the decorations, set-up, logistics and food, but everything was worth it!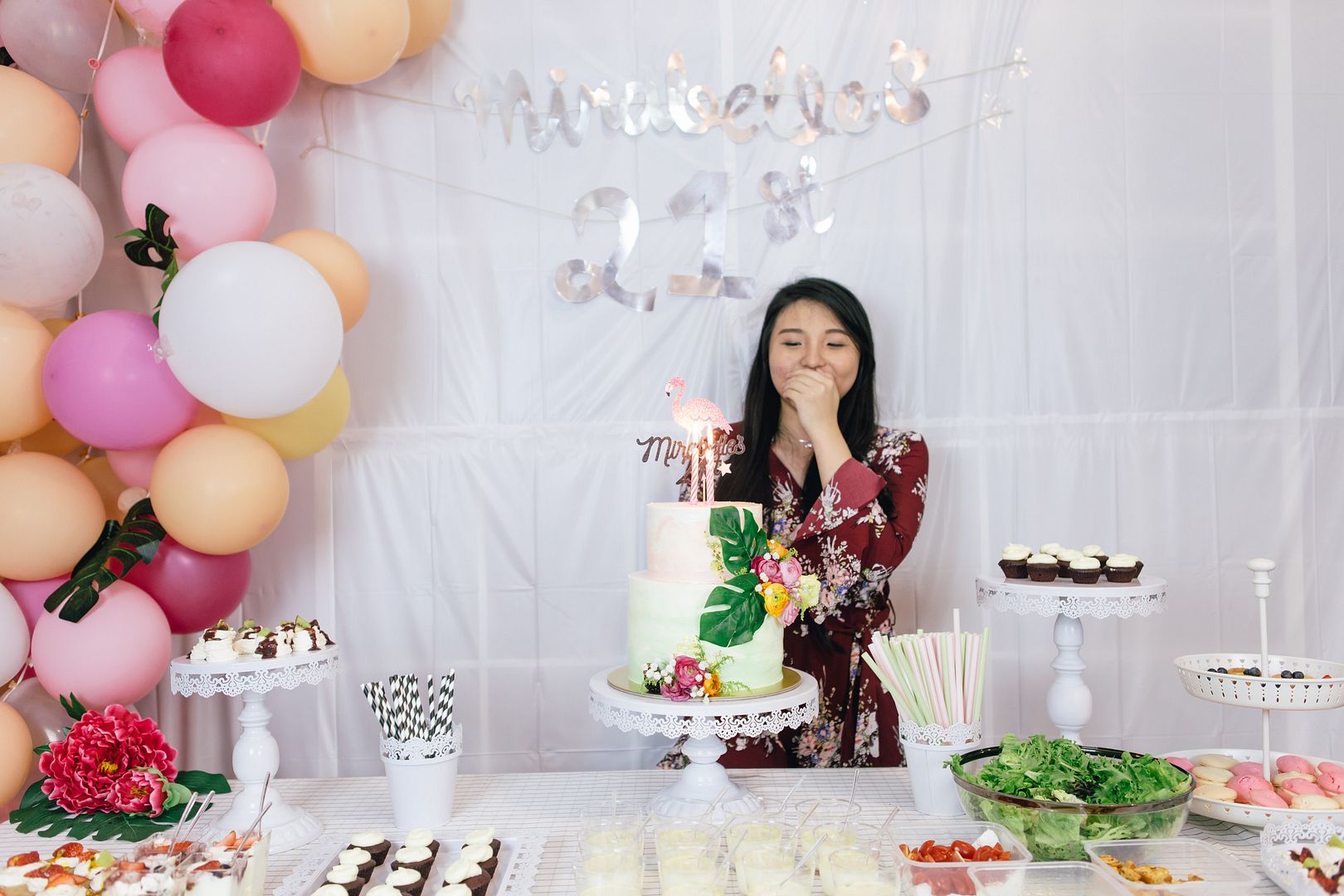 Initially, I was planning on getting food catering since it's the most feasible option, aside from its hefty price tag. But Han said he wanted to help me with the food, and while I wasn't exactly sure if I should (because that meant that he would be spending his precious book out time cooking), we eventually made it work after planning our schedules and the menu! Hehe and the menu was so good!! Thank you so much my dear chef. :')
I did manage to style and photograph a few of the desserts that Han made for my 21st. I'll blog those visuals on a later date this week! For now, the decor and set-up.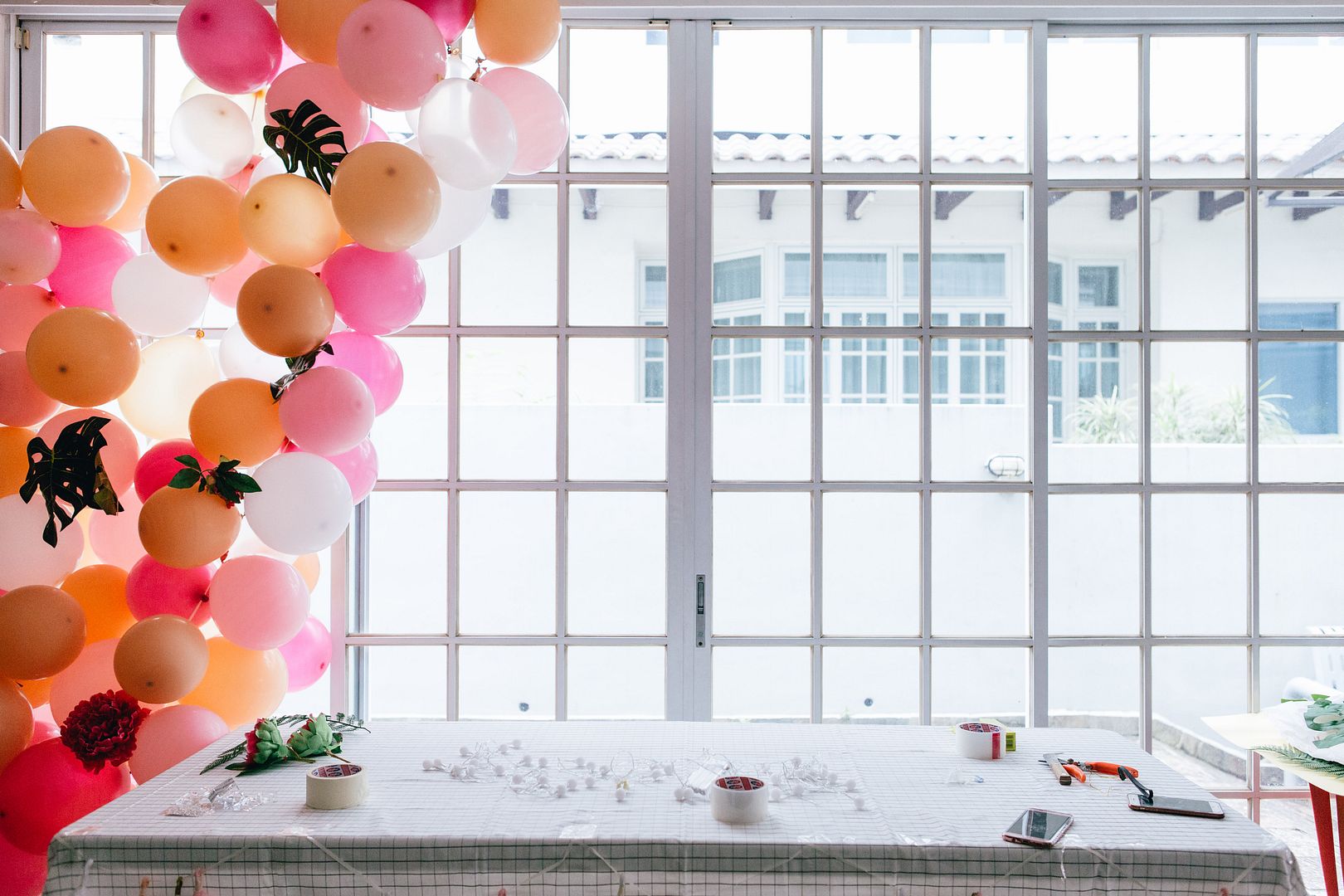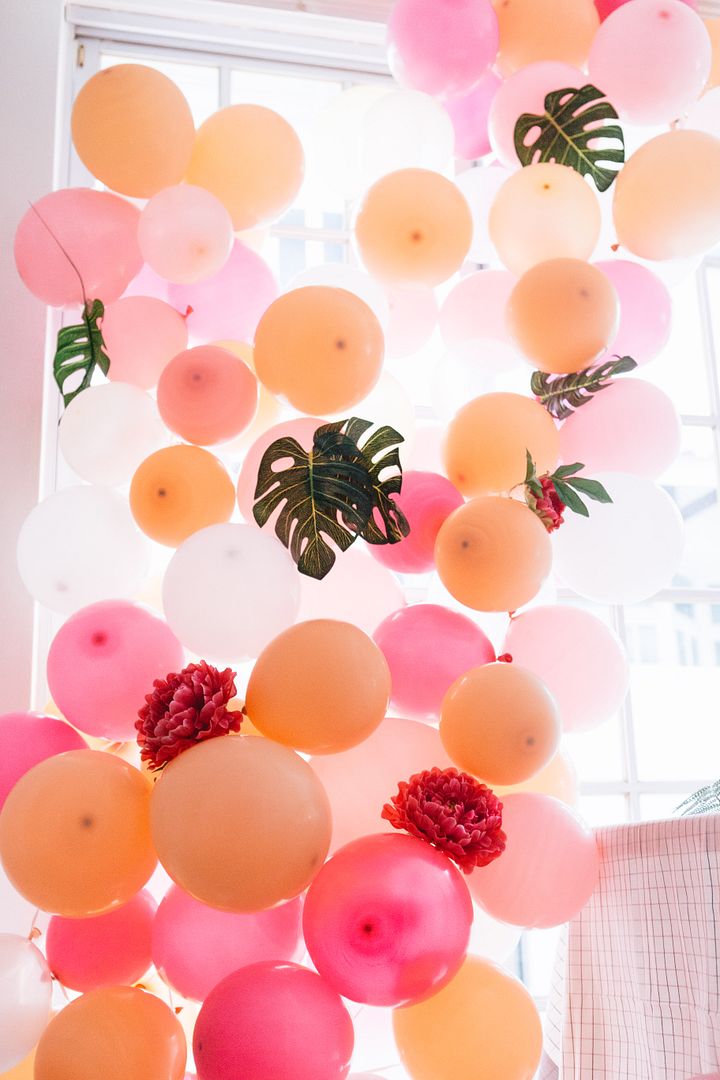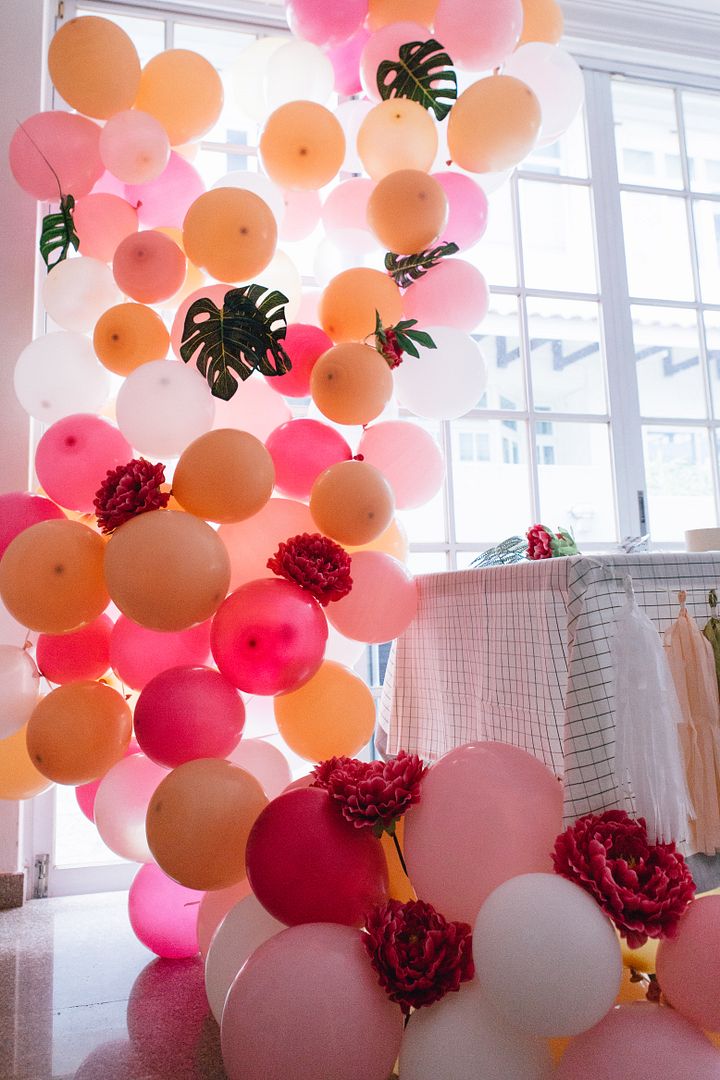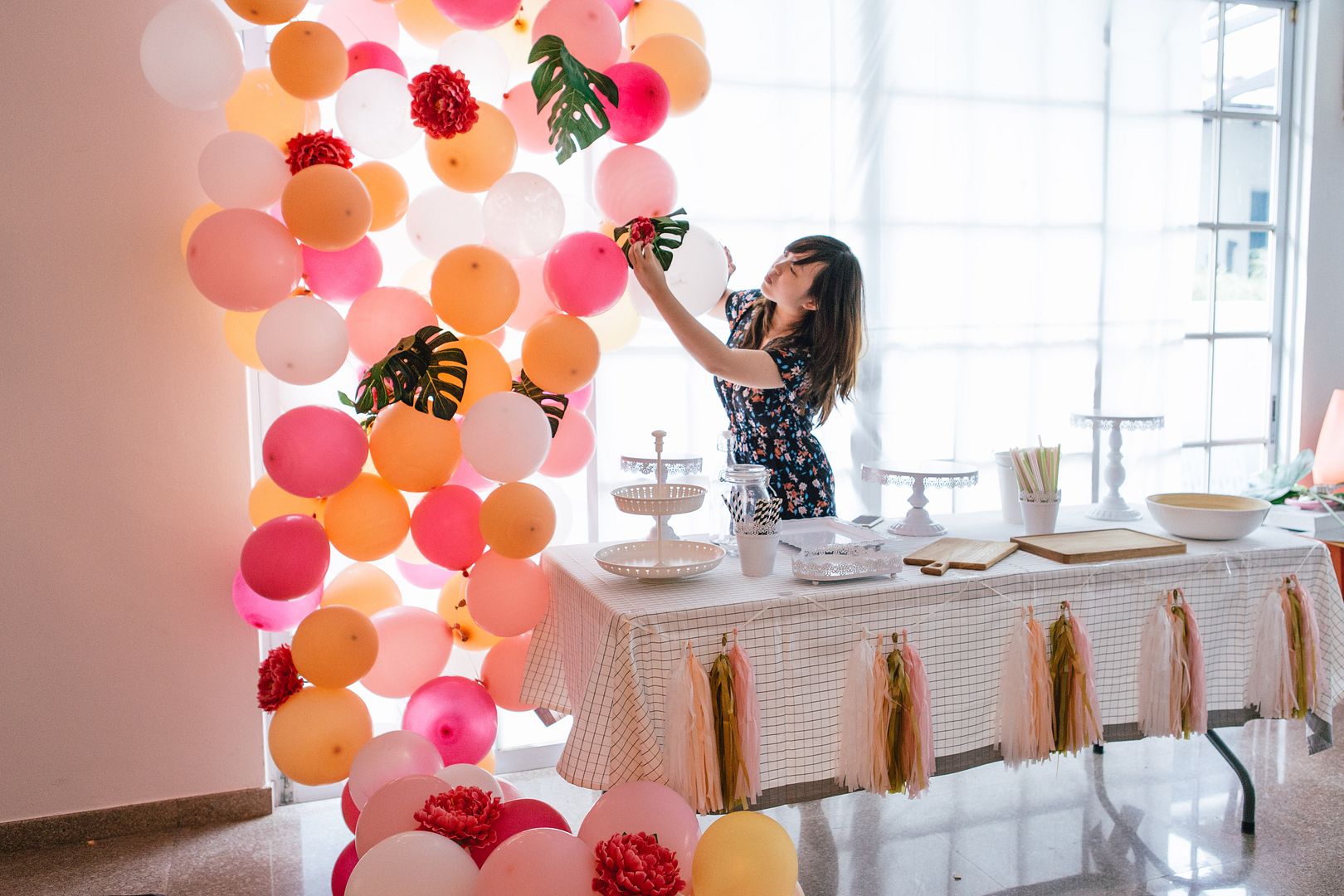 So I had an idea to do a tropical theme for my birthday, but I didn't exactly want it to be the typical flamingo, pineapple and palm tree decorations all over. So I did some googling and decided on making some sort of balloon arc in pinkish, nude shades with flowers and palm leaves.
My best friends came to help me out the day before the actual celebrations, and it took us about four hours to finish the whole set-up?? I thought it wasn't so bad LOL. But anyway most of my materials are from taobao! Omg taobao just literally helped me with budgeting so much on my deco/set-up!! The balloons, flowers, leaves, dessert stands, wooden trays and some other stuff were all from taobao!
In total, I spent about $700 for my birthday, which I thought was pretty decent considering I had a huge venue, food and dessert table for about 30pax, a "photo booth", a 2-tiered birthday cake and a pretty set up! Eventually, I also almost covered my cost with red packets from parents and relatives haha.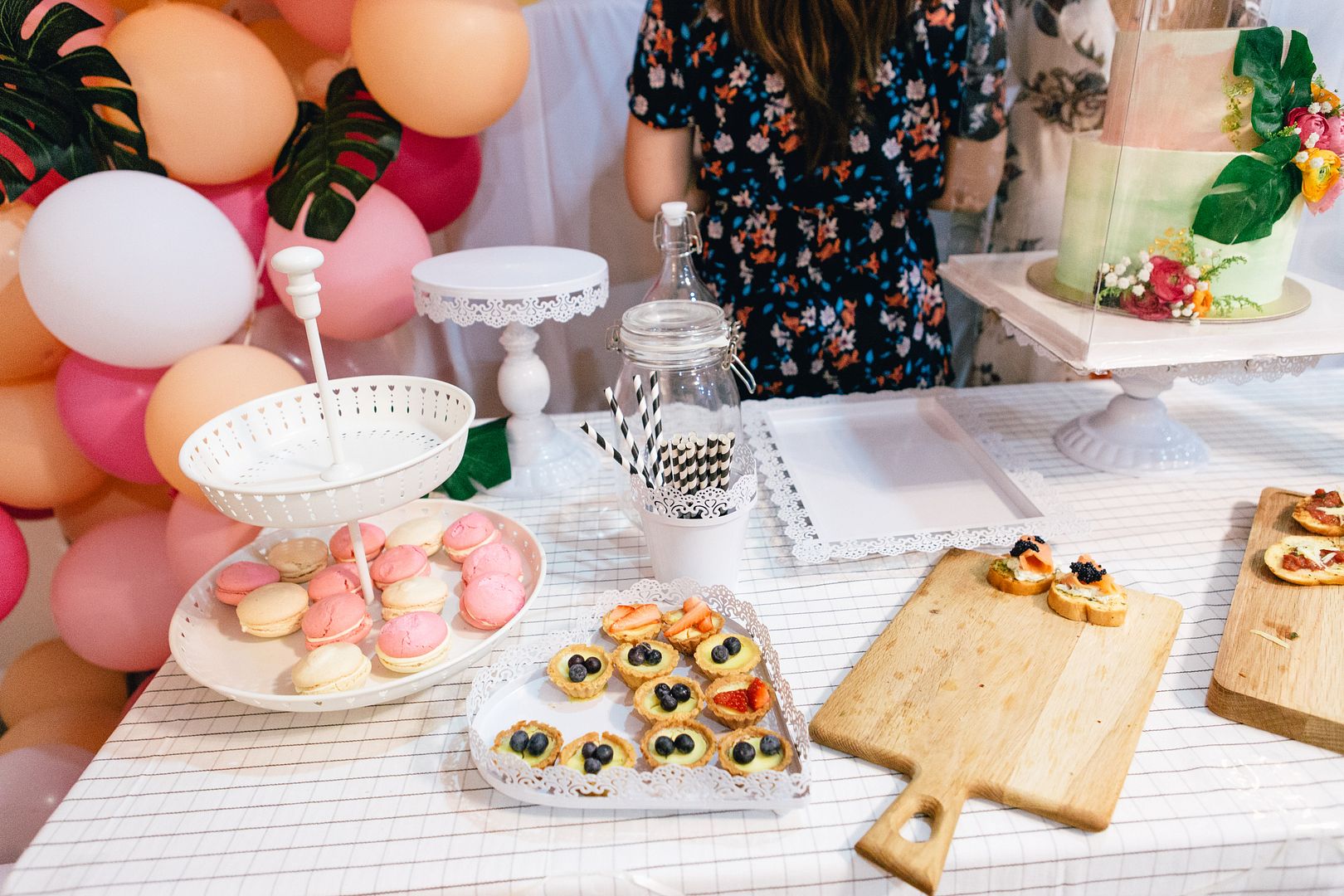 The food was sooo good!! Wish I had taken more pictures when the table was still full with some of the tapas or desserts ):
On the day itself, there was a bit of a rush here and there but I'm glad it all worked out smoothly! Thank you to all the dear friends who came down to celebrate my 21st birthday!!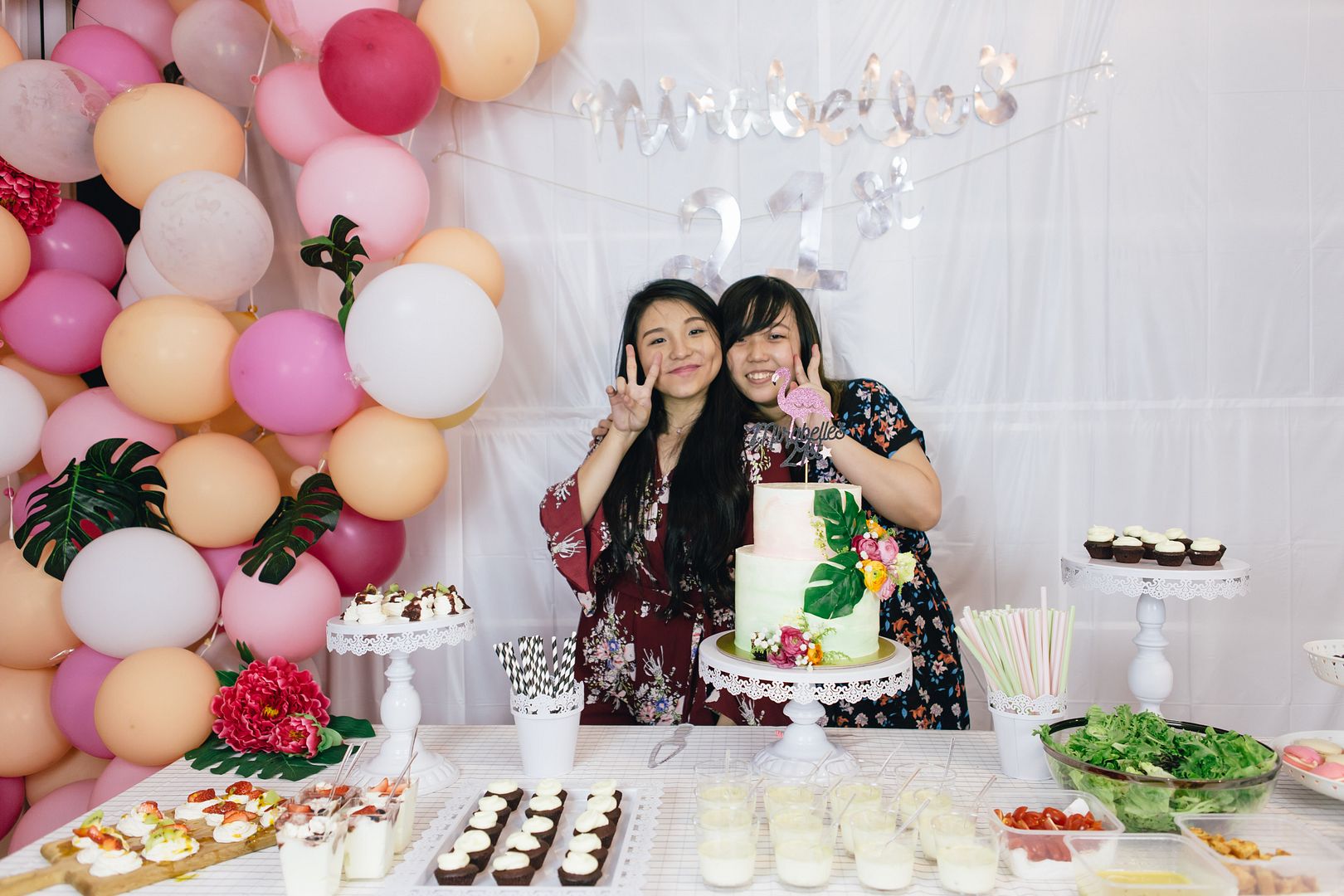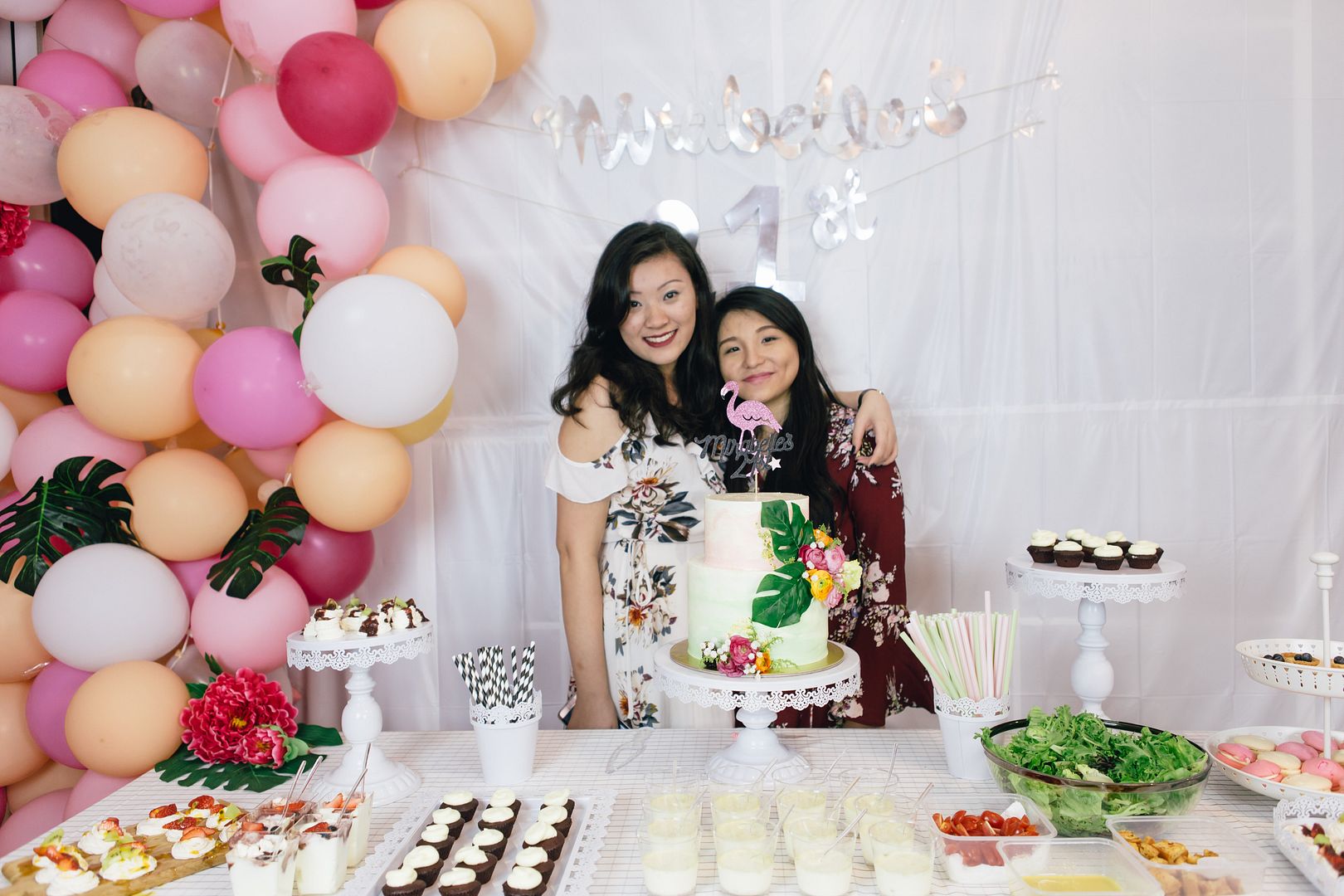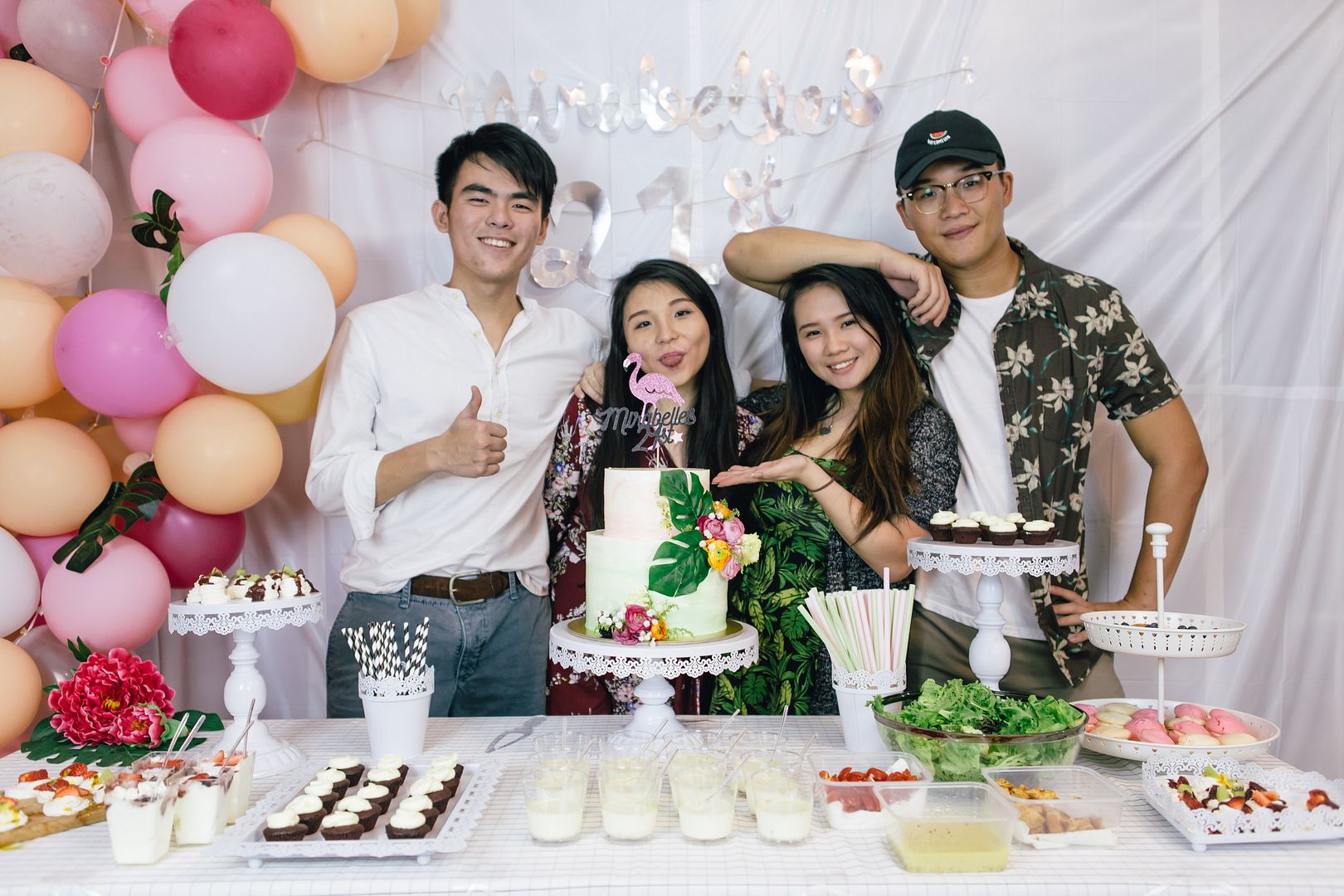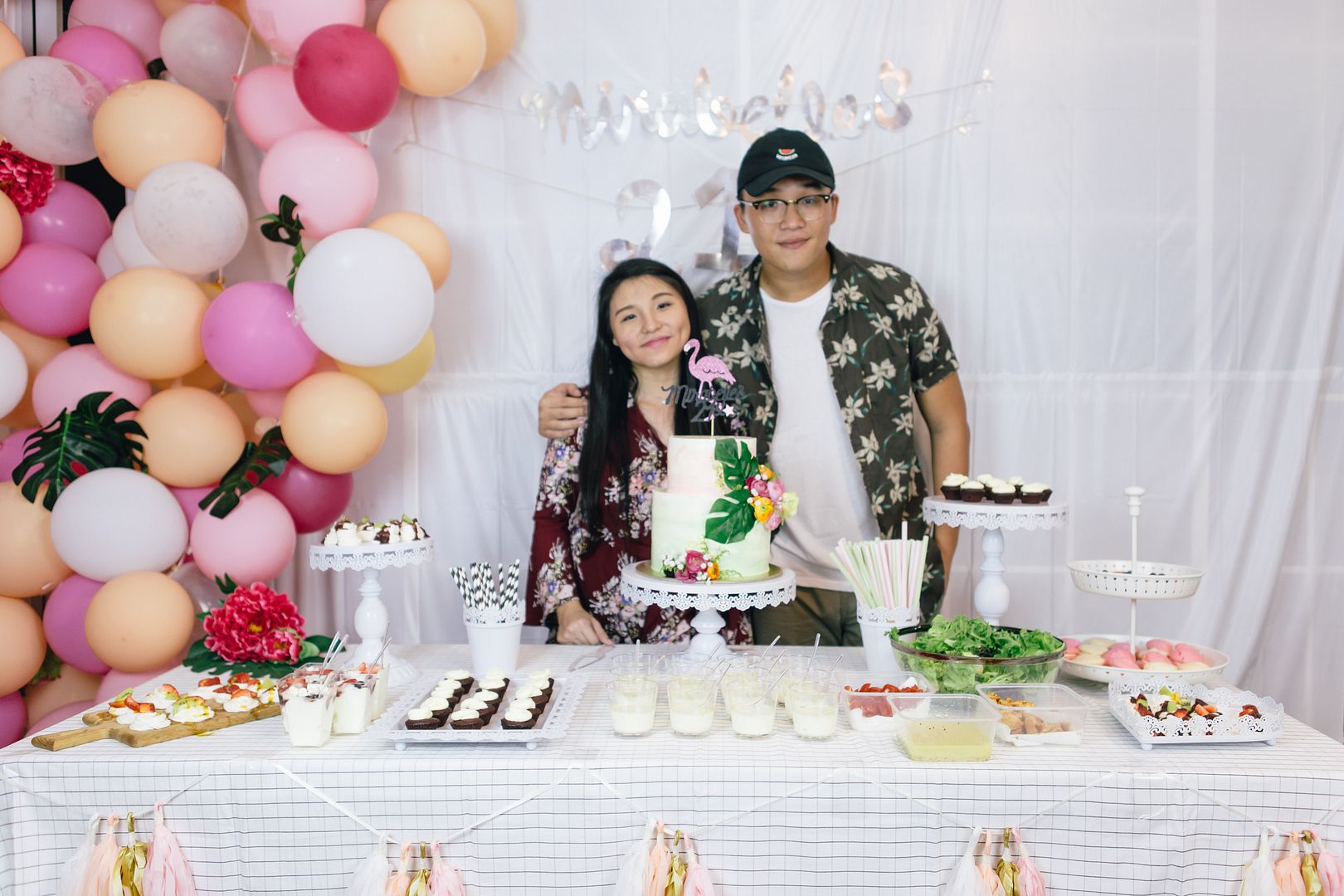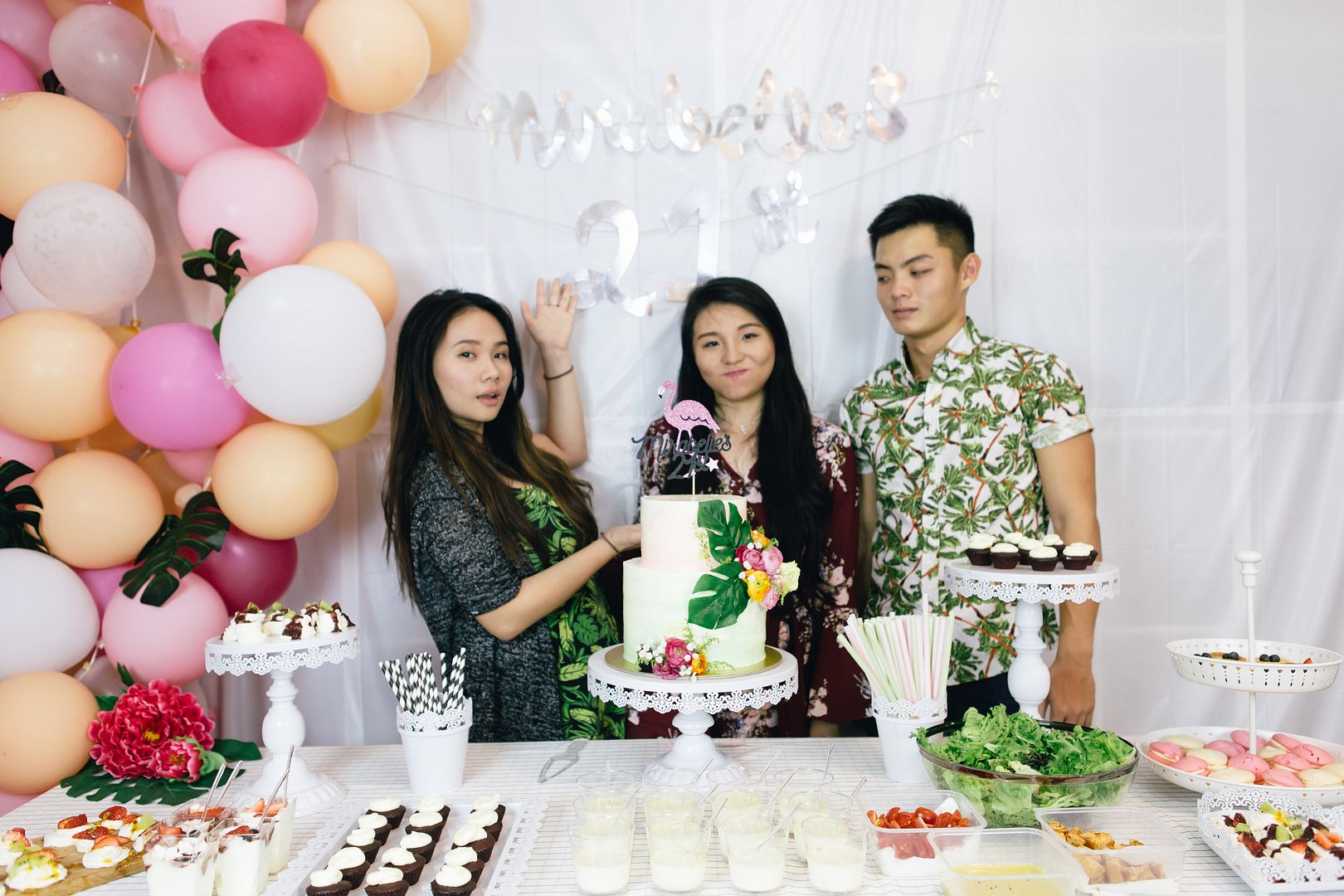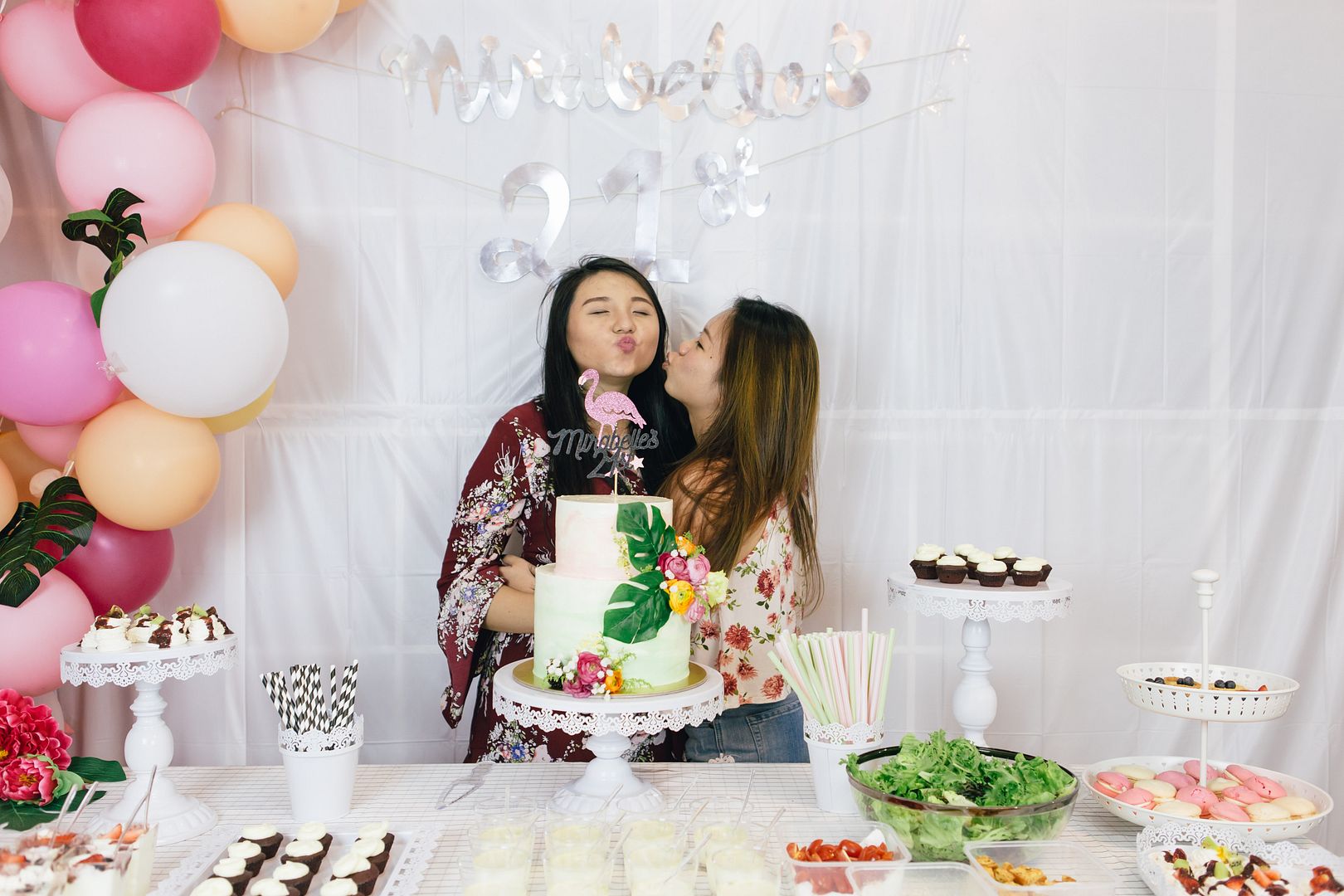 >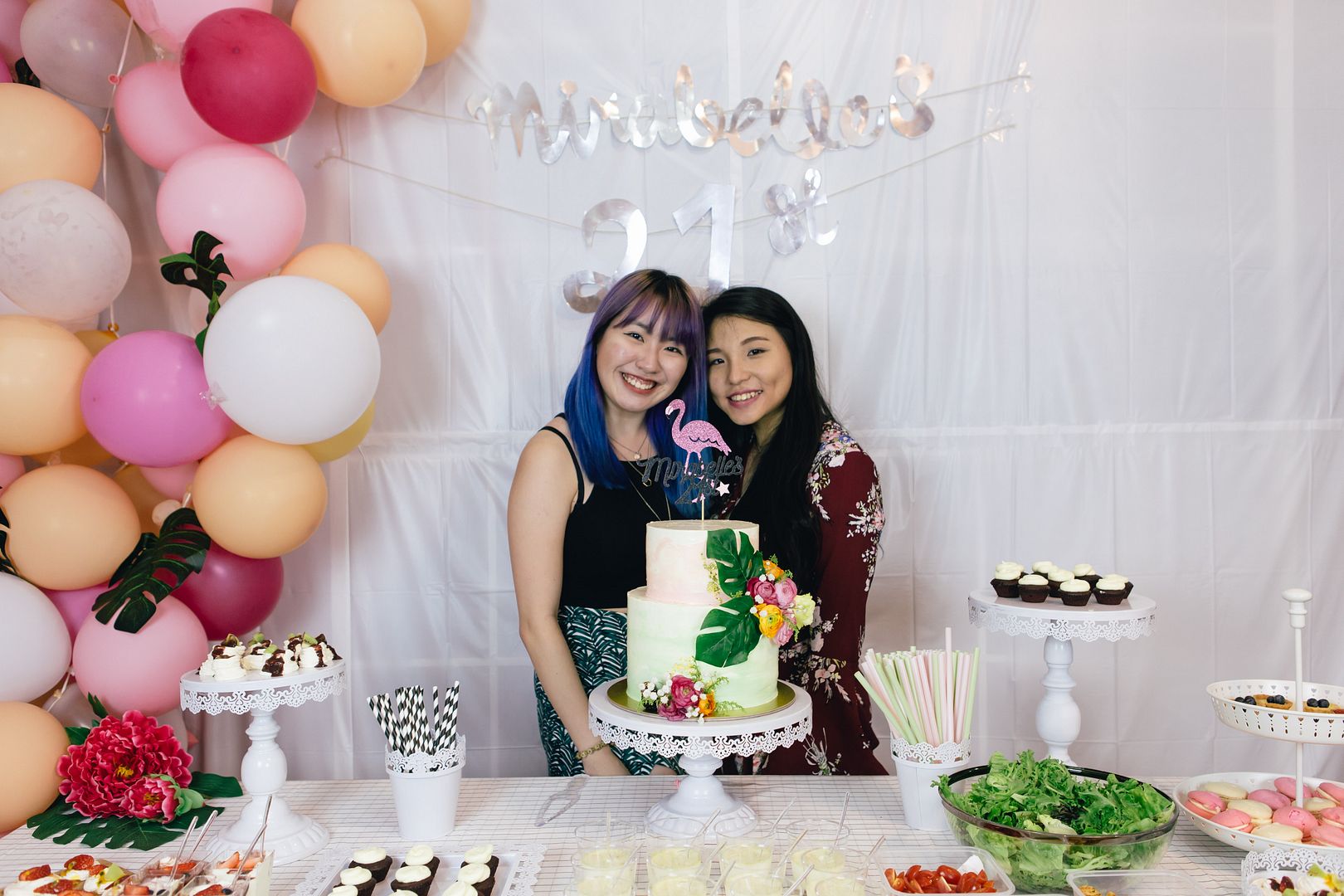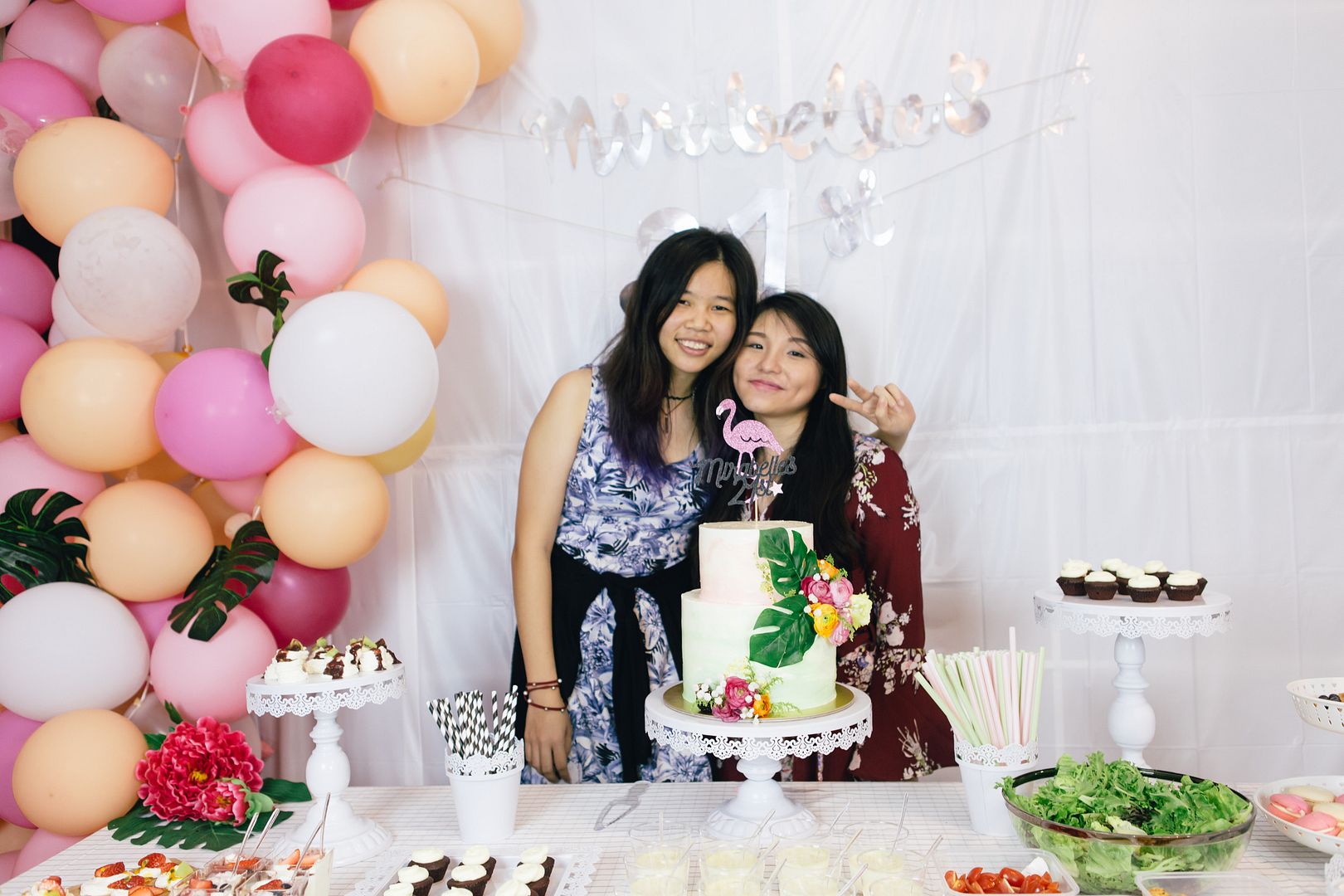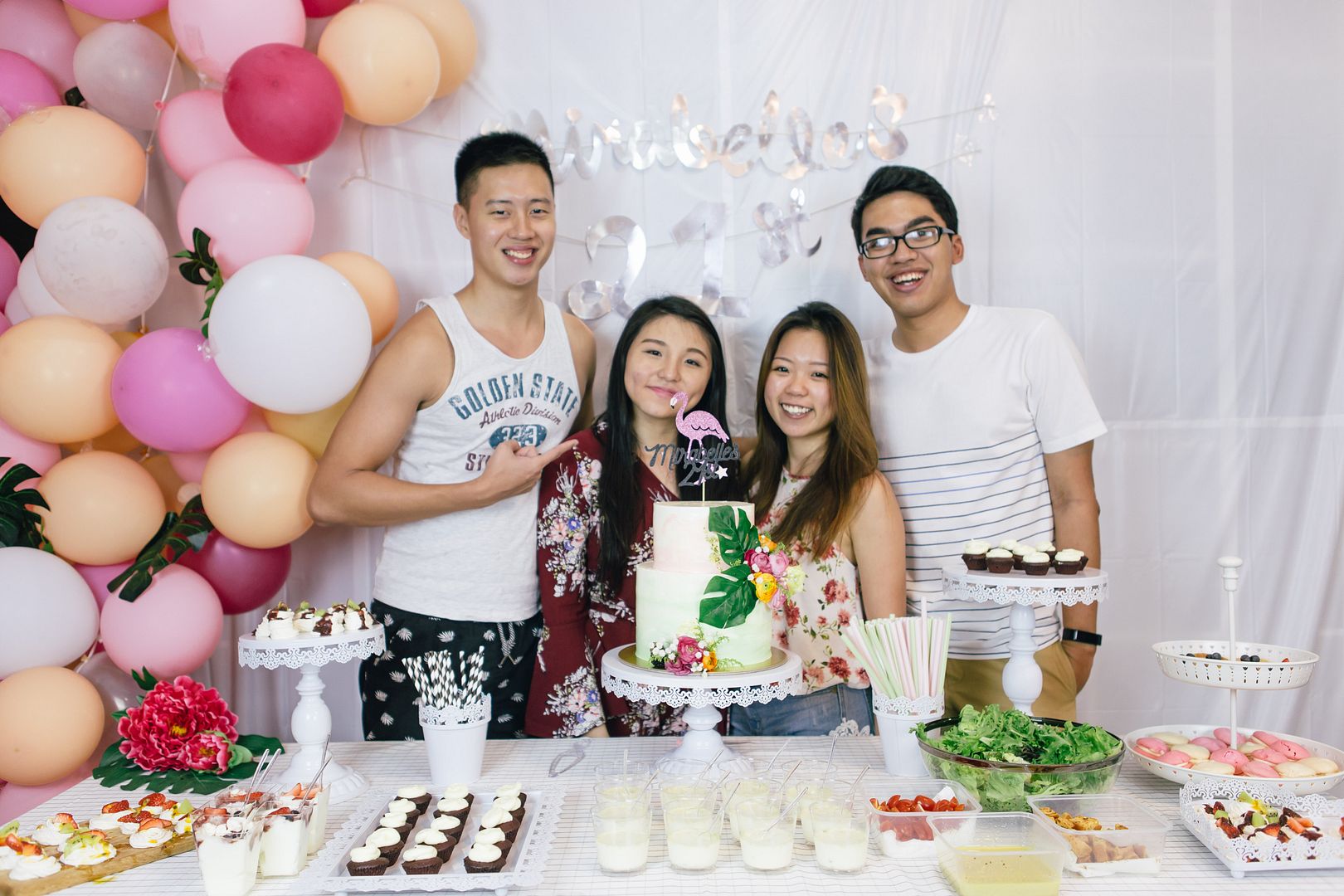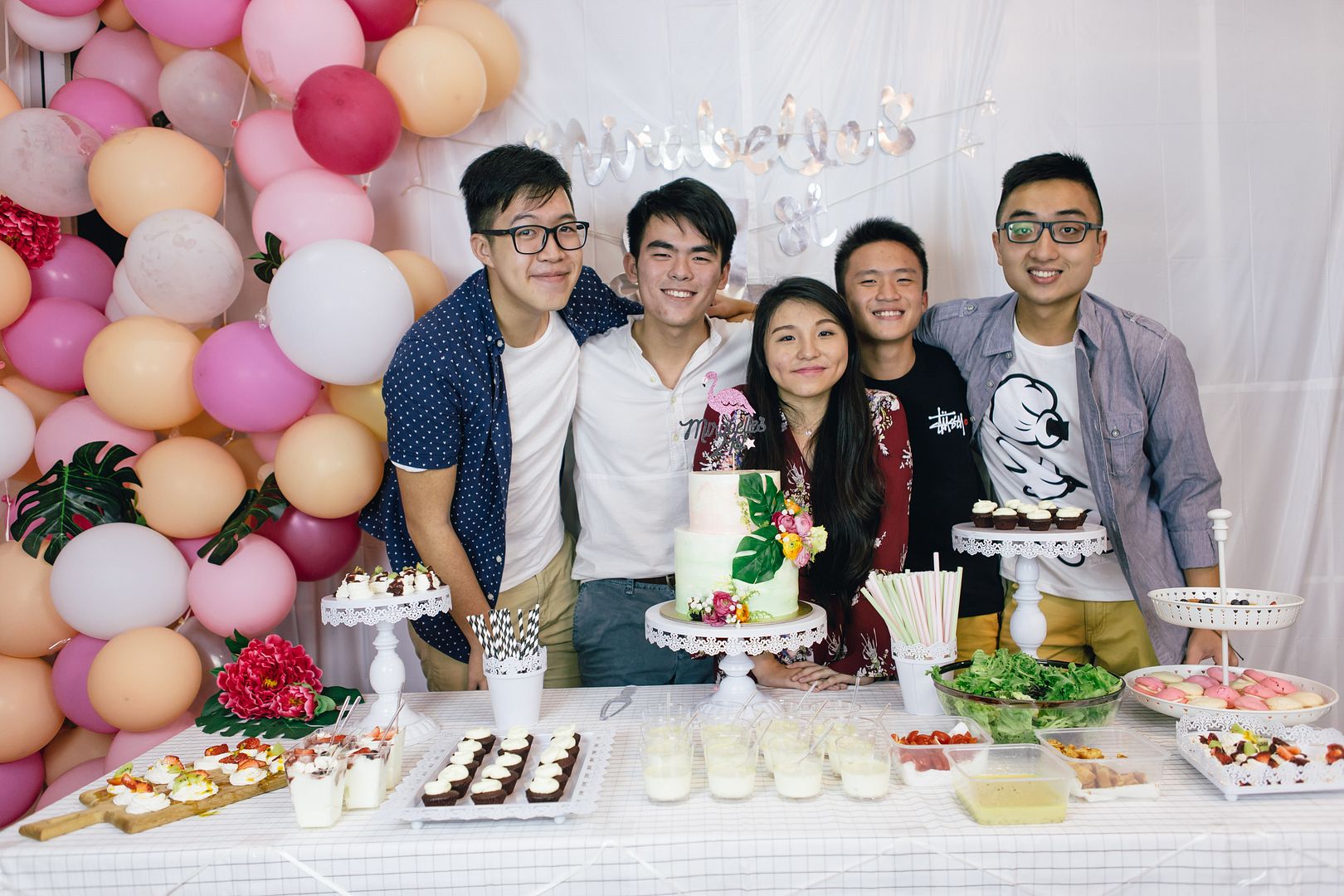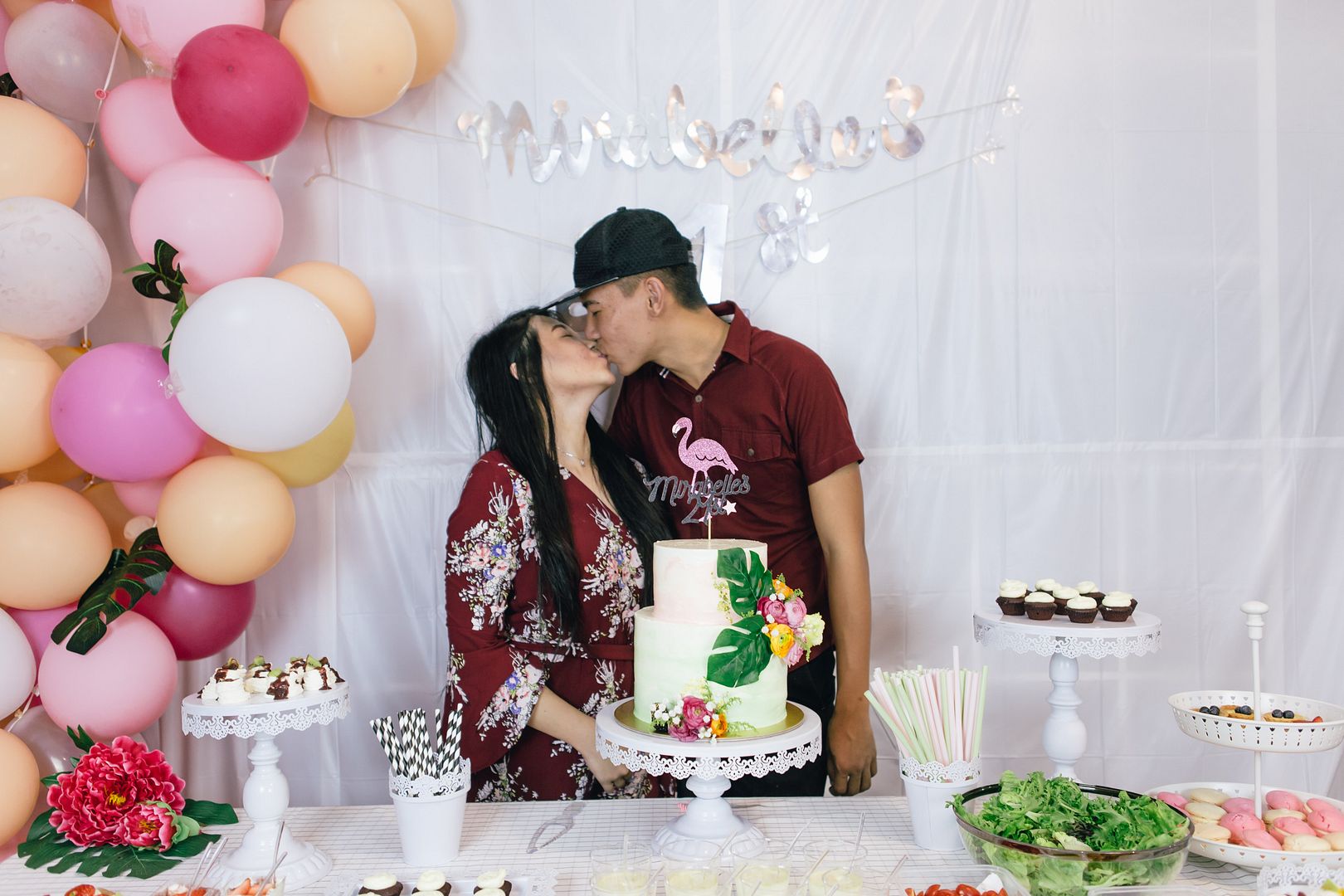 I think almost everyone dressed up pretty tropical-ly? HAHA totally didn't expect that but I think themed outfits are cool when the whole gang dresses the part.
Nothing warms my heart more to know that I have Han and my best friends to rely on despite their busy work/NS schedules. Things were only a lot easier because I have them around to go through all the not-so-pretty and hectic stuff that goes on behind the glamour of all 21st birthday parties. Thank you Miao Lin, Trisha, Zhiyi, Victor, Kelvin and YeeWah for being such an amazing team! You guys have always been the most dependable and indispensable bros and girlfriends I know. Thank you for always being real with me, and for accepting me as I am. Here's to years ahead as we venture into adulthood! If y'all are planning your 21sts, please hit me up to be your photographer or to help out with decor. :')
Also, I think I was really happy to see all the ones I cared about gathered together at one place. Since most of them are friends from primary and secondary school, it was really nice to feel all that familiarity once again. Whether it was after school hangouts or late night msn conversations about anything, it all feels so nostalgic and I would want to keep these people close to heart. Plus, the after party was fun LOL although I think my alcohol tolerance has improved heaps since 2015's hectic clubbing/bo tah bo lampah lifestyle so... I didn't get drunk (nice try friends).
Lastly, I don't think I would have even considered celebrating my 21st if it were not for Han, who helped me with so much of the event planning.
From accompanying me to run errands to grocery shopping to liaising with your friend for the birthday cake, thank you for supporting and giving me so much, and I hope that we can go through many more milestones ahead together!! Everything I've wanted to say is in the long message hehe. Thank you for being the best boyfriend, teacher, partner in crime and friend that I can ever ask for. Being an adult seems less daunting knowing that I have you around <3


Wew it's been a super long post and I think I'll end it here. It's been an amazing 21st with my loved ones!
Labels: shenanigans