Melbourne Roadtrip (part 1) - Melbourne City
Thursday, January 19, 2017
8:51 PM
To start off the Melbourne travelogue series, I'll put the disclaimer out there that I was kinda conflicted between choosing Melbourne or Sydney for our one week vacation.
The whole Melbourne vs Sydney rivalry thing going on totally did not help me in my decision making, because from the articles I've read both countries have their own merits and nothing about either countries particularly turned me off.
But we eventually decided on Melbourne because of these three reasons:
1. We had our sights set on the super scenic Great Ocean Road Trip
2. The cafe scene is incredible (I prepared a whole list of places to dine at but we only managed to cover half)
3. It's more down-to-earth as compared to fancy Sydney, and we preferred something more chill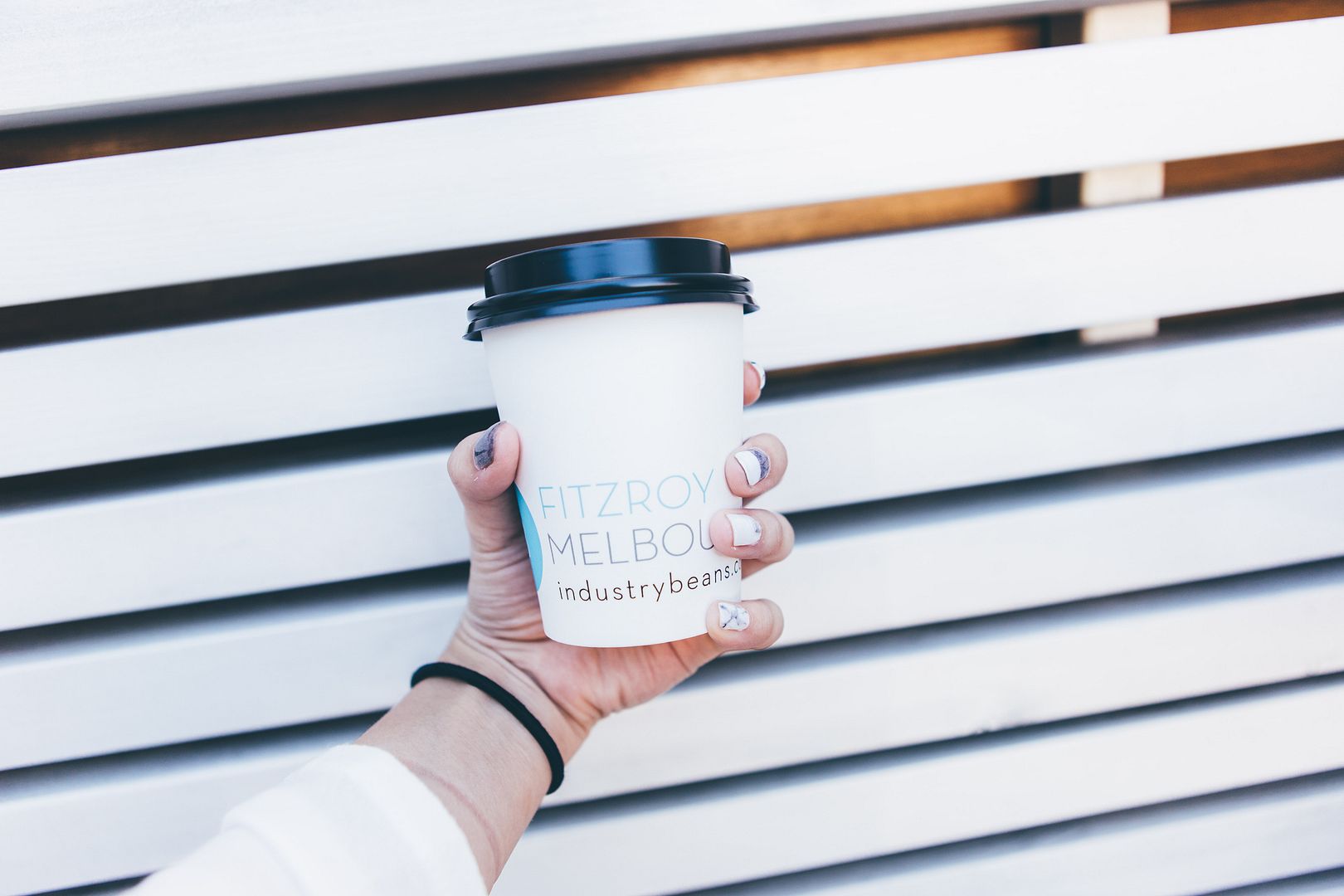 Melbourne is also perfect for shopping in the CBD areas, although things tend to be kinda expensive. Well, everything in Australia is pricey so lol.
For our 7D6N itinerary, we spent three days in the city, two days on the Great Ocean Road and one day on a daytrip to Yarra.
But for now, here's what we covered while we're in Melbourne city!!!
Rose Street Artist Market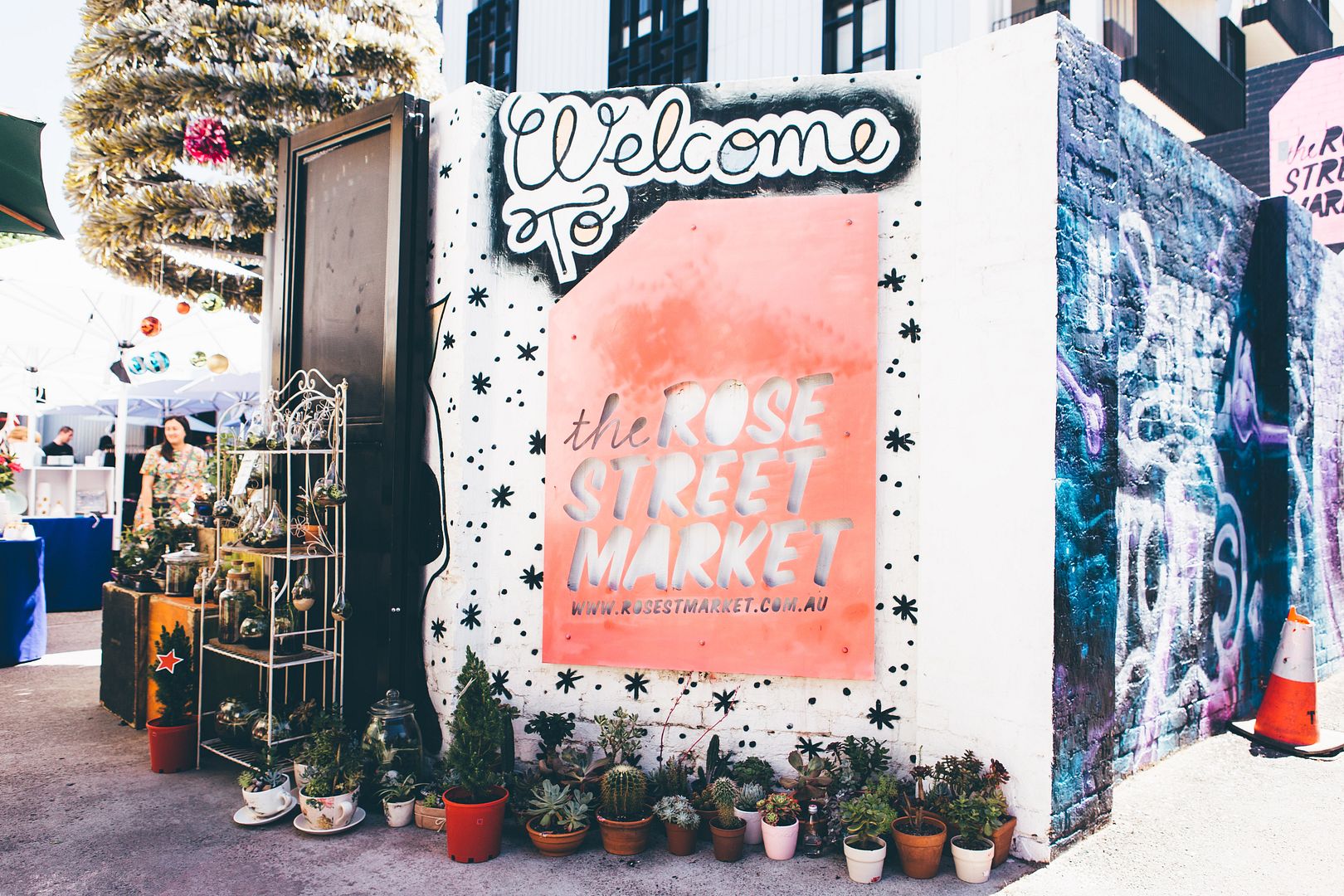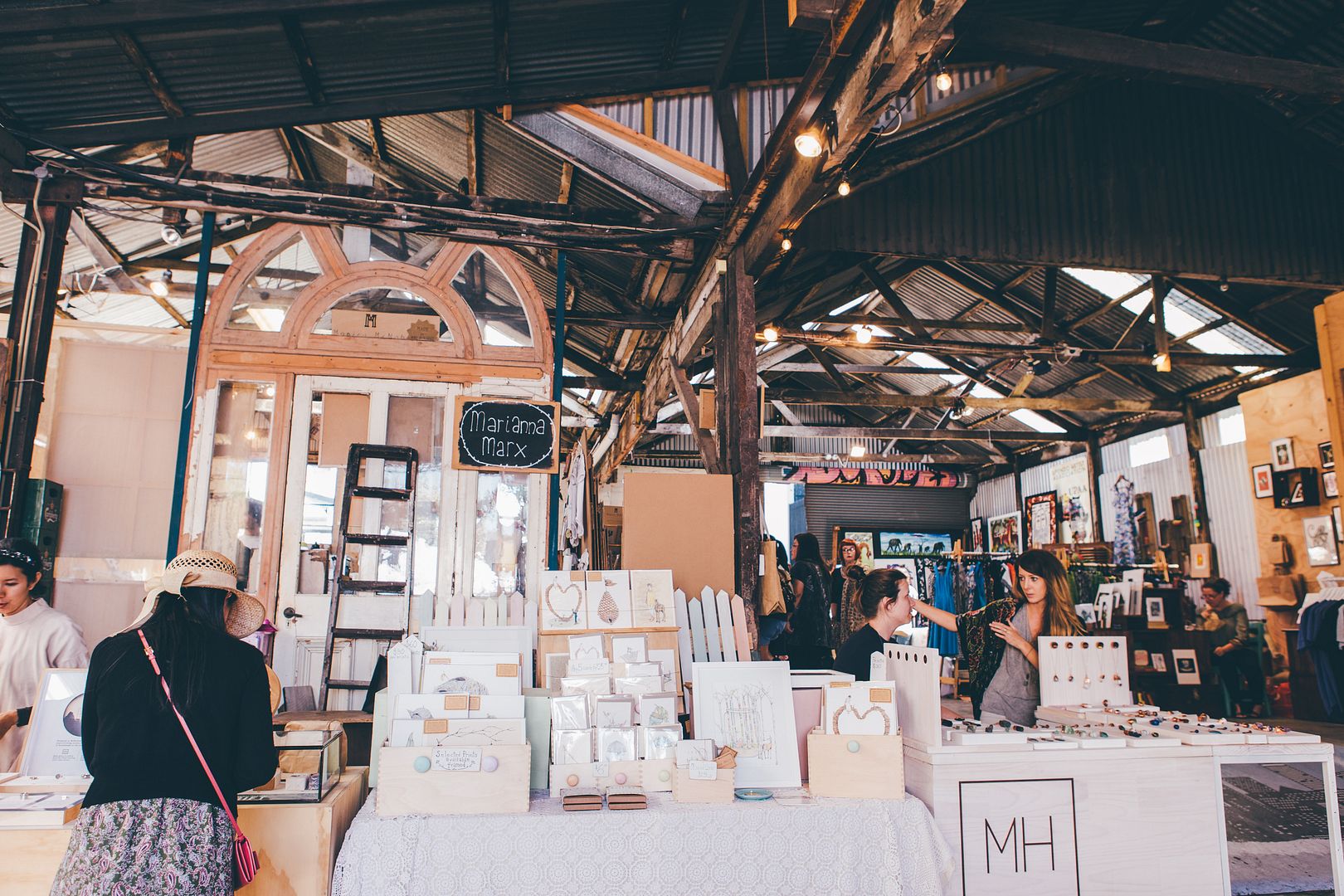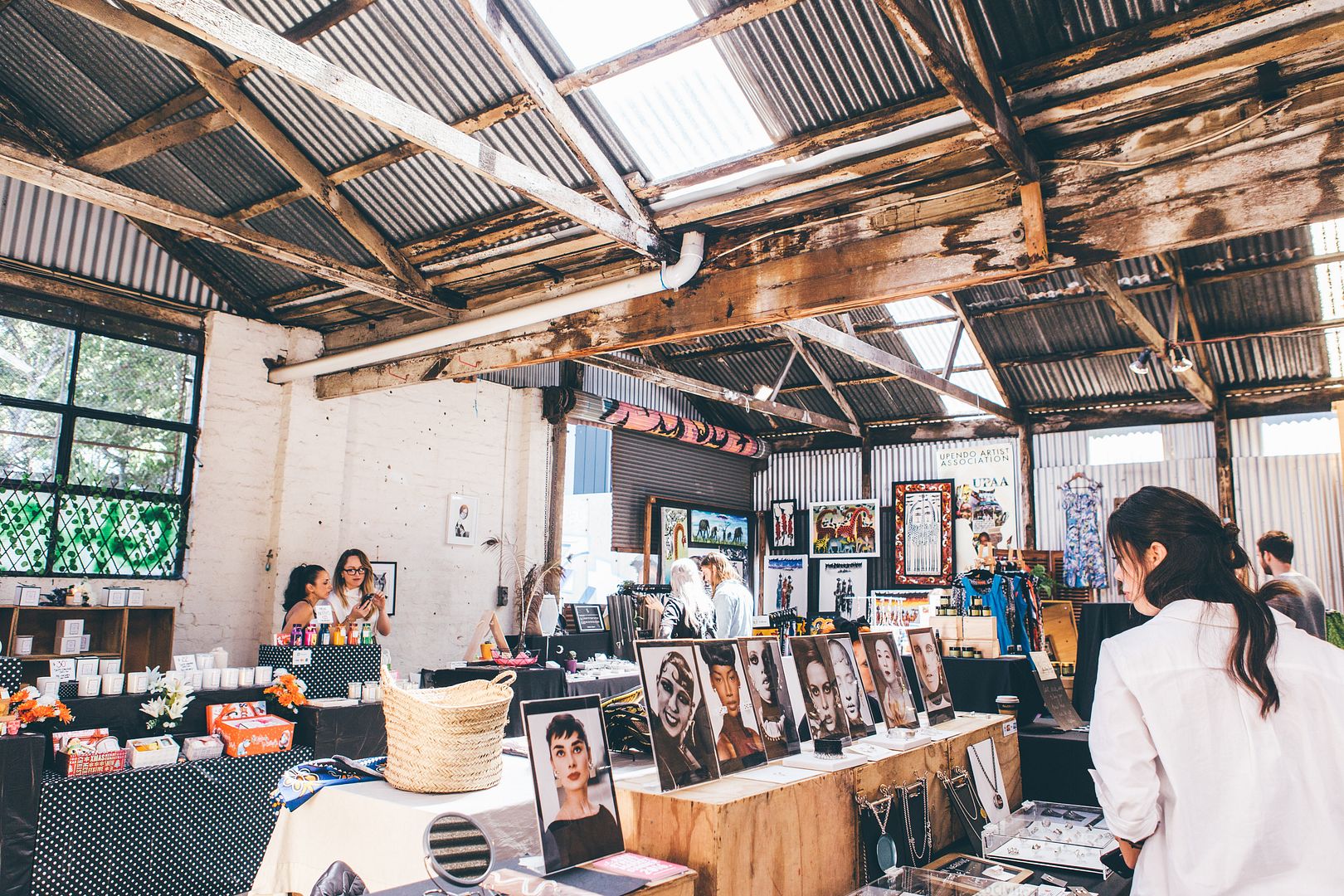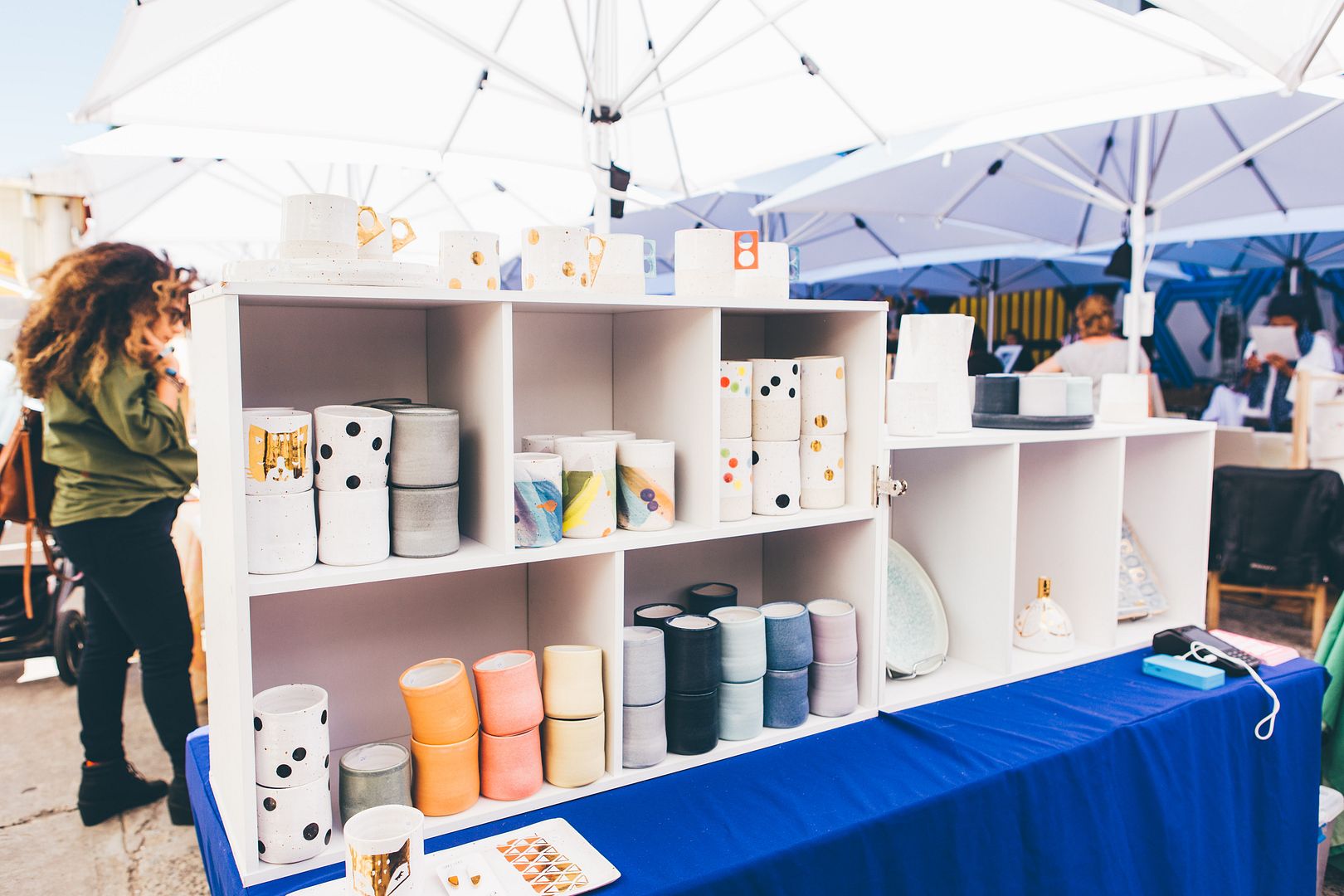 The Rose Street Artist Market is an indoor and outdoor market, featuring handmade goods by Melbourne's artistic talents. It's the best place for you to find unique, artisan wares - ranging from accessories, apparels, art pieces, ornaments, pottery and sweet treats.
When I first chanced upon this Artist Market online, I was so stoked to see it in person because of how arty and hippy the whole market looked. I love Aussie markets, and although Rose Street was different from Aussie's typical farmer markets, it sure didn't disappoint!! My inner wannabe hipster was screaming when I was looking at all of the crafts that they had.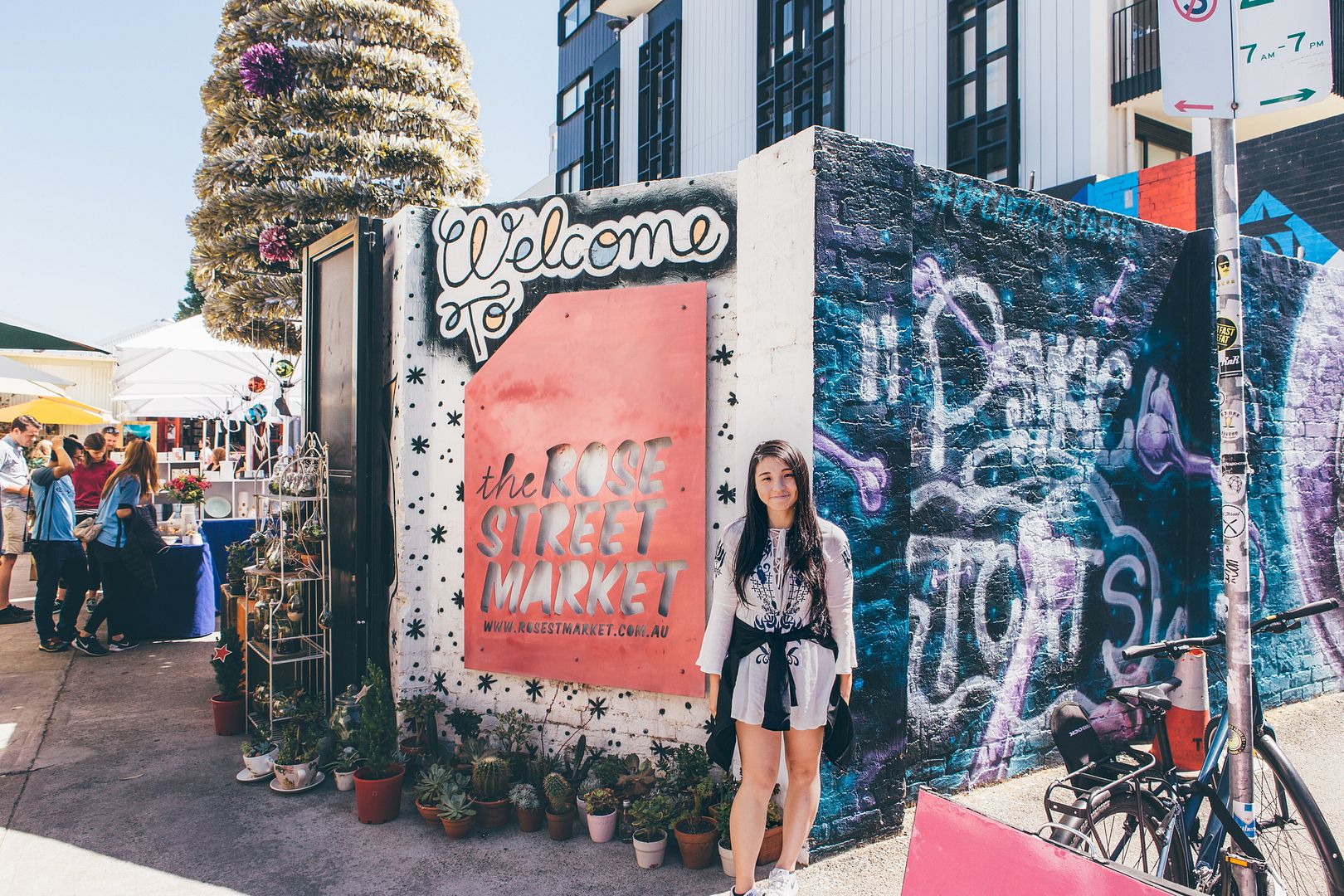 If you're an arts person, or just someone who appreciates all these handicraft knickknacks, you probably don't want to miss this. The market is kind of small though, so you probably won't spend more than an hour or two there.
However, the Rose Street Artist Market is only open during the weekends. So you'll probably have to plan your schedule around it like we did for most of our market trips.
They also have this grafitti filled carpark along rose street! Super photogenic place hehehe.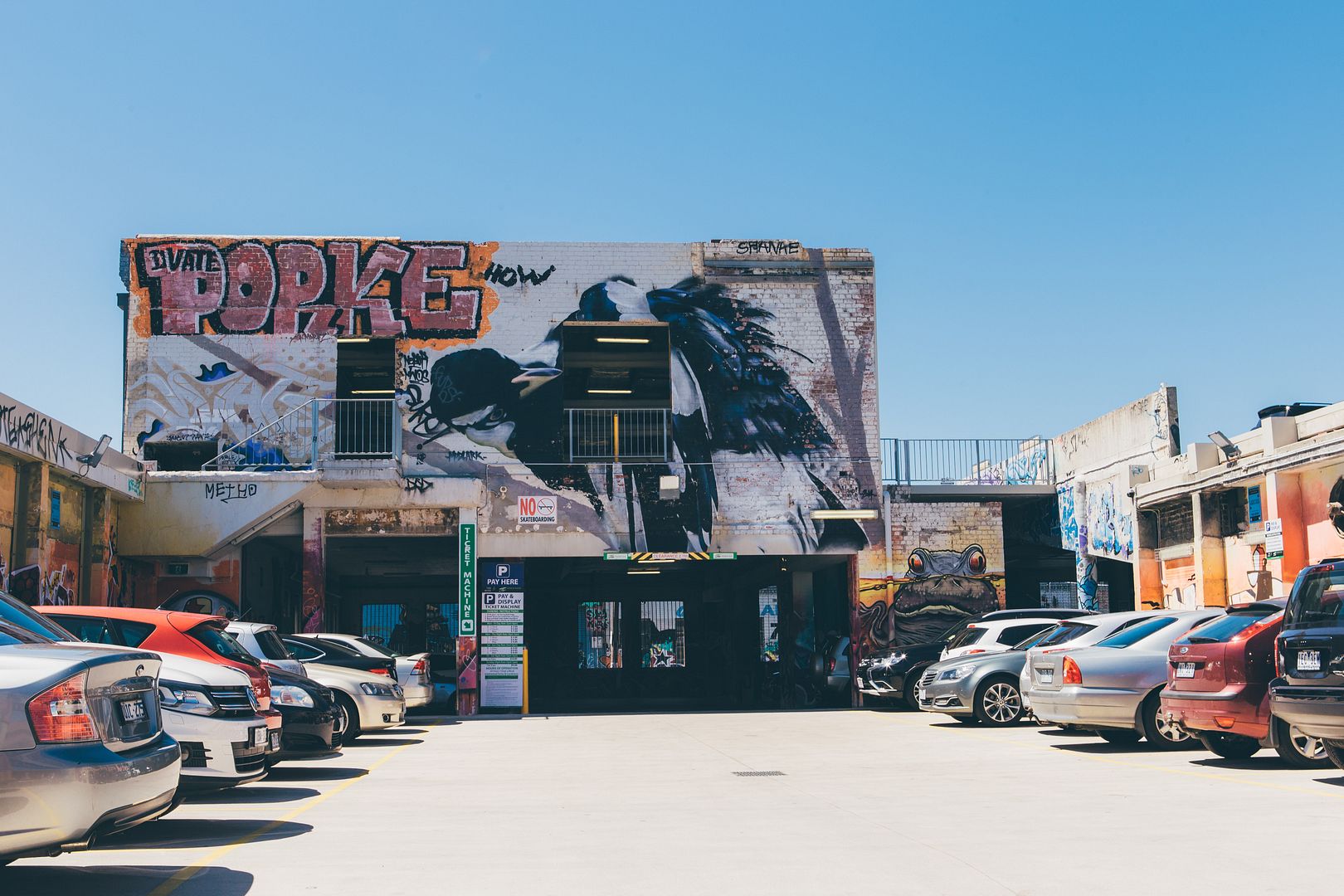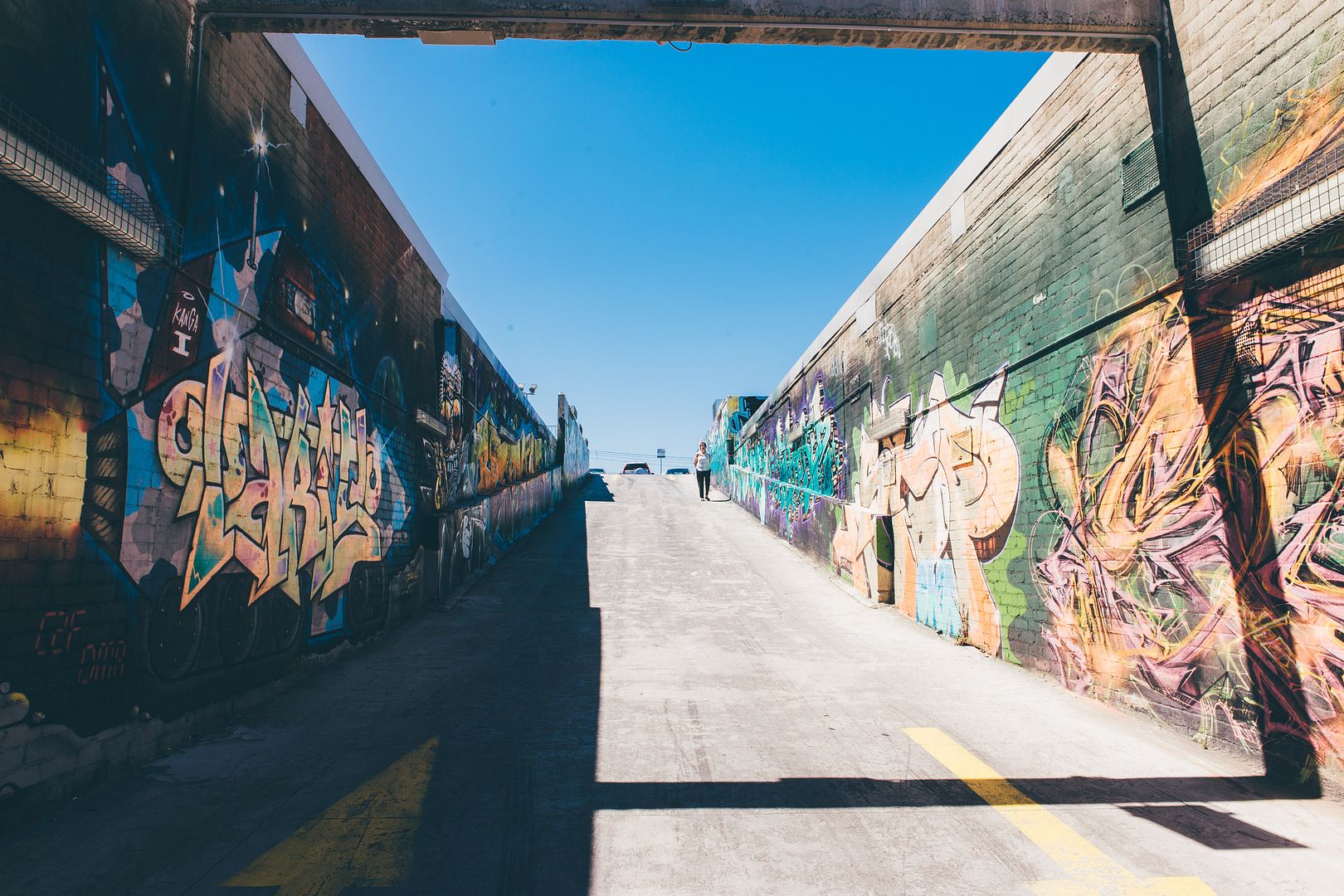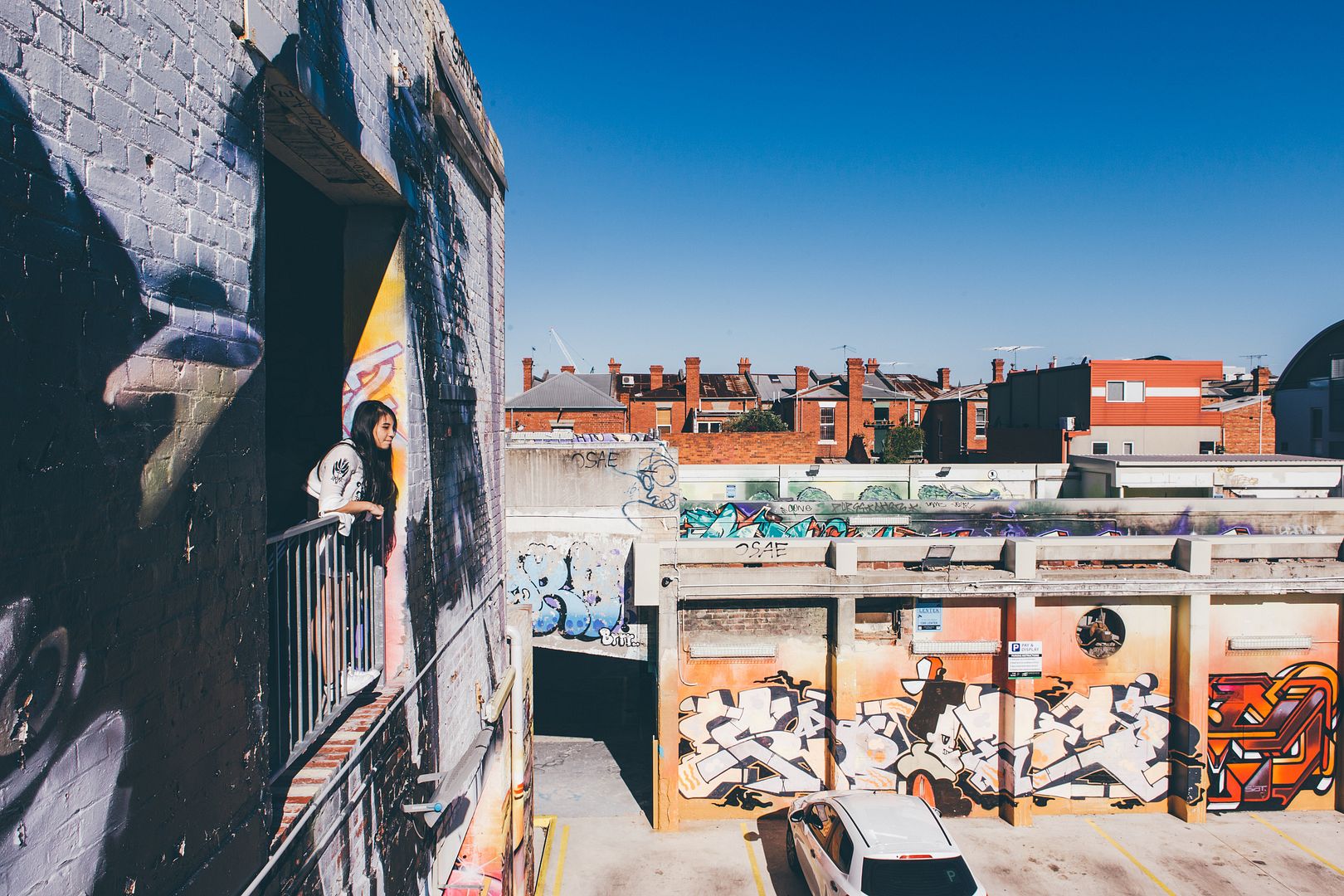 The Rose Street Artist Market
60 Rose St, Fitzroy VIC 3065, Australia
Saturdays & Sundays, 11AM - 5PM
Old Melbourne Gaol
This wasn't in our itinerary at first, but since we had extra time in the city, Han saw the museum and was keen in the paying the old prison a visit. The Old Melbourne Gaol is a 19th century jail that used to house some of Australia's most infamous criminals.
They had this watch house experience that was really interesting - you get to experience being arrested and put into the old cells. That was that main point that got us sold actually.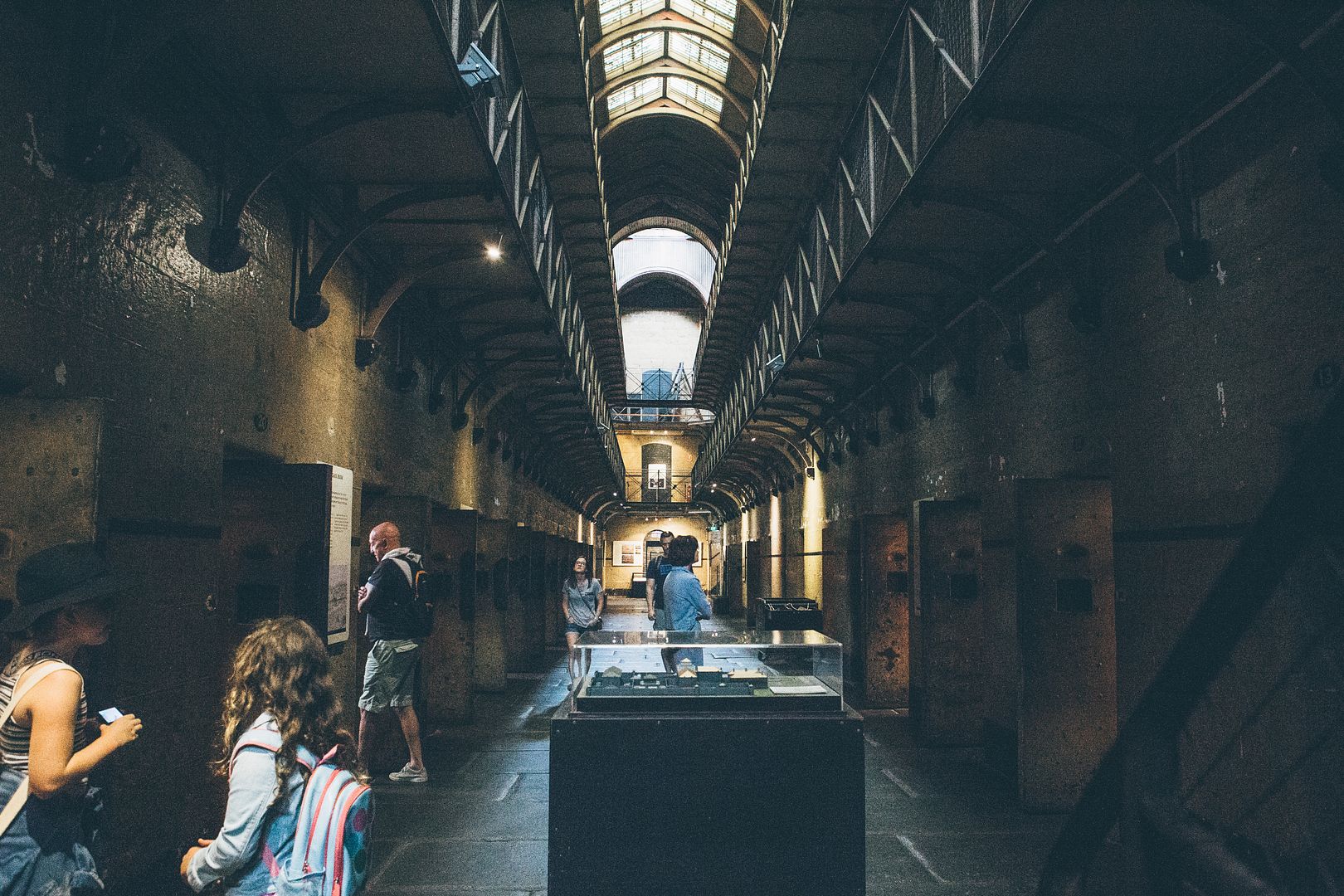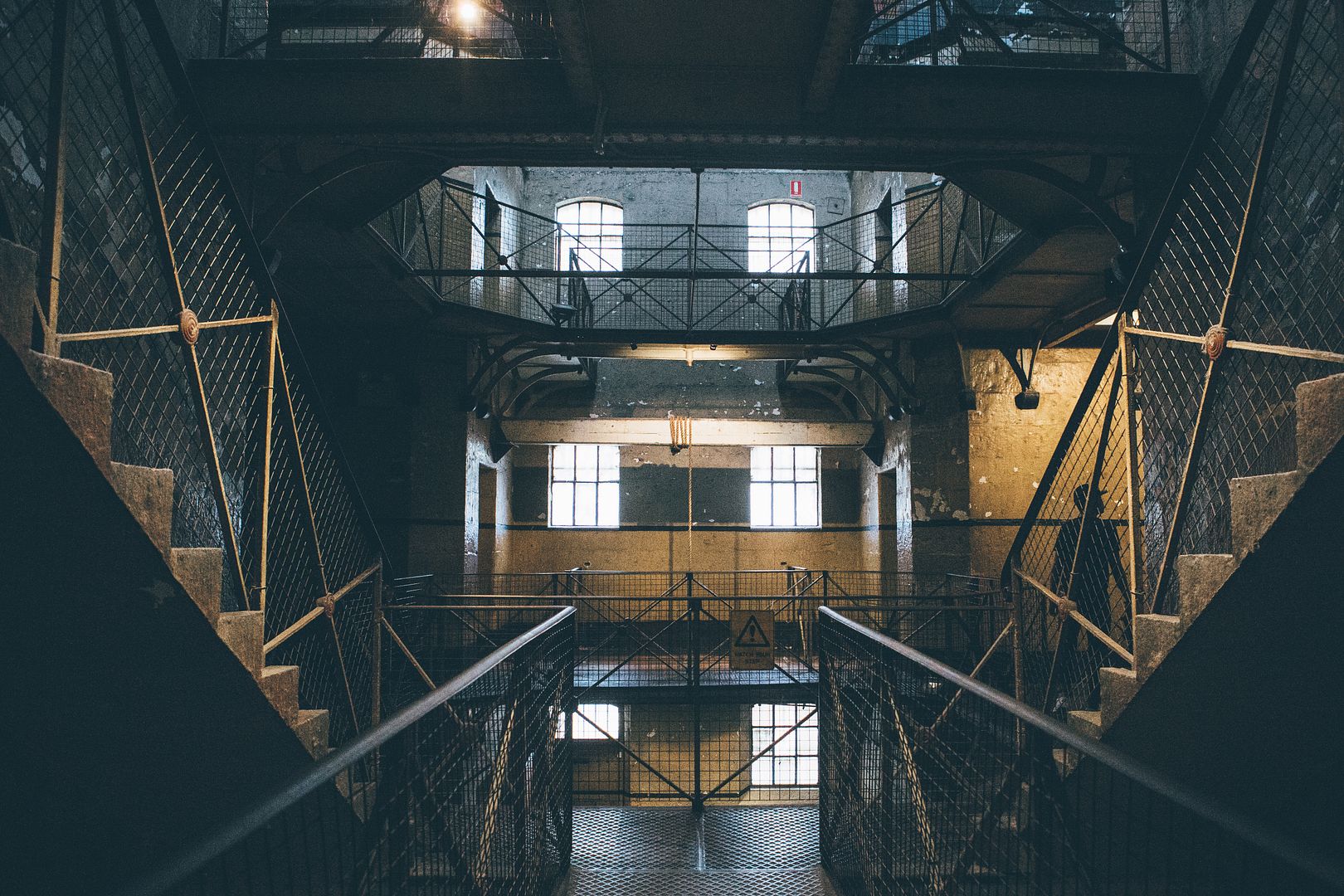 Aside from the watch house experience, they have lots of informative stories on how Melbourne's justice was like from personal stories in small cells, accompanied with structured heads of previous criminals. Definitely not a museum experience I'm used to, pretty creepy, but cool.
Surprisingly, we spent about two hours at the museum soaking up nuggets of information that proved to be engrossing.
Old Melbourne Gaol
377 Russell St, Melbourne VIC 3000, Australia
Mondays to Sundays, 9:30AM - 5PM
Red Cape Lane
We happened to chance upon Red Cape Lane by chance, or rather, it was when I was bugging Han to go ice-cream hunting with me LOL.
Red Cape Lane is one of Melbourne's newest city laneway shopping zone. It's located super near the Old Melbourne Gaol. We happened to walk around this city area a lot because there's just so many foodstuff!! And even though it's not officially named so, I thought that it was basically Melbourne's Asian district. It's not just the crowd, but the stalls there as well.
They have all sorts of Asian cuisine here (Japanese, Thai, Korean, Chinese, Indian etc.) and as someone who loves her rice, do you know how happy I was when I found sushi!!! And as a fan of Gongcha, I was so happy when I saw that they have a huge outlet there as well?!?! LOL I guess I can never forget my Asian roots. Rice and milktea forever.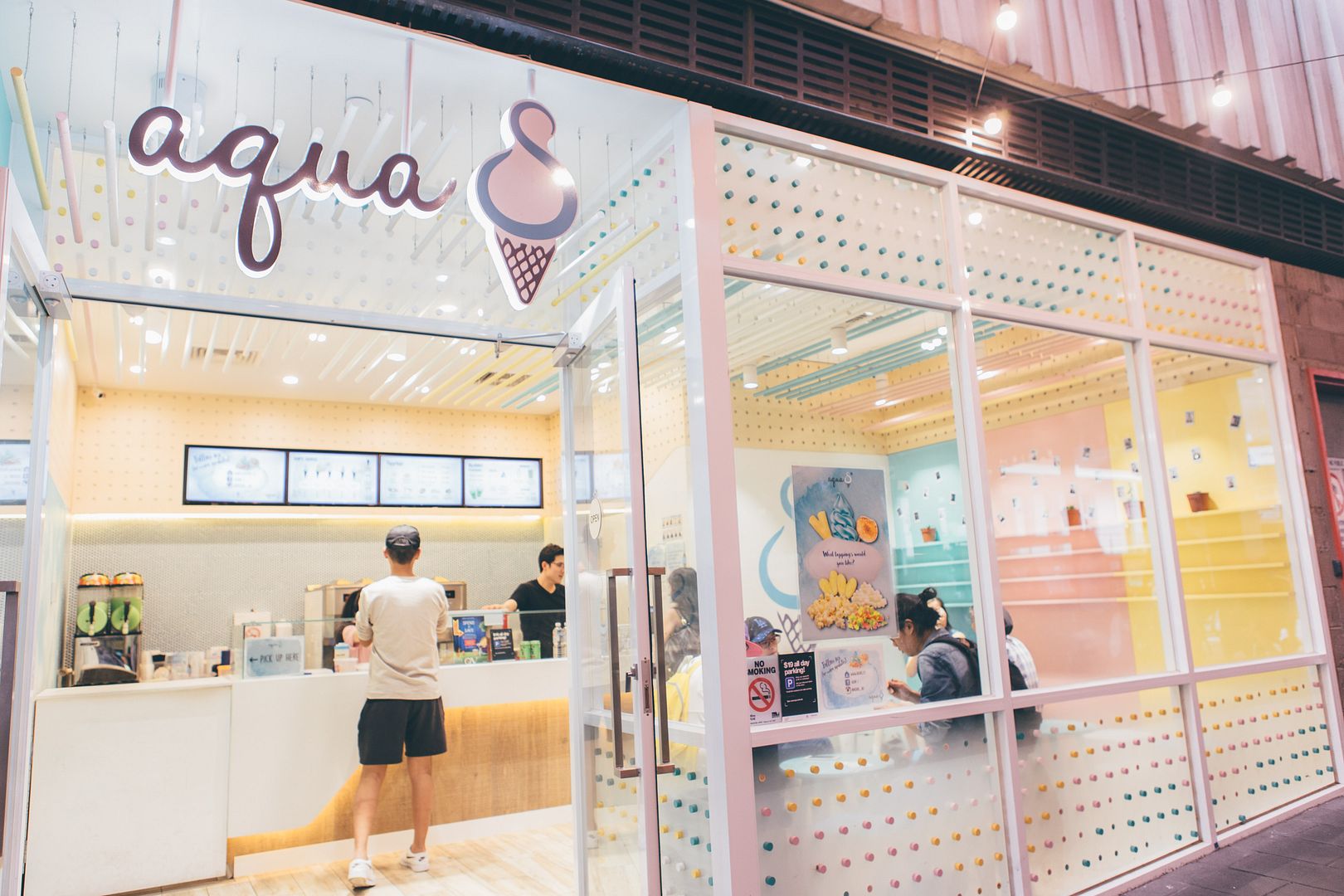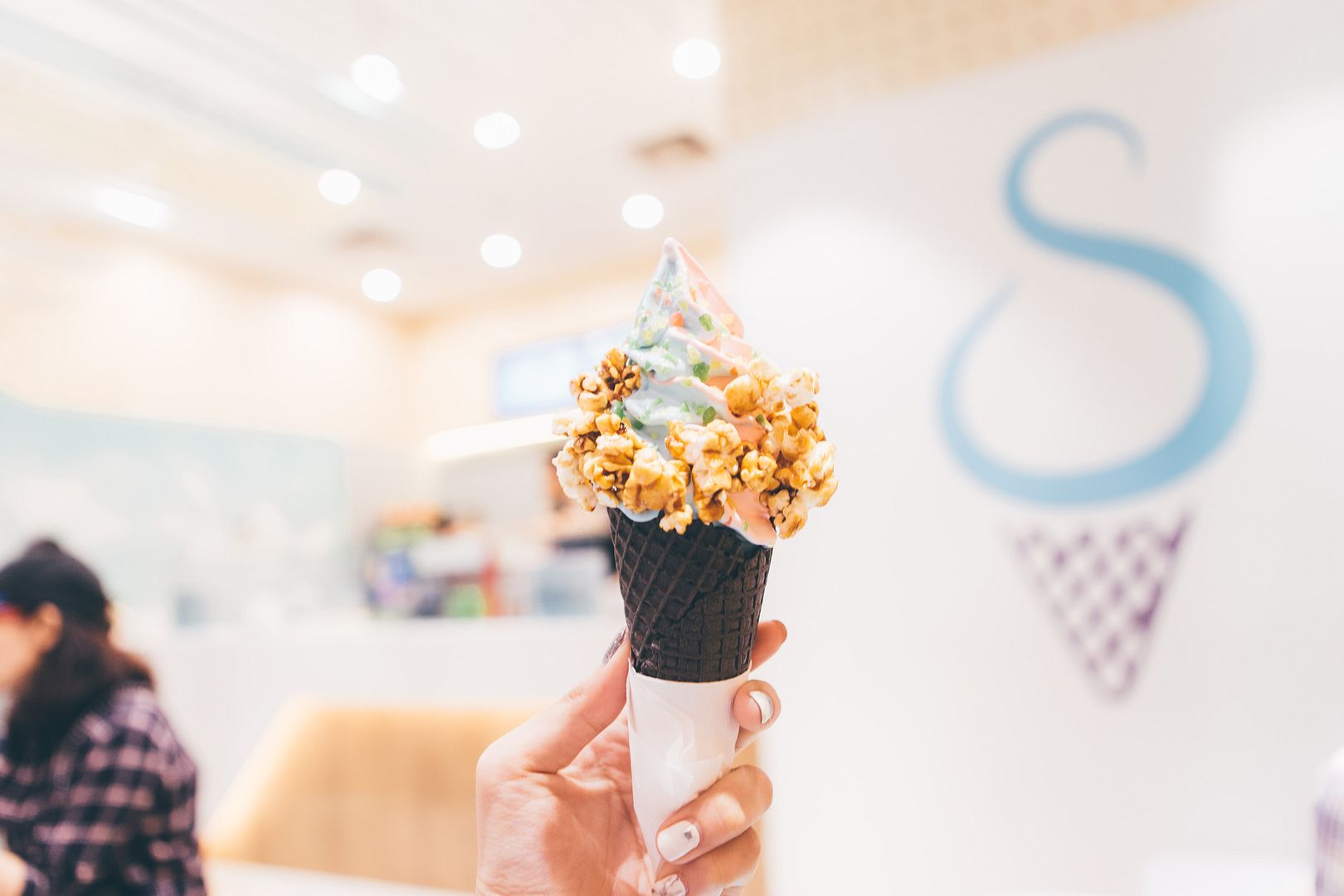 So anyway, I was saying I went ice-cream hunting. More specifically, I was looking for the highly raved Aqua S, also known as Sydney's best soft serve which recently just opened an outlet in Melbourne!
They had three flavours that day - Matcha, Sea Salt Caramel and Rose. We eventually tried all three flavours, together with popcorn, popping candy and their noteworthy charcoal cone. Beats all the soft serves I have tried thus far.
Aqua S
16 Red Cape Ln, Melbourne VIC 3004, Australia
Mondays to Sundays, 12NOON - 10PM
Queen Victoria Market
Queen Victoria Market has to be on your list if you're visiting Melbourne. Raved for its market size and fresh produce, it's located right in the heart of Melbourne, so it's easily accessible. Aside from foodstuff, they also sell clothing, toys and other trinkets. You'll easily spend about two hours there, because they have multiple goods and peculiar stalls that are sure to catch your attention.
It reminded of Perth's Fremantle, if you've been there.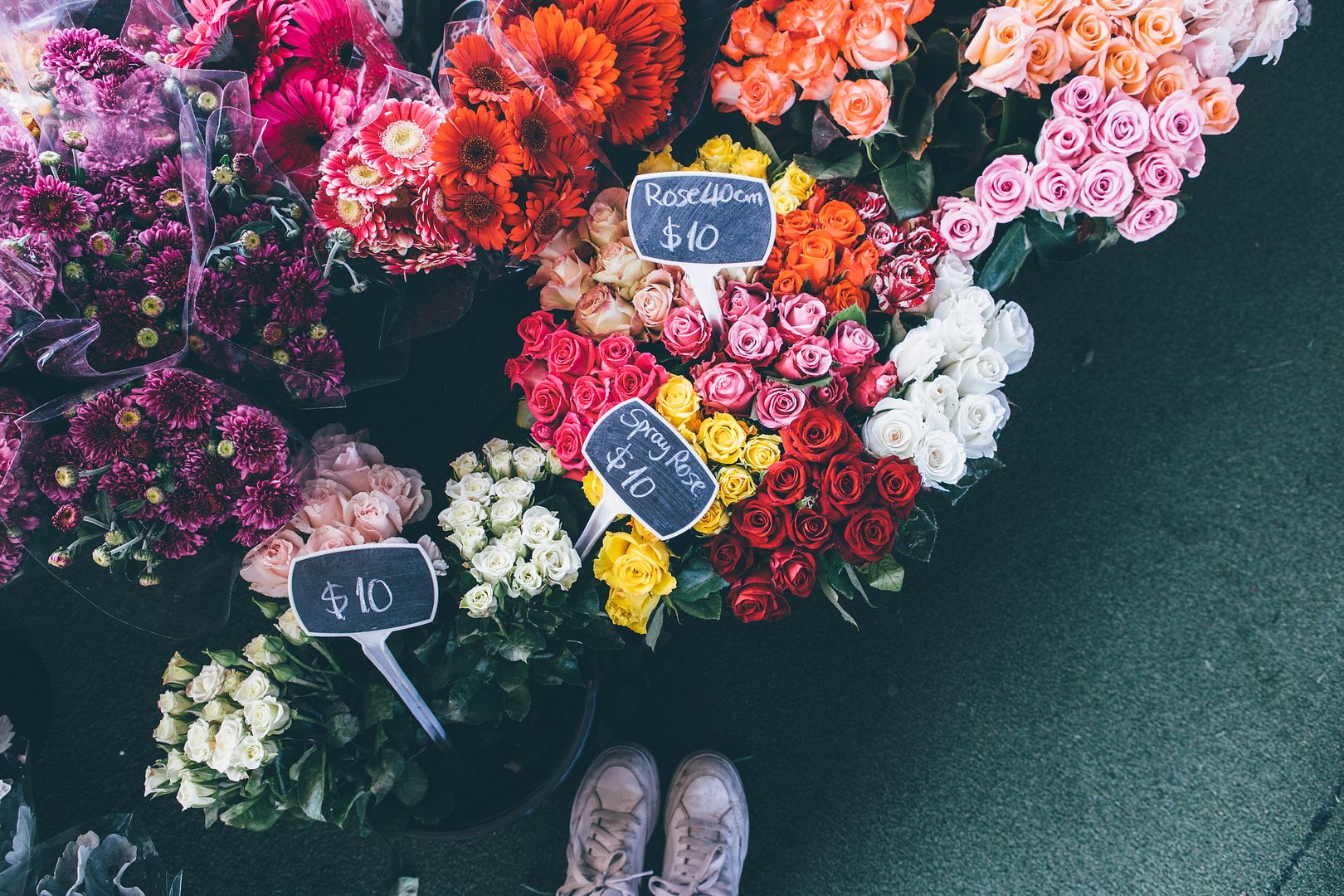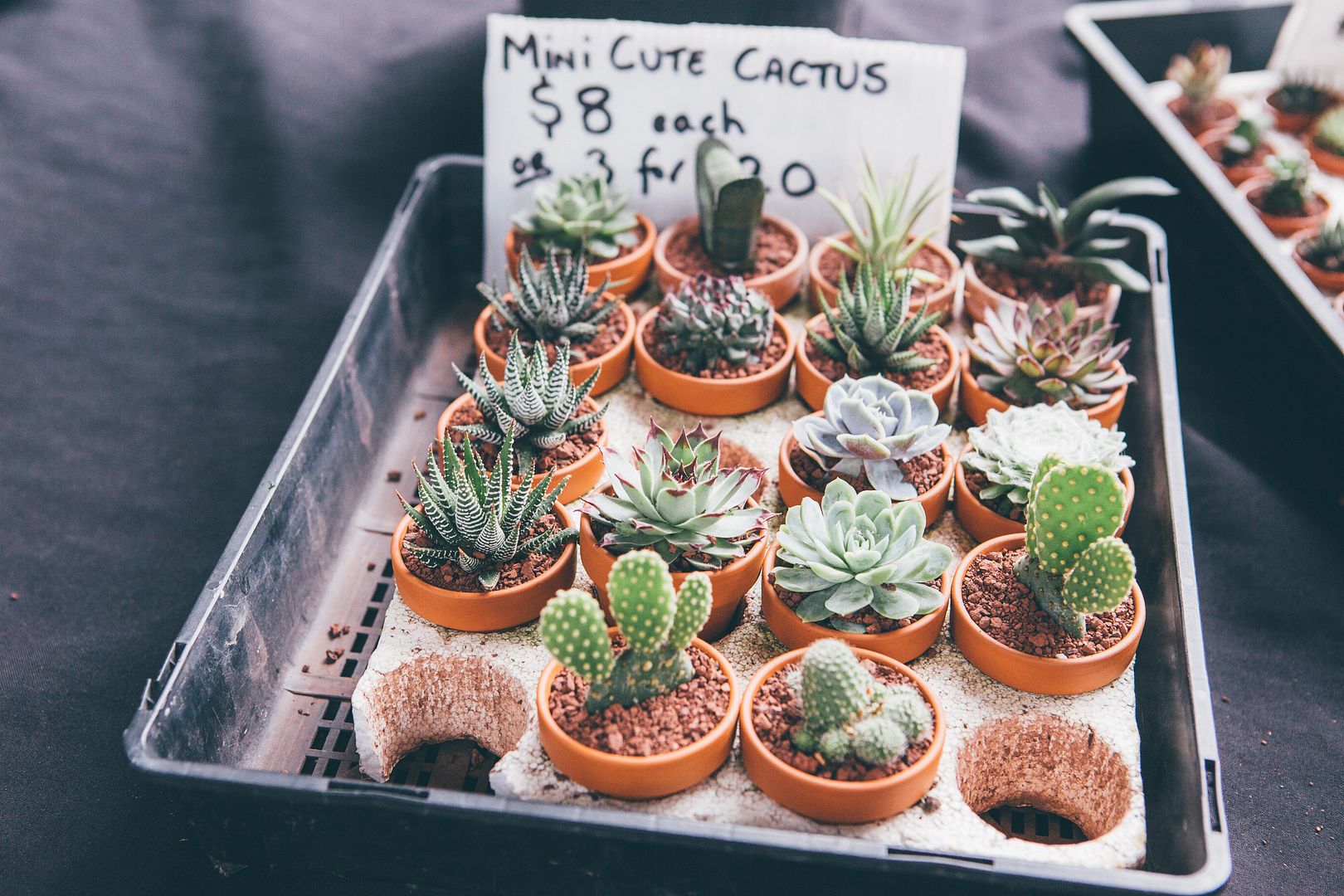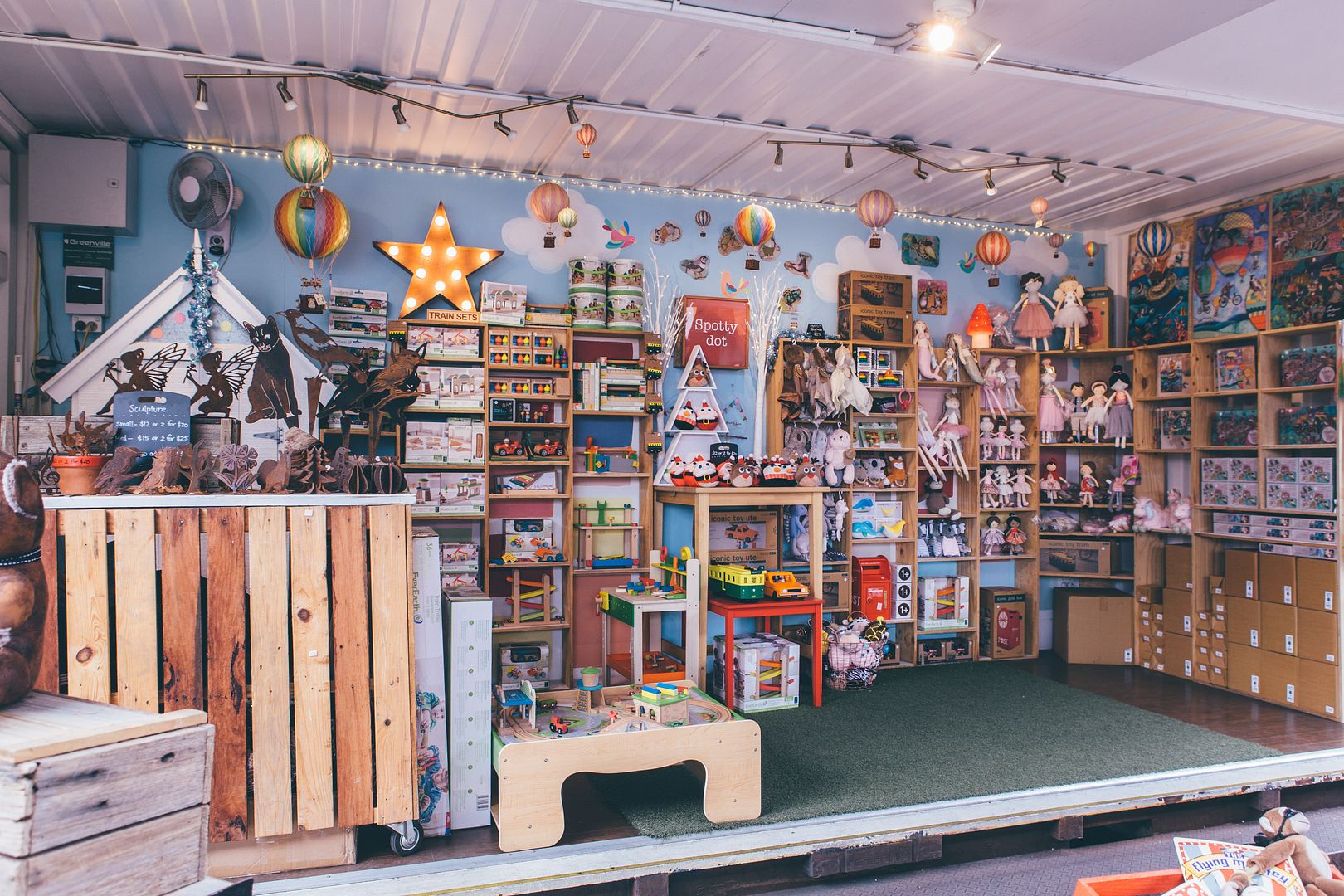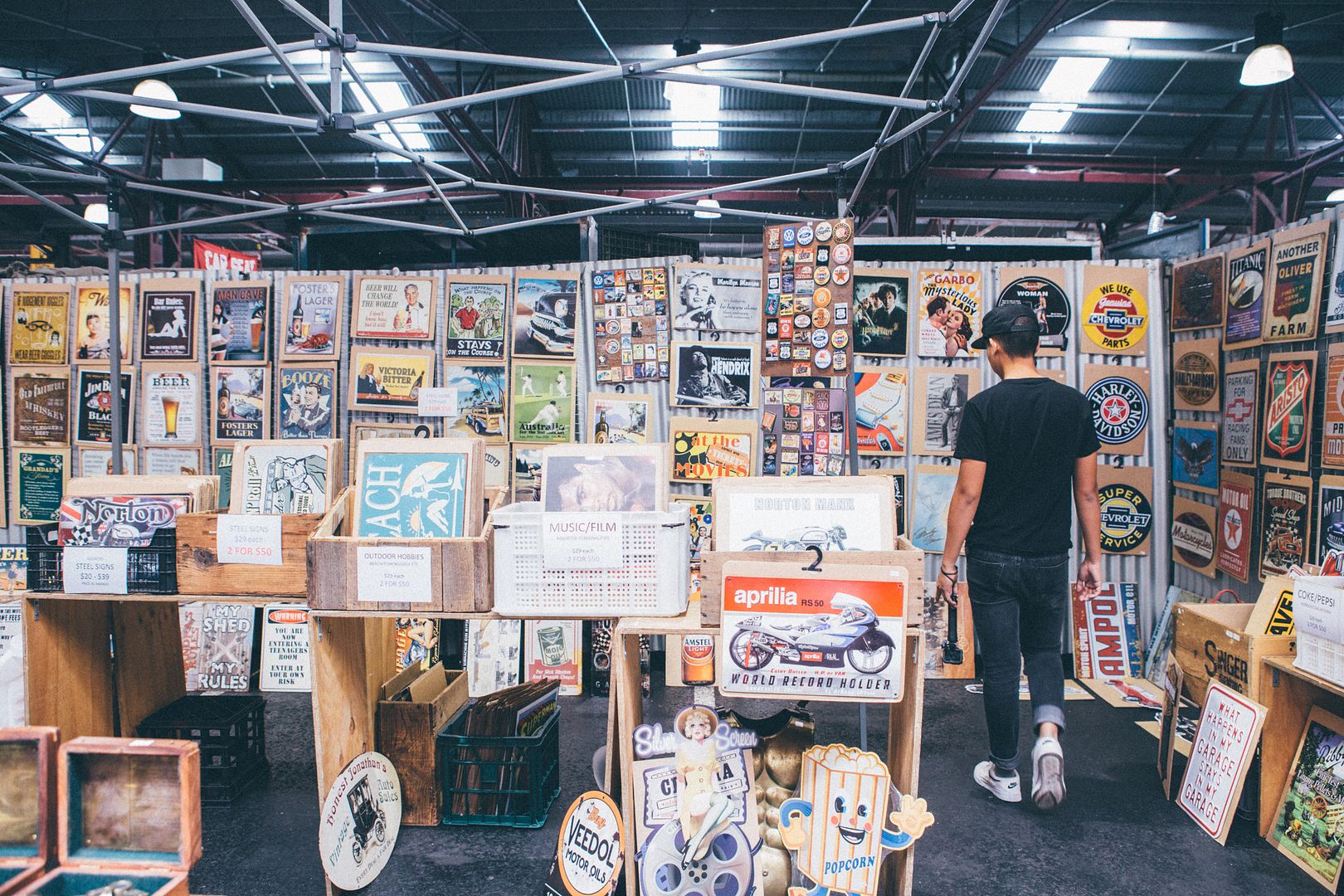 For Han, it was like his haven because he got to shop Melbourne's own garden-fresh produce. Many of their vegetables and fruits were super fresh, so he bagged quite a number of stuff so he could whip out his chef skills for our dinner that night HAHA.
Travelling with Han = He settles our dinners if we're staying in so we don't have to worry about spending extra money. So lucky me cause I got fresh goods + a chef's cooking :')
If you love cooking or wanna get some of Aussie's freshest fruits, don't miss this place!!
Queen Victoria Market
513 Elizabeth St, Melbourne VIC 3000, Australia
Tuesdays & Thursdays, 6AM - 2PM
Fridays, 6AM -5PM
Saturdays, 6AM - 3PM
Sundays, 9AM - 4PM
Other noteworthy places were Flinders Street (those hipster graffiti walls), St Kilda Esplande Market, Brighton Beach (colourful rows of beach houses) and Ashcombe Maze & Lavender Gardens. But due to time constraints, we didn't get to visit them all.
A pity I didn't get a picture at Brighton Beach and the Lavender Gardens but next time maybe? :')

That's most of the attractions we covered while we were at Melbourne's city. We had three days in the city, but we spent about half of our time eating and cafe hunting... No regrets at all though.
Towards the end of my Melbourne travellogue, I will blog about the cafes I've visited during the 7D6N roadtrip. All the food was just so damn good!! And I don't remember having any cup of bad latte. The coffee and cafe scene in Melbourne left a foodie like me wanting more.
But before that, it's the Great Ocean Road Trip for the next post! Can't wait to cover the scenic drive on this space heh.
7 Things You Need To Know If You're Planning A Melbourne Road Trip
Friday, January 13, 2017
8:37 PM
With CNY coming around, the past two weeks at work have been crazy, so much so that I barely have enough time to myself, much less blog. The last weekend was a good respite though, when I roped in Victor and Trisha to help me with baking Han's 21st birthday cake! The oreo cake turned out amazing hehe.
Also, I've been receiving quite the number of emails/FB messages since my NZ story was published on TripZilla, so I really hope that my travel stories (like the Melbourne one I'm working on now) would help others with their itineraries or what not. :)
It's been a month since my trip to Melbourne so I thought I should really, seriously get this post out before my memory of the trip starts to fade hahah.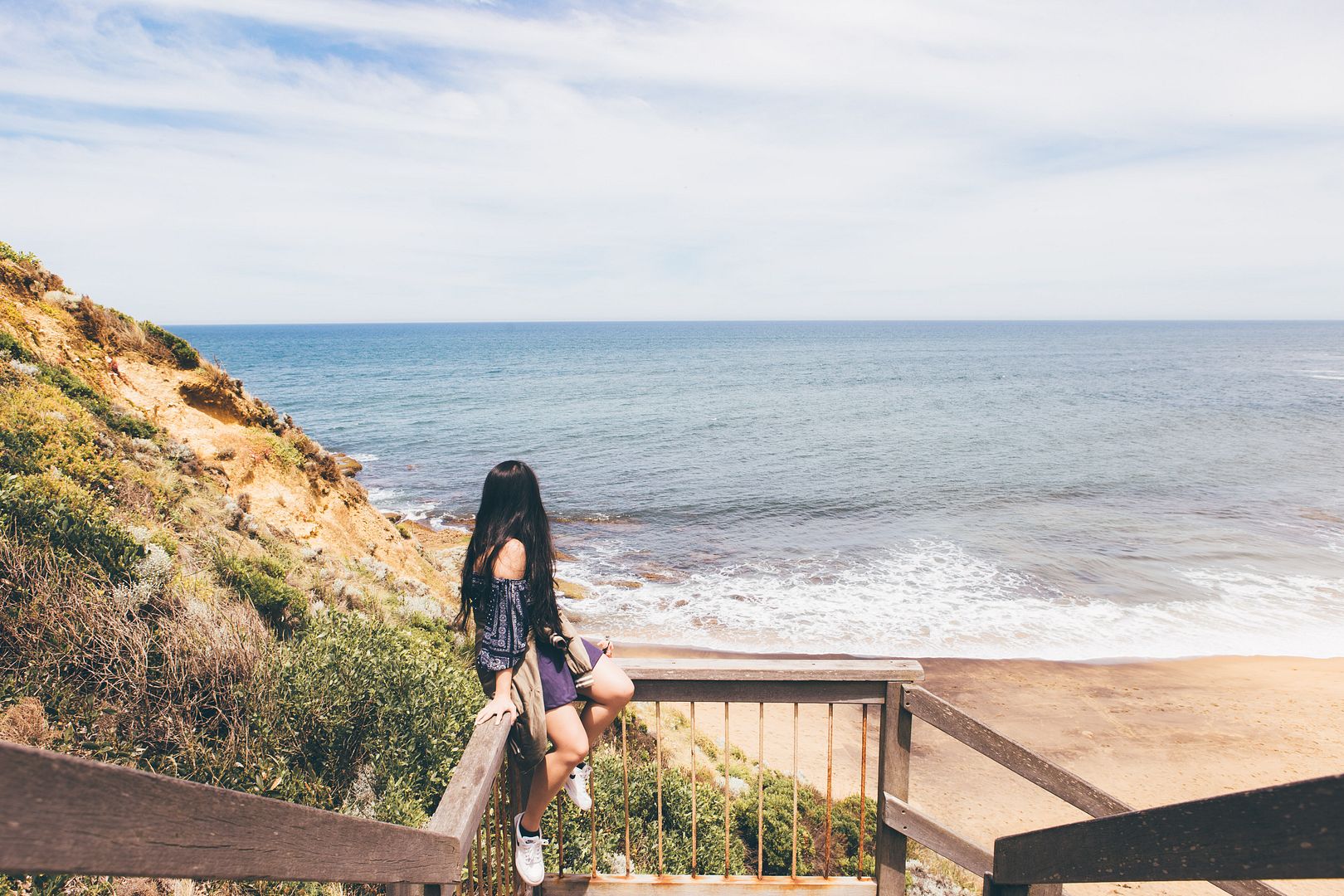 It was my second road trip to Australia that year (2016), and during my time on the road with my fellow travel companion(s), we came face to face with quite a number of unexpected situations. Circumstances that other travellers on Australian road trips also frequently face, but is not often talked about.
And so I thought to write about it for any Singaporean who might happen to chance upon this page while planning for their Aussie trip on the road , or anyone actually.
This list of tips is not exhaustive and I may not be the best spokesperson since I am but a twenty year old who's been in Aussie only twice, but you know just my two cents. Australia is a such a beautiful place and I'm definitely paying it a visit again sometime (hopefully) this year. Maybe then I'll have more stuff to add to this post but for now:
7 Things You Need To Know If You're Planning A Melbourne Road Trip
1. Car Rental Age Limit
Although the minimum age to be able to acquire a driving license in Australia is 17, the minimum age to rent out a car in Aussie is 21. So if you're aged between 18 to 20 with a Singapore driver's license, it's going to be tough luck trying to get a rented car. Australia seems super strict about this because during my trip to Perth, many companies turned us down even though we were technically just a few months away to turning 21 lol.
However,
Ace
's minimum age for drivers is only 18! It states 20 on the website, but my friend who was 19 when we visited Perth back then successfully made a booking when we gave them a call. I think the age limit depends on which city you're renting it from. But yes, if you're a young driver below the age of 21, Ace may just be your (only) hope.

2. Young Driver Surcharges & Insurance
If you're older than 25, then lucky you. You can skip this whole point entirely cause it would be totally irrelevant to your planning when it comes to renting a car for your trip. However, if you're aged 18 to 25, this will affect you a lot more so read on.
As most of us would know, renting out a car in other countries aside from Singapore is comparatively cheaper. Most car rental sites/third party booking platforms has their Toyota Camry/Corolla cars rented out at $20-$30/day. Wow, right? However, it's not
that
cheap if you're a young driver. Simply because there's a young driver fee imposed on drivers below the age of 25, regardless of how many years of driving experience you have. They are pretty strict about this.
In Australia, depending on which company you decide you to loan your car from, the fee imposed is approximately $16AUD to $28AUD per day. Well that's not too bad, until you multiply it by the number of days you're renting the car, and add in the total base rental fee. It could easily be another $100 if your booking is for a week. So one week booking would cost you about $300? That's not too bad... But it doesn't end there.
It's mandatory for all young drivers to get insured under whatever insurance the company provides, whether or not you have other travel insurance plans that has got you covered. Call it a money-making gimmick or extra safety precaution by the car company, either way, you have to pay. That's about another $20 to $30 PER DAY. Which easily sets you back by another $100.
Feeling cheated? Yeap, that's how I felt too when I settled the car rental booking for Melbourne this time. Especially since I'm a cheapo twenty year old who pays every penny of the trip through my own pocket (which I work so hard to earn btw), I would scrimp even on $8 worth of parking so all these extra costs was a pain.
Alternatively, there are also Aussie private car rental sites that work a little like Airbnb. Owners list their cars on the platform and for buyers to rent, at a relatively cheap rate + low insurance fee. During my planning, I found
DriveMyCar
to be the best (based on reviews, pricing etc), with pretty neat/sexy cars at affordable rates!! The respective car owners, however, will set their preferred minimum driver's age (which is typically 21 or 25) so, not the platform for you if you're still "underaged" like me and my group of friends lol. If you're above 21 though, go for it!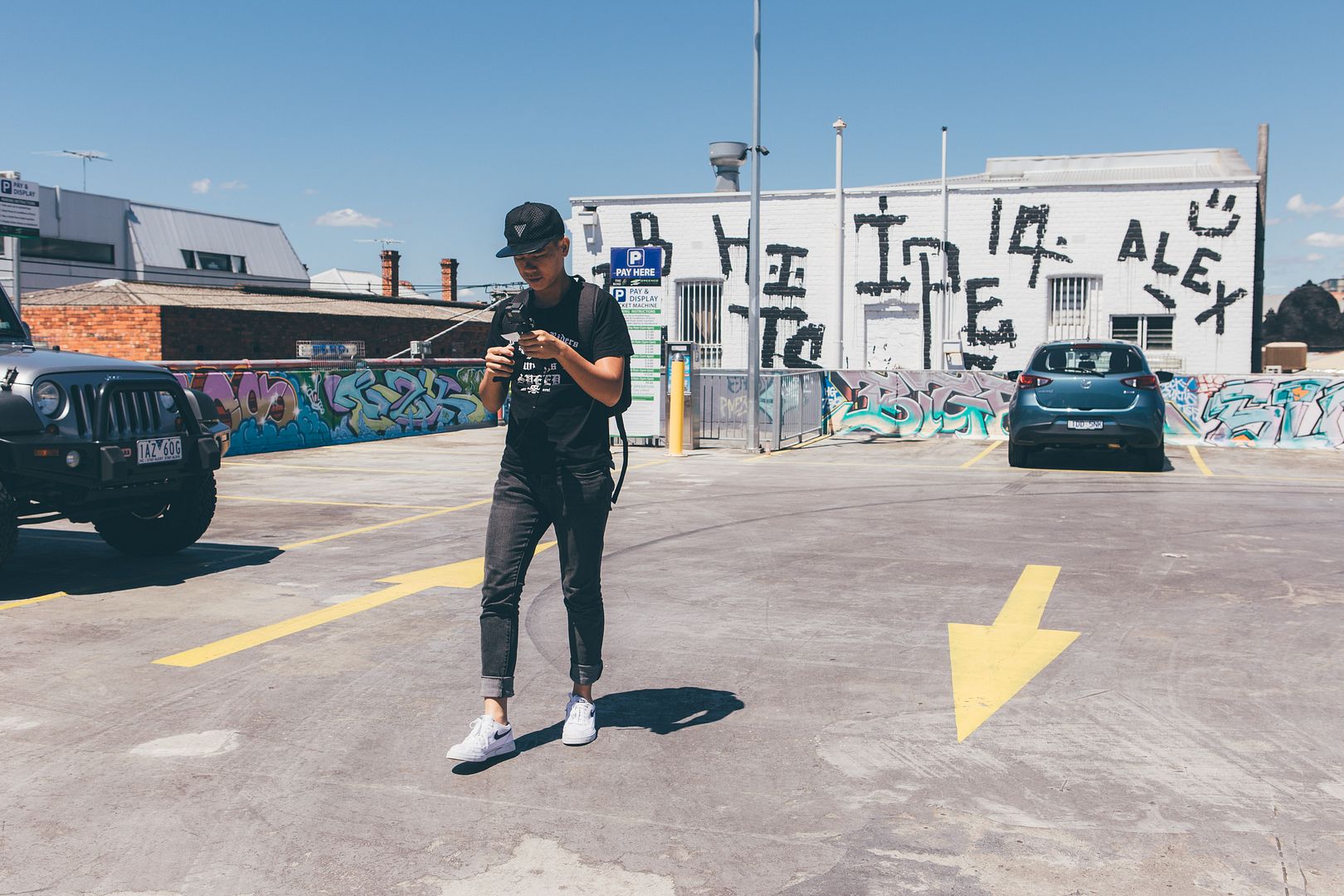 3. Confusing Parking in the City
Took us about two days to fully understand how their parking system works, with the help of the Internet and random forums. Even though two days is a pretty short time, it just took us 24 hours into Melbourne to get our first parking fine :')
While I was in Perth, the dudes handled the parking so I didn't bothered so much about the parking signs... But we got fined $120AUD then too. This time, it was just me and my boyfriend in Melbourne so I had to help out with deciphering their parking signs, which I suppose I didn't really do a good job and had to learn it the hard way... LOL. The fine was $93AUD this time sigh.
Find out more about what each sign means before you park in a space that is seemingly available. 1P and 2P basically means free parking for an hour and two hours respectively. However, if there's a ticket below the 1P/2P, you have to pay for parking from a ticketing machine. There will also be a time frame indicated on the bottom of these boards, which indicates the time in which you have to pay for the parking. Anything out of that time frame is free for parking. Well, you can search up more on Google.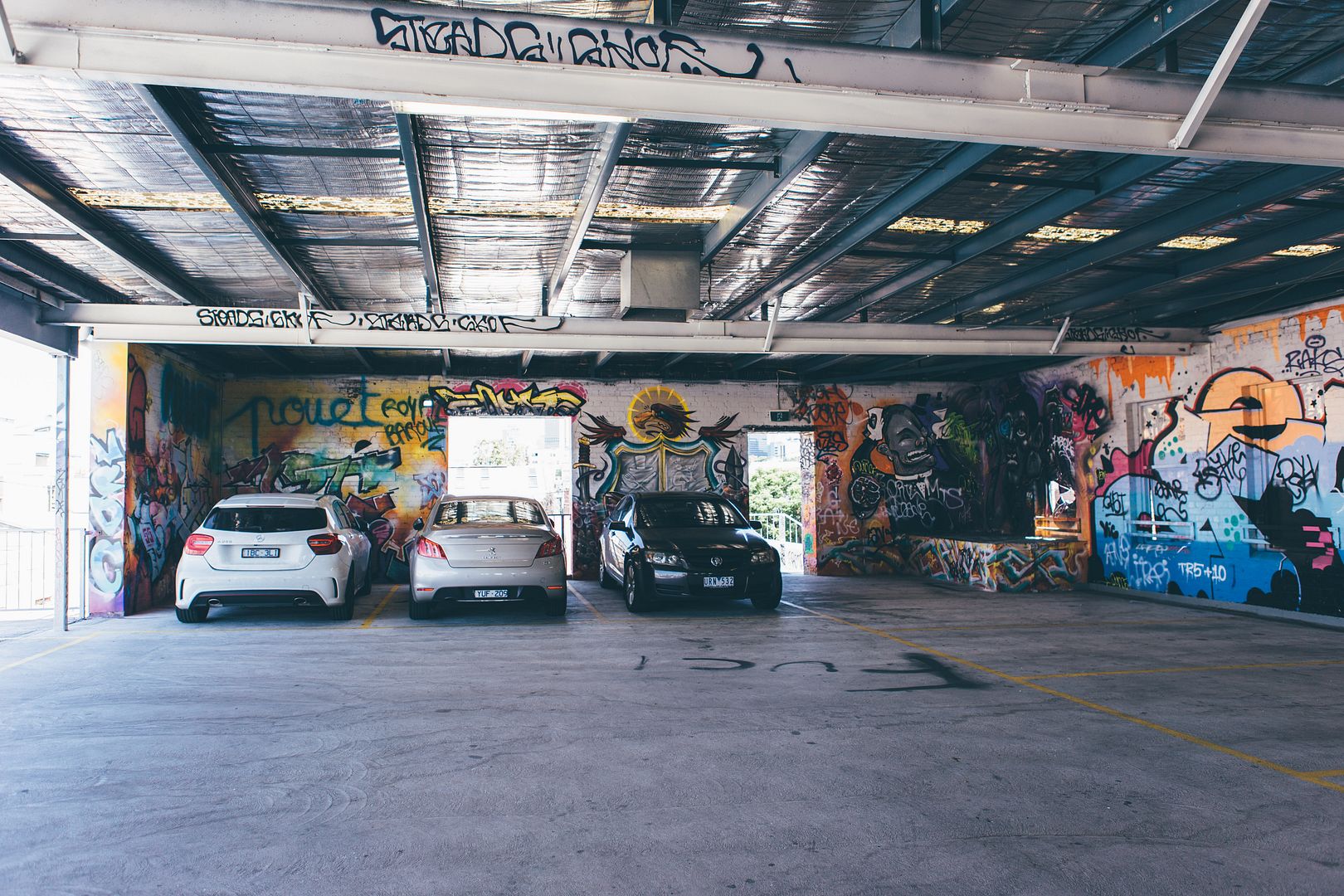 Also, you would want to avoid those "secured parking" multi-storey carparks because their charges are more than just overpriced. Those multi-storey carparks can cost up to $8AUD every 30mins. That is almost the cost of my Mac meal lol.
4. Sufficient Camping Sites for Your Car
If you're planning on road tripping a few days out on the road, there is usually at least one camping spots available for you to camp out the night with facilities on site. So, you don't have to worry to much about not having a place to rest if you're totally new to the whole camping out thing.
For one, I have not had the chance to camp out in the tent yet (although I would love to do so sometime soon) so having a camping site with toilets and a barbeque space available for us to shower and cook was handy! The camping site I was at also provided charging points at an extra cost of $5 (which I needed to charge up my cameras and other equipment). Most camping sites would provide the basics, and are perfect rest tops for the night if you've been driving for long hours.
Just remember to stock up on some groceries or snacks in the small town before you settle down at the camp site! Also, it can get relatively cold when it's dark out so remember to layer up or prepare some blankets.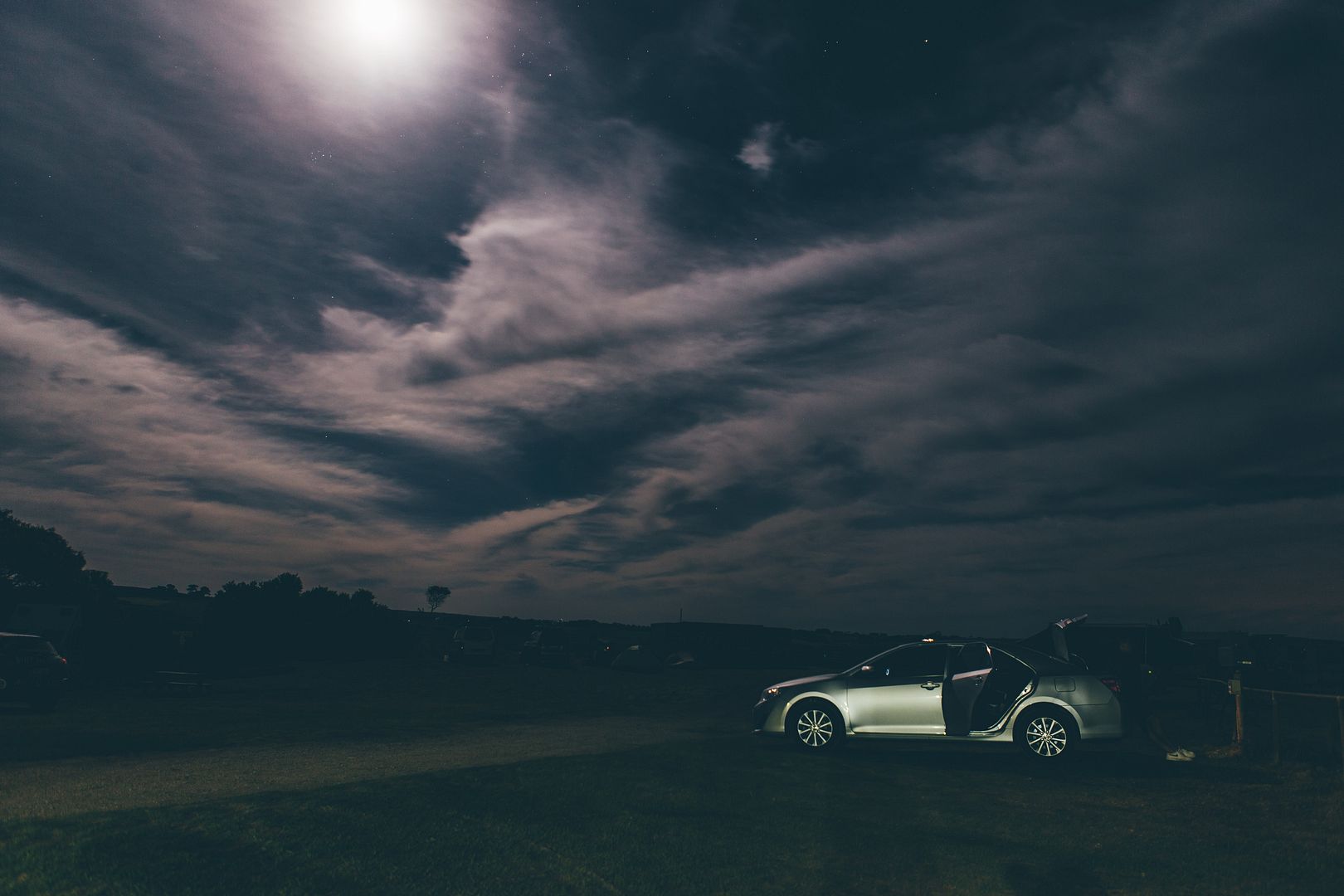 5. Annoying Flies on the road
Okay, this probably isn't a vital point that you must know, but I thought it would help if you're warned beforehand.
If you are going on a roadtrip in Summer, you (and your car) will often be pestered by houseflies and tiny, pesky Australian bush flies. I don't mean two or three flies, I mean literally a whole bunch of them would settle on your car while you're out sight seeing within that short few minutes. It was alright for the first couple of hours... Until they started trying to get into our noses/mouths/ears and made it hard for us to even drink water.
I remember my boyfriend getting so frustrated because they just wouldn't stop flying to his face and invading his ear every few minutes lol. They won't cause you any harm, but they'll annoy the hell out of you. You can google more about Aussie's fly situation. From what I've read, not every part of Australia is affected by this epidemic. However, if you're visiting Melbourne (Victoria) or going on the Great Ocean Road Trip, then... Maybe you'll wanna prepare some sort of repellent beforehand to buzz them off.
I promise you, they are incredibly irritating.
He got so irritated he rather reveal his botak head to use his cap off as a fly swatter hahaha.
6. The Sun Will Burn You
If you didn't know, Australia is listed as the skin cancer capital of the whole, simply because of it's proximity to the hole in the ozone layer that helps to filter the harmful UV rays from the sun (wew funfact). That also means that the chances of you getting easily burnt while you're out in the sun in Australia is significantly higher, and it also poses more health risks.
I didn't know this prior to my trip, until I had a terrible sunburn that gave me lobster skin that hurts like crazy. The aftermath of my peeling shoulders wasn't pretty either. The thing is, I was barely out in the sun for long (maybe one or two hours at most?) and I am not one to get sunburnt easily even in Singapore, so I wasn't prepared. Also, the weather was pretty cool at about 20 degrees so I really didn't see the burn coming. I found all these out after I googled in hopes to figure out how I could have gotten myself such a terrible burn under those circumstances.
Prepare sunblock or cover up more skin if you're going to be under direct sunlight more, which I presume you will if you're road tripping. Save yourself and your skin from the horrible burns. It may seem like a pretty trivial thing, but permanent skin damage is a souvenir you can choose not to take home.
7. Weathers are unpredictable
Although I visited Melbourne in the early summer/shoulder season in December, when temperatures are generally forecasted to be about 24 degrees in the day, there were still some days where it hit as low as 14 degrees while the sun was out. And then, it could go up as high as 30 degrees the next day. I'm not sure if it's just the month I was travelling (December), so you might wanna read up on that. Pack enough to keep you cool and warm at the same time.
Also, Melbourne's daytime in December was incredibly long. The sun rises at about 630AM and sets only at about 8-9PM. That also meant that I could do more while it was still bright out! Definitely not what I'm used to but, I like that my days seem longer.
Hopefully these 7 things were helpful in the planning of your road trip to Australia, or more specifically, Melbourne.
We spent a week indulging in the natural beauty and cafe culture Melbourne has to offer. Seven days was hardly enough!!! Melbourne is famous for their cafe scene and it really doesn't disappoint. It was a little costly, but I definitely have no regrets because their coffee and brunches are just. so. good!!!
Anyway, I'll talk more about our itinerary for Melbourne's city in the next post! I'll try to get it out sometime next week. Till then.